This is an archived article and the information in the article may be outdated. Please look at the time stamp on the story to see when it was last updated.
NEW ORLEANS – The combination of cold air and moisture will result in the chance for some wintry weather across parts of the area on Friday.
A Winter Weather Advisory is currently in effect for the Florida parishes in southeast Louisiana and most counties in southern Mississippi.
Expect a mix followed by a change to snow in these areas by late Thursday night and Friday morning.
Of course, the big question is going to be do we see any snow accumulations.
Temperatures at ground level will play a critical role in this.
Most of those stay in the mid 30s through Friday morning, which will limit how much snow can stick when it falls.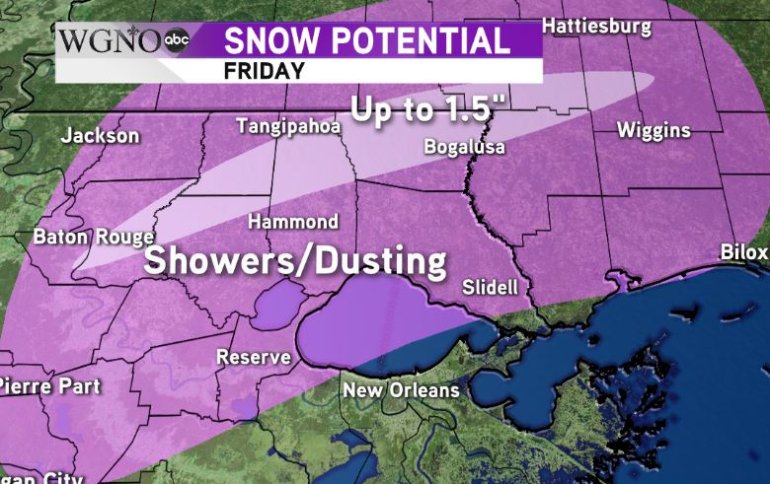 It does, however, look like we could see a band of snow with accumulations over one inch. This will most likely be in isolated areas. Small local variations in temperatures will mean you see little accumulation and more significant amounts within a short distance.
Up to 1.5 inches or more will be possible in areas farther to the north where cold air moves in a bit faster and ground level temps stay around 33-34.
We should see minimal impacts to travel. Most accumulations should be on grassy and elevated surfaces, such as cars or roofs.
However, we could see slick spots on bridges in these areas where cold air gets below the road, so be aware of that Friday morning.
As always stay, with WGNO on air and online for the latest.