This is an archived article and the information in the article may be outdated. Please look at the time stamp on the story to see when it was last updated.
NEW ORLEANS (WGNO) –  After a quick start to the 2016 Atlantic Hurricane season, we had already reached the letter 'C' in early June, the Atlantic Basin has been relatively quiet the past month. Granted, we aren't at the peak of hurricane season, that comes mid-August through October, but these quiet skies are leading to some very warm sea surface temperatures.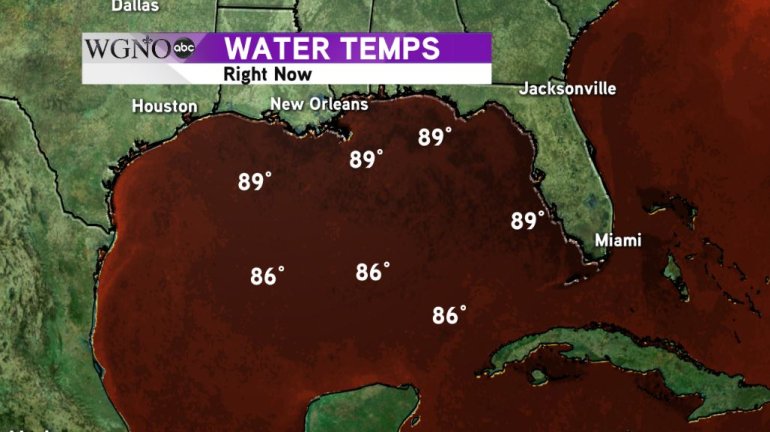 Take a look at the sea surface temperatures in the Gulf of Mexico.
Temperatures along the coast and in the northeastern Gulf are at 89 to even 90 degrees. The central Gulf finds itself in the mid-80s. While not extremely out of the norm, it's still around 2 degrees above average which means if something does make it into the Gulf with favorable conditions, there's a lot of energy for it to tap into.
But why is it so quiet? 
One of the main reasons is that the eastern Pacific, which got off to one of its slowest starts, is now extremely active. Currently, Hurricane Celia, Tropical Storm Darby, and an invest low which is likely to develop into a tropical system within a week are all out in the Pacific Ocean.
But what does the Pacific have to do with the Atlantic? 
With all of the rising air in these tropical systems, it has to sink somewhere else. After all, the atmosphere is connected and stays in balance.
Typically when the eastern Pacific is busy, the Atlantic is not, and that's what we see now. Several areas of high pressure, which is sinking air, have set up across the Atlantic Basin from the Gulf of Mexico all the over to Africa. This sinking air inhibits tropical development which is why we aren't expected to see something in the Atlantic develop for at least a week.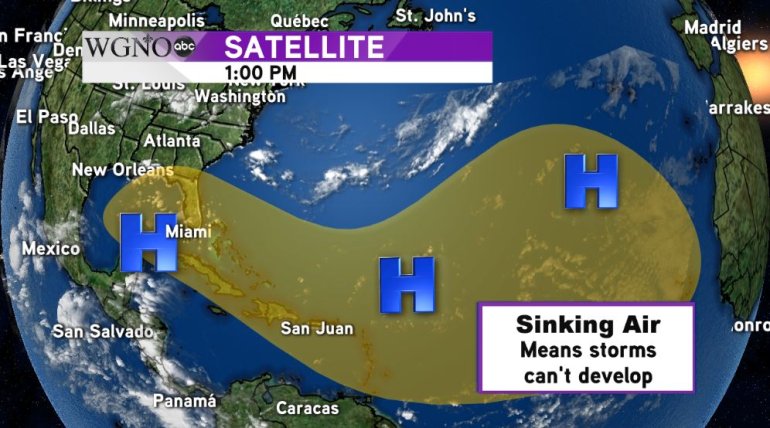 Keep in mind, though. We are VERY early in the hurricane season, and we haven't even reached the peak. Just because we are seeing a lull right now doesn't mean it will continue. Looking at the climatology, it isn't uncommon for us to have a  slow July in the tropical Atlantic. It's still a best practice to be prepared early, and communicate that plan with your friends and loved ones. If you wait until a storm is approaching, the likelihood of you making errors or mistakes increases due to the stress of the situation.