This is an archived article and the information in the article may be outdated. Please look at the time stamp on the story to see when it was last updated.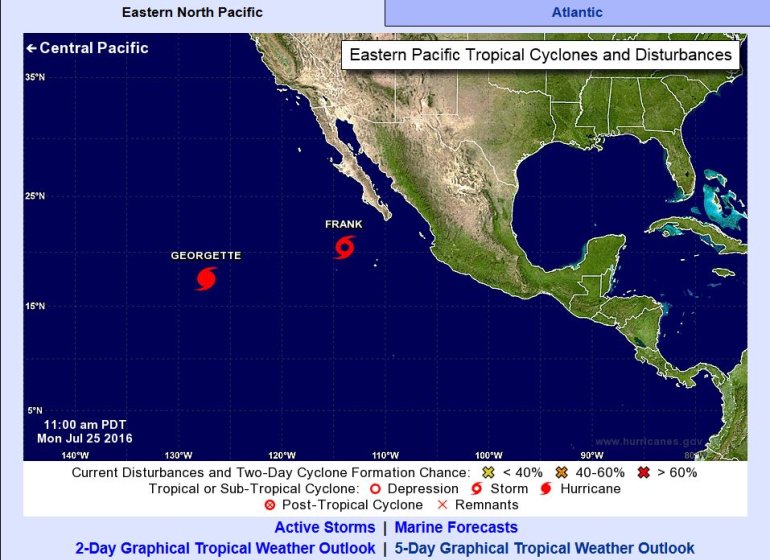 We are now nearly two months into the 2016 hurricane season, and have seen a quiet month in the Atlantic basin which includes the Atlantic, Caribbean and Gulf of Mexico. Meanwhile, the Pacific basin has been active the past several weeks, and presently have two named storms, Tropical Storm Frank, and Hurricane Georgette.
Over the weekend, Tropical Storm Darby passed over the islands of Hawaii bringing wind gusts in excess of 58 mph and heavy rain.  Hurricane Georgette has become a Category 3 storm, a reached major hurricane status with wind maximum sustained winds of 120 mph and moving Northwest at 9 mph which is actually weaker than it was yesterday. Georgette is not expected to make landfall.  Tropical storm Frank is not anticipated to reach hurricane status, and also will not affect any land mass.
The next storm in the Pacific will be Howard. It has been 3, 326 days, or approximately 9 years since a Major Hurricane (Category 3 or higher) has struck the United States. The climatological peak of the Atlantic basin hurricane Season is late August through mid-Septemper. Our first named storm of the season was Tropical Storm Alex, which formed back in January of this year, and our most recent storm was Tropical Storm Danielle.
One of the largest reasons for why our season has been so quiet lately, actually originates thousands of miles away, off the western coast of Africa, where large plumes of Saharan dust in dry air carry across the Atlantic. This dust can actually be seen in New Orleans, and does account for some of our recent hazy days. While there has been storm activity off the coast of Africa, nothing has had the chance to develop due to the dry air and dust.
Closer to home, the water temperature in the Gulf of Mexico has been slightly warmer than average, but high pressure aloft, or high in the atmosphere has put a cap on any organized storm development so far. This will not continue for the entire season, and we still must be prepared for storm development at any time of the next few months, as we edge closer to the peak of the season.