This is an archived article and the information in the article may be outdated. Please look at the time stamp on the story to see when it was last updated.
Wet weather moves in for the weekend….but it's not a complete washout.
Through the day Friday winds have shifted out of the Southeast, pumping in more moisture from the Gulf, as a cold front moves slowly southeastward. We can expect much warmer temperatures in the mornings Saturday and Sunday, mainly in the low 70s, with highs into the low to even a few middle 80s.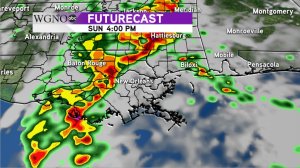 Scattered light to moderate showers will move through throughout the day from the South on Saturday, but Saturday evening remains mainly dry, and part of Sunday too. Our heaviest rain moves in Sunday afternoon ahead of the cold front. There is some wiggle room with the timing of front, but as of Friday evening it looks like the north shore begins to see rain moving in by early to middle afternoon, and the metro area by early evening Friday. Some thunderstorms are possible within this, and isolated areas could receive 2″+ of rain throughout the weekend.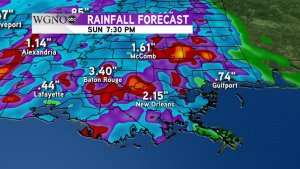 We will keep a slight chance for showers in the forecast for early Monday in the event the front slows, but there is a good chance we see completely dry weather Monday through Friday next week, with the coolest air of the season moving in by Wednesday when highs in many spots do not break 70º. Morning lows for much of next week with be in the 50s on both shores, with upper 40s possible Wednesday and Thursday on the north shore away from the lake.