This is an archived article and the information in the article may be outdated. Please look at the time stamp on the story to see when it was last updated.
NEW ORLEANS – Hurricane Irma continues to maintain its strength as maximum sustained winds remain at 185 mph.
Meanwhile, both Jose and Katia became hurricanes, marking the first time since September 2010 that there are three hurricanes in the Atlantic simultaneously.
Irma continues to roar through the Caribbean packing catastrophic winds and will continue to do so for the next several days. The track then curves north as the models are coming into better agreement that a trough will start to steer Irma away from the Gulf. Irma could reach Miami by Saturday afternoon.
Irma will actually be moving over even warmer water as it goes through the next several days, in fact, some of the warmest waters on the planet at the moment. This will give Irma the necessary fuel needed to maintain its dangerous winds.
Beyond its initial landfall, Irma could curve back out into the Atlantic Ocean and make a second landfall between Savannah, GA and Charleston, SC. While forecasting errors increase as they go forward in time, everyone up the Atlantic coastline should monitor Irma and its path.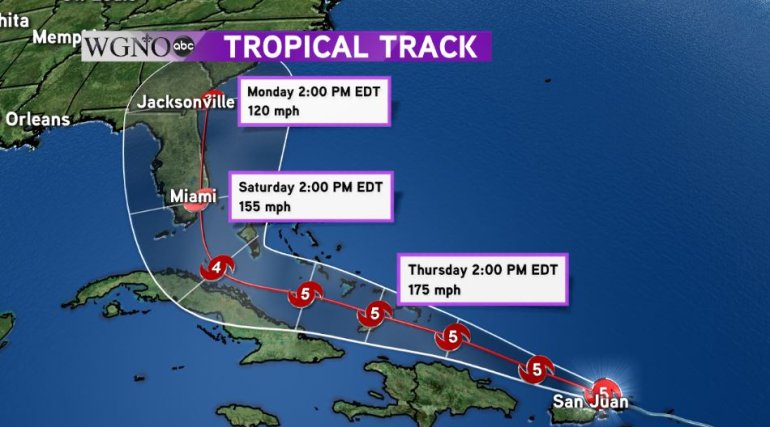 Behind Irma, Jose strengthened into a hurricane this afternoon. While Jose's path looks similar in the short term, it appears by the end of the 5 day forecast issued by the National Hurricane Center that Jose will curve northward into the Atlantic and begin to weaken as it moves over cooler waters. Before that happens though, Jose could become the third major hurricane this season.
Meanwhile in the Gulf of Mexico, Katia shocked most everyone by rapidly strengthening into a category 1 hurricane. Katia was a weak tropical storm just six hours ago. While it is in the Gulf of Mexico, the forecast calls for Katia to slowly meander in the Southern Gulf before turning back towards Mexico and making landfall on Saturday. Interests in Southern Texas should monitor Katia. Even though the center if forecast to be well south of the United States, heavy rains could spread into the Lone Star State.