This is an archived article and the information in the article may be outdated. Please look at the time stamp on the story to see when it was last updated.
NEW ORLEANS - Tropical storm Gordon continued to intensify in the Gulf of Mexico off the Florida Peninsula Monday afternoon as winds increased to 50 mph. Gordon is moving very quickly to the west-northwest at 17 mph and on the current forecast track, it is likely to make landfall either late Tuesday or very early Wednesday morning as a category 1 hurricane along the northern Gulf Coast.
While it is still too early to pinpoint the exact landfall point, southeast Louisiana from the mouth of the Mississippi all the way to Pensacola, FL lie in the cone of uncertainty with this system. The official track by the National Hurricane Center predicts a landfall between Bay St. Louis and Gulfport early Wednesday morning as of the 4pm Monday advisory.
Hurricane warnings are now in effect until further notice for coastal Mississippi and tropical storm warnings remain in effect for the rest of the viewing area. A warning means the expected conditions (winds greater that 74 mph for hurricanes and winds greater than 39 mph for tropical storm-force winds) are likely within the next 36 hours.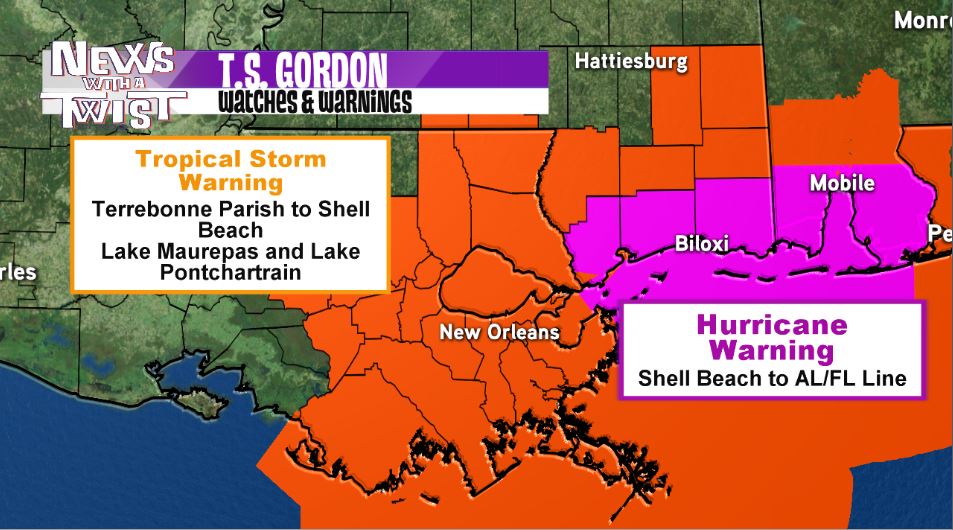 A storm surge warning is also in effect for Shell Beach eastward to Dauphin Island, Alabama. These locations can expect a surge of 3-5 feet as the storm moves ashore late Tuesday into Wednesday. A storm surge watch is in effect from just east of Morgan City to Shell Beach. A surge of 2-4 feet is possible in this area.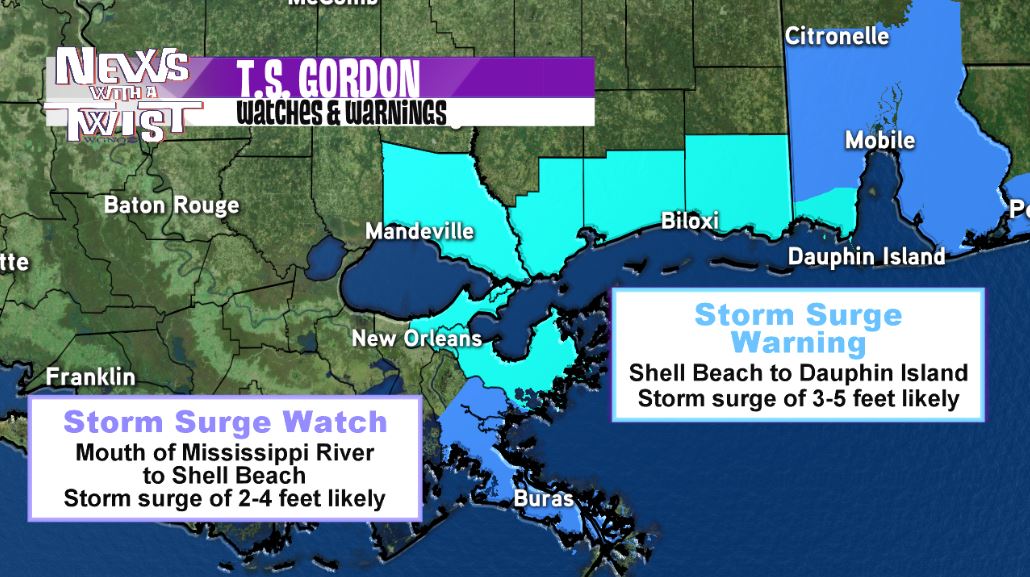 Please keep in mind that the path and forecast intensity of Gordon is uncertain and can change. If this happens, hurricane warnings and storm surge amounts may be shifted based on the new forecast track. Stay tuned to WGNO on-air and online as well as on social media for the most up to date information on this developing storm.