This is an archived article and the information in the article may be outdated. Please look at the time stamp on the story to see when it was last updated.
While much of the nation has been in a deep freeze for days, the South will soon get a dose of arctic air unparalleled in years. New Year's Eve day will feature highs in the 50's and periods of showers. Rain should be over by mid-afternoon, and as the front itself pushes in, lows will drop quickly.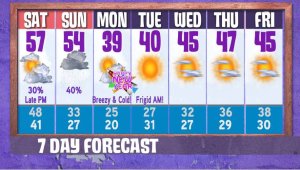 Around midnight, expect temperatures around 40 degrees in New Orleans. Factoring in the wind, it will feel like the low 30s. Morning lows New Year's day will be in the middle 20's on the north shore, and around freezing in New Orleans. Highs on Monday will not get out of the low 30s north of Lake Pontchartrain, and upper 30s in the city. The wind chill with a North wind at 10-15 mph will make it feel at or below freezing all day!
Lows get even colder by Tuesday morning, as wind dies down! Expect low 20s and upper 20s in the metro area Tuesday morning, with highs around 40, and middle 30s on the north shore. We will have as many as possibly 4 consecutive hard freezes starting on Sunday night on the north shore.
Remember the 4 P's as we enter this cold weather pattern: Pets, Plants, People, Pipes. Bring in any outdoor animals, drip your faucets if you have old or exposed pluming, cover or bring plants inside and look out for elderly and those more susceptible to cold.