This is an archived article and the information in the article may be outdated. Please look at the time stamp on the story to see when it was last updated.
Subtropical Storm Alberto becomes the first storm of the 2018 Atlantic Hurricane Season after forming Friday morning just off the coast of the Yucatan Peninsula.
While there still is not a well-defined center the storm has organized enough to assume a larger circulation around a center. Hurricane Hunter aircraft will fly into the storm this afternoon to get a better reading on the system.
In the meantime the impacts of this system continue to set their sites on the northern Gulf of Mexico.
The official forecast from the National Hurricane Center moves Alberto north towards the Mississippi/Alabama border and then starts a northwest turn. At landfall the storm is still forecast to be a tropical storm. However it is possible that additional strengthening occurs with very warm water over the northern gulf. A low end hurricane at landfall is not out of the question.
Regardless of the landfall intensity the impacts look to be the same from this storm.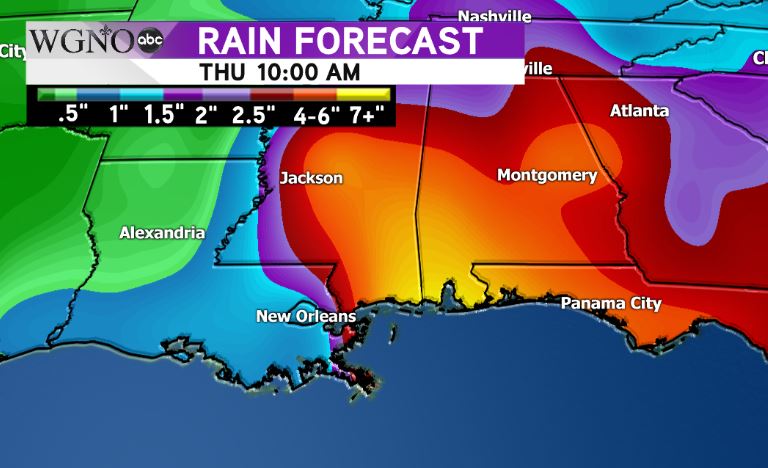 Very heavy rain will fall on the eastern side of the center. As the storm moves inland and continues to draw up moisture, significant ran amounts are possible. This forecast model indicates an area of 7+ inches in southern Mississippi and Alabama. Flash flooding will be a concern.
Other impacts will be strong rip currents for area beaches over the holiday weekend especially starting Sunday. A tornado threat will also exist east of the center, along with minor storm surge.
It's important to note this storm is still 2-3 days away. Since it is currently poorly organized, east or west swings in the eventual forecast are still possible. Any track west of the current forecast would bring much higher impact potential to southeast Louisiana.
As always stay with WGNO on air and online for the latest.