This is an archived article and the information in the article may be outdated. Please look at the time stamp on the story to see when it was last updated.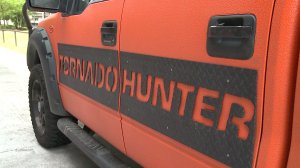 NEW ORLEANS (WGNO) – A group of three men make a living by getting into harm's way. They are storm chasers.
"People think we have a screw loose. I'll be the first to admit we do, but somebody's got to do it," Chris Chittick one of the stars of show "Tornado Hunters" that airs on CMT Canada says.
While they're chasing the perfect storm they are also collecting valuable data for tornado research.
"You get high winds, torrential downpours. You get hail up to the size of baseballs coming at you," Ricky Forbes says. "It can be very intimidating driving through that and keeping your cool and keeps the truck going."
The truck that keeps them going is called, Flash. She is fully coated with bulletproof Linex coating and outfitted with 18 cameras to capture everything happening on board and outside. The team credits Flash for saving their lives on numerous occasions.
"Last year we had 3 sets of power lines and 4 trees come down on us," Forbes explains. "Had we not had these mitigation bars they would have come right through the windshield. When it hits the mitigation bars, it rocks the whole truck. Then slip over top, and we are able to keep on going and stay safe."
"Once you're underneath that storm like that mother ship, there's things that are happening — the dynamics of that storm itself. In a classroom setting you don't really pick up on," Chittick said.
"Our contribution to that is actually showing the real time. What's actually happening on the ground, the researchers can look at that," severe weather expert Greg Johnson said.
One of the most terrifying events for these chasers was a historic outbreak in June of 2014 that spanned two rare twin twisters in Nebraska. These tornadoes were rated EF4s, the event lasted almost 2 hours.
"We are able to drive up right between them. Get as close as we wanted to them. Really incredible! The whole time your adrenaline is going and fear washes over you. It makes you want to stop. It was pretty scary because now it's not one tornado, but now you have two tornados you have to be aware of," Forbes says.
It's events like this make that keep these tornado hunters striving to improve the lead time ahead of tornadoes, and many of those advancements were made in just the last 10 years.
"When we were tracking weather, we were thrilled if we had 5 minutes of advance warning of a tornado. Nowadays the technology is so good, the knowledge base is so good, the research has been so good that often time the communities that are in tornado alley will get 20 even 30 minutes," Johnson explains.
The stars of the show "Tornado Hunters" that airs on CMT Canada were in New Orleans this week.
For more information head to their website at TornadoHunter.com