This is an archived article and the information in the article may be outdated. Please look at the time stamp on the story to see when it was last updated.
NEW ORLEANS – Tropical Storm Nate now has maximum sustained winds of 60 mph as it moves towards the Gulf of Mexico. Hurricane Warnings are now in effect for all of Southeast Louisiana, with the exception of Northern Tangipahoa, and Washington Parishes, which are under Tropical Storm Warnings.
Right now, the current forecast still brings a category one hurricane near the mouth of the Mississippi river before bending northeast toward the Alabama and Mississippi border.
Landfall timing looks like late Saturday evening near lower Plaquemines Parish, or the Mississippi coast if the storm shifts any further east. Mississippi is expected to see their landfall by after midnight Saturday.
As it stands right now, the forecast track will have the chance to produce damage in the area both from wind and storm surge.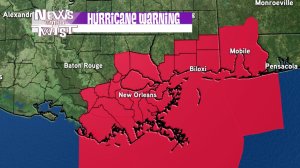 The Hurricane Warning has been shifted east as well.
The rest of southeast Louisiana is under a tropical storm warning.
Areas of the Mississippi coast and east to Alabama have a more likely chance of seeing hurricane conditions.
Storm surge flooding still looks to be the main issue, even with a track just to the east of the area we will likely see high water levels outside the levee system.
This will be most pronounced in Plaquemines, St. Bernard, and Hancock, and Harrison Counties in Mississippi.
The impacts to the area are expected to be storm surge levels of 4-6 feet, possibly higher farther east, tropical storm force winds, and heavy rain especially to the east of the center.
The next forecast from the hurricane center will come out at 4 PM today .