This is an archived article and the information in the article may be outdated. Please look at the time stamp on the story to see when it was last updated.
A strong storm system will bring the threat for severe storms and heavy rain late Sunday into early Monday for southeast Louisiana and southern Mississippi. The storm prediction center currently has areas just to the west under a moderate risk. For our immediate viewing area we have an enhanced risk on the western side of the area and a slight risk to the east.
The timing of this is going to be late Sunday through Sunday night. As a strong area of low pressure moves east, the potential will exist for all forms of severe weather, meaning wind, hail, and isolated tornadoes. This could be particularly dangerous due to the overnight nature of the system.
There is also going to be a threat for heavy rain.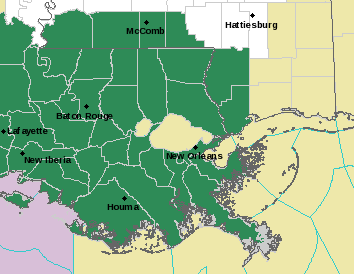 The parishes and counties shaded in green are currently under a Flash Flood Watch from the National Weather Service from Sunday afternoon through Monday morning. After recent heavy rains across the area, another batch of locally heavy rain will be possible with this system that could create localized flash flooding. Severe inches of rain will be possible. Most likely not across the entire area, but in certain spots.
As always stay aware of weather conditions through the day Sunday. Since this will be overnight make sure you have some way to be woken up if warnings are issued for your area.
Stay with WGNO for the latest.