This is an archived article and the information in the article may be outdated. Please look at the time stamp on the story to see when it was last updated.
NEW ORLEANS (WGNO) – Another cold front will be moving through the area tonight with the potential for severe weather. The first image shows the tornado probability from the Storm Prediction Center. It's a little unusual to have a 10% risk in our area, especially with the hatched marking which means a risk of EF2 or greater tornadoes.
While the biggest tornado threat will remain north of our area into central Mississippi, this is an indication that we will have the potential to see isolated severe storms produce tornadoes tonight, especially north of I-12.
The time frame of this event looks to be in the 1 AM to 5 AM range as the cold front moves through.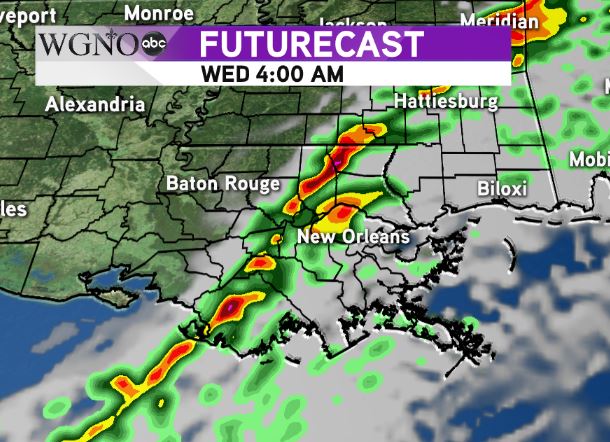 This image of the futurecast shows the line moving through the western part of the area around 4 AM on Wednesday. The most likely scenario is a squall line moving through with heavy rain and gusty winds. However any individual cells out ahead of the line could have rotation with them.
As always, nighttime severe weather events can be more dangerous because people may be asleep. Have a way to get warnings if they are issued for your area.