This is an archived article and the information in the article may be outdated. Please look at the time stamp on the story to see when it was last updated.
NEW ORLEANS (WGNO) – Otto became the seventh hurricane of the 2016 Atlantic hurricane season Tuesday afternoon. The storm has its sights set on the coastline of Central America.
After rapidly intensifying over the last 48 hours, Otto continues its march westward through the Caribbean. The National Hurricane Center (NHC) is forecasting Otto to make landfall early Thanksgiving Day near the border of Nicaragua and Costa Rica. It is unusual for a tropical system to make landfall this far south, especially at this time of year.
While the official track by the NHC has Otto making landfall just north of the border, if the actual path of the storm veers ever so slightly to the south, Otto will make landfall in Costa Rica. Why is this significant? Since record keeping of tropical systems began in 1850, no known storm has ever made landfall in Costa Rica.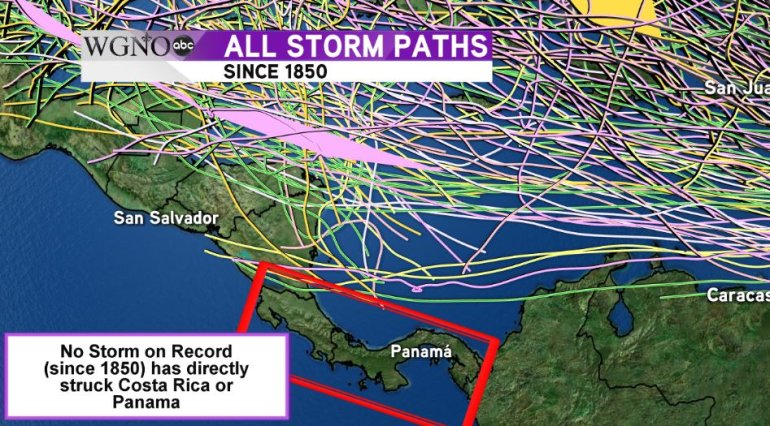 Even if Otto doesn't make a direct hit in Costa Rica, hurricane force winds will still be experience along the Costa Rican coastline. Currently, a hurricane watch is in effect for the entire Costa Rican coast line and the Southern Nicaraguan coastline for the Caribbean Sea. The country of Panama, which has also never been directly struck by a tropical system is under a tropical storm watch.
Once Otto crosses the Central American Isthmus, it will weaken over the cooler waters of the Pacific Ocean. While Otto's appearance in November is unusual, particularly this far south, it is important to note that hurricane season is still underway. The official end to the Atlantic hurricane season is on November 30.