This is an archived article and the information in the article may be outdated. Please look at the time stamp on the story to see when it was last updated.
NEW ORLEANS — Since the end of Mardi Gras, temperatures across Southern Louisiana have soared into the 80s. Highs hit 81° on Ash Wednesday and haven't relented resulting in five new record highs in the last seven days and February 2018 on track to be the warmest February ever in New Orleans.
BUT WHY?
The main culprit is a huge ridge of high pressure that is parked over the Atlantic Ocean near Bermuda. The clockwise flow around it is bringing in a southerly, onshore flow across New Orleans and the surrounding areas. So far, nothing strong enough in the upper levels of the atmosphere has come along to knock the ridge of high pressure away from us.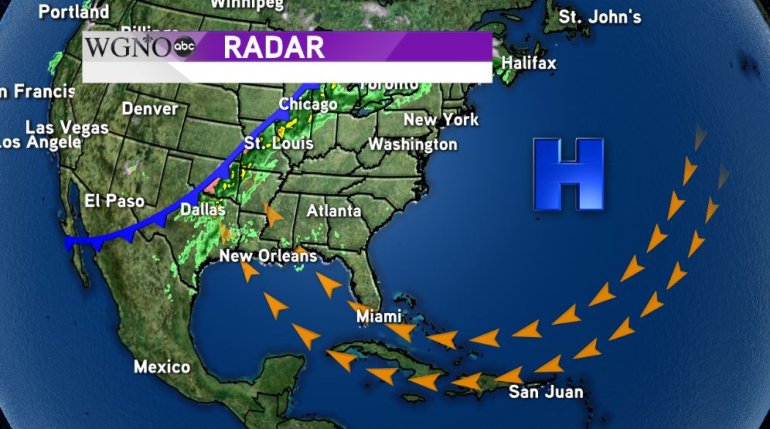 CHANGES ARE COMING
For now, the high is blocking the cold front in the previous image from making it into our area. That means the heavy showers and colder temperatures won't make it… yet.
Behind the front, a trough of low pressure is building. Eventually it will be strong enough to dislodge the ridge from our area but we'll have to wait until the weekend for that to happen. Until then, the cold front will stay to our north and bring heavy rain to the Tennessee River Valley and give us a slightly elevated chance for scattered showers Friday.
Another cold front will approach the area this weekend and it WILL move through late Saturday night into Sunday morning. This will bring showers and cooler temperatures as highs reach the only into the lower 70s Sunday afternoon and into early next week. While it's a week away and the models aren't in agreement, a few even suggest that highs will dip into the 50s by Tuesday. This would be the first time since the weekend before Ash Wednesday that we would see below average temperatures.