This is an archived article and the information in the article may be outdated. Please look at the time stamp on the story to see when it was last updated.
NEW ORLEANS – Hurricane Irma continued to strengthen on Tuesday morning, becoming the strongest hurricane ever in the Atlantic outside of the Gulf or Caribbean, at least in terms of records kept by the National Hurricane Center.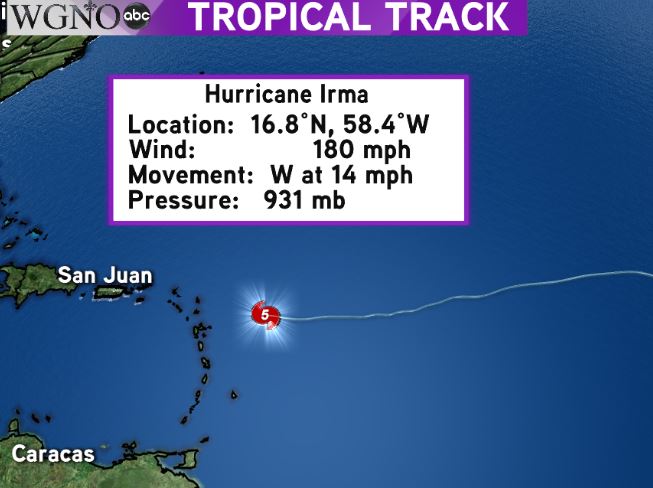 Latest winds as of Thursday morning were sustained at 180 mph, which is a very strong category 5 storm.
The storm is continuing to move west with hurricane warnings in effect for most of the Leeward Islands, Virgin Islands, and Puerto Rico among others.
The forecast track for the storm from the National Hurricane Center remains mainly unchanged.
Irma is expected to pass through the Florida Straights and maintain category 4 strength.
There is still a lot of uncertainty as to the future of Irma beyond four to five days. Right now, the eastern Gulf of Mexico is at risk of seeing Irma move in.
Eventually, most models agree on a turn to the north. However, when that happens will be key as to whether our area sees any impact from the storm.
Right now it's just too early to tell.
As always, stay with WGNO on air and online for the latest, and have your hurricane preparations and plans in place and ready to go should they be needed.