This is an archived article and the information in the article may be outdated. Please look at the time stamp on the story to see when it was last updated.
Several rounds of rain and storms will be moving through the area over the next few days. The first of those is on Thursday morning and afternoon as the system that has been out to the west in Texas finally begins to move east. Flash flood warnings are already out in Baton Rouge due to extended periods of heavy rain. That will be the main threat for our area. A very small severe weather threat exists, but mostly we will be dealing with the heavy rain threat, especially on the north shore.
Be careful driving through the afternoon. That heavy rain will make it very difficult to see.
The next round of storms comes in late Friday night early Saturday morning.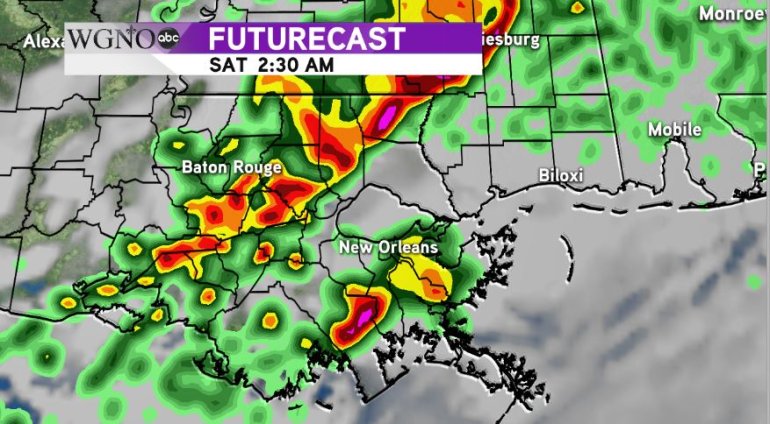 This picture shows our forecast model around 2:30 AM Saturday. A strong area of storms will most likely be moving through. All types of severe weather will be possible. Hail, strong wind, and tornadoes. Best chance as usual will be up north. But overnight events are more dangerous due to people being asleep, so make sure you have a way to get warnings if they are issued.
Finally a third round of storms will be coming in Saturday night. This may actually be the best chance for severe weather, although the overall coverage of storms looks to be a bit less.
Right now all of the area is under a 'Slight' risk for severe weather from the storm prediction center from Friday night through Saturday night. However the potential is there for this to be upgraded over the next couple of days. You will want to stay aware of developing weather conditions through the day Saturday. Expect that round of storms to move out by Sunday morning.