This is an archived article and the information in the article may be outdated. Please look at the time stamp on the story to see when it was last updated.
NEW ORLEANS — The National Weather Service has extended the Dense Fog Advisory to continue across our entire viewing area through 9 a.m. Wednesday.
Visibility will be particularly low over bridges and near bodies of water. You will want to allow for extra time on your commutes, especially traveling over the Causeway, where a 35 mph one lane convoy has been enacted. Visibility is less than 1/4 mile over Lake Pontchartrain.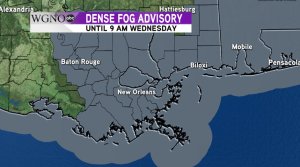 There is the possibility that fog could linger into Thursday evening, but sunshine will return by Thursday, with warm temperatures continuing to remain in the low to middle 70s. We will see thunderstorms again during the day Wednesday, a dry Thursday, and another system bringing in showers Saturday and possibly Christmas eve.
Colder weather does look likely by Christmas eve in the 60s, and a cold Christmas possibly barely reaching 50 degrees.