This is an archived article and the information in the article may be outdated. Please look at the time stamp on the story to see when it was last updated.
Florence intensified into Hurricane status Sunday morning as a Category 1 Hurricane. It is currently northeast of the Turks and Caicos Islands and Puerto Rico. It is expected to strengthen into a Category 4 storm before it makes landfall on the East Coast by Thursday.  If you have friends and family in the Carolinas, be sure to tell them to make preparations like having their home storm ready, have a hurricane kit, and make evacuations plans just in case they are told to evacuate.
We also have Hurricane Helene that intensified into a Category 1 storm Sunday afternoon. But, the NHC's forecast track has it veering out to see having no effect on the United States at this time.
The third storm in the Atlantic is Hurricane Isaac that has a more southerly track in the Atlantic Ocean. It is expected to maintain Category 1 status by Wednesday afternoon, as it moves through the Windward Islands and into the Caribbean. Isaac is expected to weaken back down to Tropical Storm status by Friday due to an increase in wind shear over the Caribbean Sea.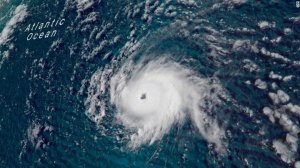 With so much activity going on in the Atlantic, be sure to stay with WGNO on-air, online, and on social media for the latest updates on these storms and any others that develop during hurricane season.