This is an archived article and the information in the article may be outdated. Please look at the time stamp on the story to see when it was last updated.
A strong storm system will be moving across the country over the weekend bringing heavy rain and the threat of severe storms to southeast Louisiana and southern Mississippi. This will be a fast moving system as a surface low develops and moves east just inland from the coast.
Two to four inches of rain are likely across the area with locally higher amounts possible in some of the thunderstorms on the South Shore. Because of this, a flash flood watch is in effect for most of the area on Saturday.
The Futurecast shows the heavy rain over the area by noon through early afternoon. A small threat of street flooding does exist with this system. Even though it will move through quickly there is the possibility of a couple inches or more of rain in a relatively short time. It's a good idea to clear storm drains and catch basins of any leaves or debris that may be in them.
The other issue with this system will be severe weather potential. While not a widespread threat, areas of the south shore especially south of I-10 could see a risk. As low pressure moves to the east the wind fields around it would be conducive for an isolated tornado or strong wind gust. However most of the instability with this system will stay near the coast and just offshore.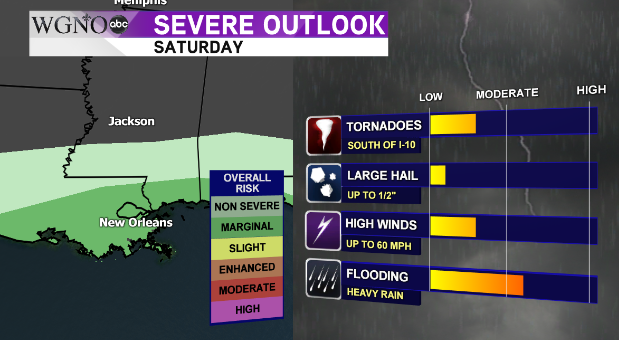 Currently the Storm Prediction Center has the area under a marginal risk outlook, which is the lowest on the severe weather scale. Be alert to weather conditions on Saturday though and be prepared to take shelter should a warning be issued for your area.
As always stay with WGNO on air and online for the latest.