This is an archived article and the information in the article may be outdated. Please look at the time stamp on the story to see when it was last updated.
NEW ORLEANS -  A strong cold front sweeping across Texas will bring the potential for severe weather overnight into Louisiana and Southern Mississippi.
The threats we could see from this system include isolated, strong tornadoes, damaging straight-line winds, large hail, and flash flooding.  The Severe Prediction Center (SPC) has most of our area in an 'enhanced' risk for severe weather. 'Enhanced' is essentially a 3 out of 5 when it comes to severe weather. In addition to the 'enhanced' risk, the SPC has indicated the North Shore and Pearl River County in Mississippi also have an increased threat of isolated, strong tornadoes of EF-2 or higher. This area is indicated by the red hatch marks in the graphic below: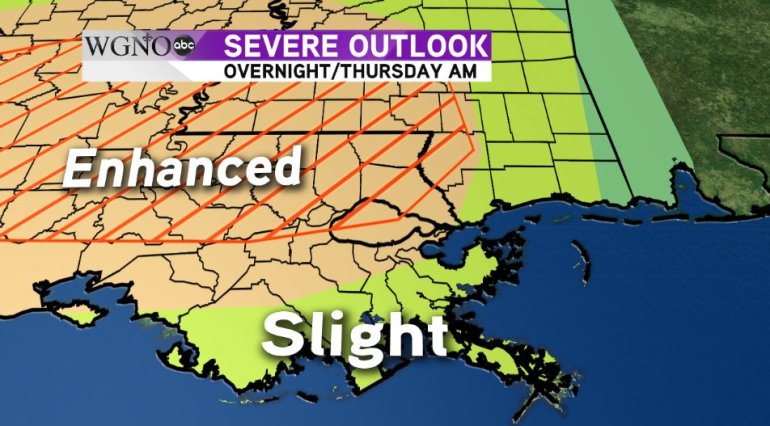 It's rare to see this hatched area in our next of the woods and is another reason not to take this storm system lightly.
As for timing, unfortunately it appears the heart of the severe weather will move in during the morning commute. Because of this, some school districts have decided to delay their start times until later in the day. A full list of these delays can be found here.
The system will be very quick moving and will enter the western portion of our viewing area around 5 a.m. and the leading edge, where the severe weather would be, looks to push offshore around 8 a.m.
Be sure to stay tuned to WGNO on-air, online and on social media for the latest updates on this developing severe weather threat.