This is an archived article and the information in the article may be outdated. Please look at the time stamp on the story to see when it was last updated.
Just days from the 12th anniversary of Hurricane Katrina, Hurricane Harvey has pounded eastern Texas from landfall Friday night as a major hurricane, to now sauntering across the state leaving unprecedented rainfall in it's wake.
Houston has taken the brunt of the water, with a staggering 9 trillion gallons of water estimated to have fallen. Over one thousand rescues have been made, and countless vehicles abandoned. Many areas around Houston have received over a foot of rain just Sunday alone, in what could be one of several days of heavy rainfall ahead.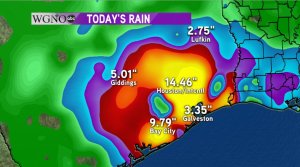 Now a Tropical Storm, Harvey's movement Sunday evening has become staggeringly slow, moving Southeast back towards the Gulf at 3 mph. Harvey will strengthen marginally once the center moves over warm Gulf waters. The storm is then expected to move Northward again, through East Texas in the next three days.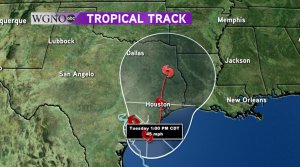 The erratic, and painfully slow path of Harvey is bringing historic, and never before seen flooding to the region. The Houston National Weather Service says it is possible up to 50″ of rain will fall in hardest hit areas by the end of the week.