This is an archived article and the information in the article may be outdated. Please look at the time stamp on the story to see when it was last updated.
NEW ORLEANS — As arctic air funnels into the region, another shot of colder air may bring the chance for flurries for folks on the North Shore and west of the New Orleans metro area.
Over the next 24 hours, the setup is going to remain the same across the region as winds at the surface are going to be breezy from the northwest, keeping temperatures very chilly and well below average. At the same time, winds higher up in the atmosphere will be coming in from the southwest, bringing in warm, moist air on top of the colder air. We meteorologists call this an 'overrunning' event because the warm air is running over the colder air.
And you can see what it does: cold, dreary wet rain.
But early Friday morning, a reinforcing shot of colder air MAY make it far enough south to change some of the precipitation over to snow as it is leaving the area. Models ARE NOT agreeing on just how far south this reinforcing cold air will make it, however, it is possible folks to the west of the city and on the north shore could see a few flurries during the morning hours on Friday.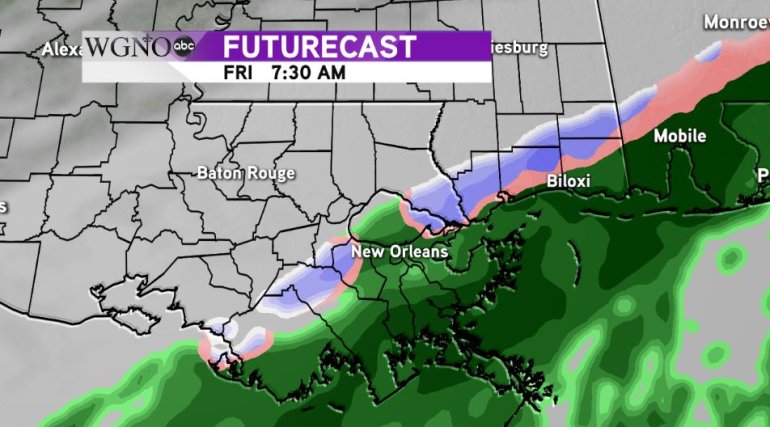 No accumulation is expected from this system as it moves through, but it could provide a few wintry flakes to put you in the holiday mood as we head into the weekend.
By Friday afternoon, the sun returns but don't expect too much of a warm up as highs only reach near 50 degrees.