This is an archived article and the information in the article may be outdated. Please look at the time stamp on the story to see when it was last updated.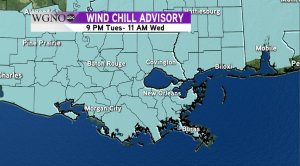 NEW ORLEANS — A strong Alberta Clipper will be bringing in a cold front and a blast of arctic air by Tuesday afternoon.
The high temperature will be around 45 degrees late Tuesday moring, with the cold front pushing through in the afternoon and dropping temperatures to the 30s. There will be enough moisture around to produce some light showers both in the late morning and possibly change to flurries by the afternoon as the temperature falls.
As the moisture moves out and skies clear Tuesday night, bitter cold sets in. A hard freeze has been issued from 6 PM Tuesday through Wednesday morning for all areas north of the coastal parishes. Lows will drop to the 20s in most spots and even upper teens north of Lake Pontchartrain. This includes the Mississippi Gulf Coast.
A Wind Chill Advisory has been issued from 9 PM Tuesday through 11 AM Wednesday morning. With the wind, it will feel like the low teens and possibly even single digits at times. Highs will be in the mid 30s with full sunshine by Wednesday afternoon.
As winds die down Tuesday night, another hard freeze is likely into early Thursday, but by Thursday we start the climb with highs in the upper 40s, and then upper 50s Saturday and upper 60s by the weekend.