This is an archived article and the information in the article may be outdated. Please look at the time stamp on the story to see when it was last updated.
NEW ORLEANS – A powerful cold front sweeping across the nation will bring the chance for a wintry mix this afternoon and then bitterly cold temperatures overnight into Wednesday morning.
As the front pushes through the state of Louisiana this afternoon, most of the moisture will stay to our north and not quite make it to our viewing area. However, a few band could push through this afternoon into the evening, starting off as rain and then transitioning into sleet and then snow. Accumulation, if any, will mostly be north of Lake Pontchartrain from Baton Rough across the I-12 corridor and into Coastal Mississippi, and be limited to a dusting with an inch possible in isolated areas.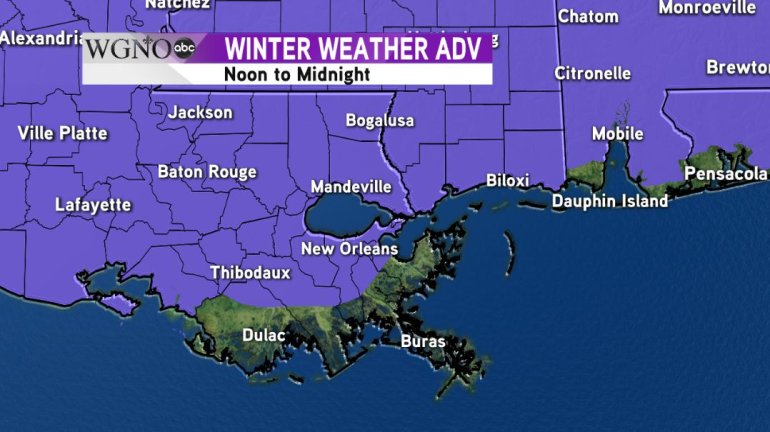 Because of this, a winter weather advisory is in effect for most of the area from noon until midnight for the entire area except for those living along the Louisiana Gulf Coast. Some icy conditions may develop on roads and overpasses as temperatures plummet with moisture still in place.
By tomorrow morning, temperatures will be dangerously cold with teens on the North Shore and 20s on the South Shore. Winds will pick up behind the front as well and once you factor that in, winds chills will be below 10 degrees across the area Wednesday morning.
Thankfully, this round or arctic air won't last as long as the last go around. Teens and 20s will continue for the morning temperatures Thursday, but afternoon highs will reach back into the 40s. By Friday, we'll see 50s and then 60s and 70s for the weekend with showers and storms returning Sunday afternoon.