If you thought UMBC beating Virginia was incomprehensible … If you thought March Madness No. 1 seeds couldn't get anymore shockingly collapsible … If you thought you'd seen the outer edge of NCAA tournament shock …
Get a load of Fairleigh Dickinson beating Purdue. My god.
Tony Bennett, you're off the hook. Turns out, the Thursday column on Virginia's collapse was premature. At least the Cavaliers have that one national championship, while Purdue has absolutely nothing other than a continuing narrative of misery.
Matt Painter just plummeted to the basement of March Madness lore. It doesn't get any lower than the Boilermakers' trifecta of choke-a-rama. The ghastly roll call:
In 2021, Purdue lost in its backyard (Indianapolis) to No. 13 seed North Texas in the first round.
In 2022, Purdue lost in the Sweet Sixteen to No. 15 seed Saint Peter's, enabling a gilded Peacocks run.
And now, this. A complete meltdown of incomprehensible proportion, as a No. 1 seed, against the 68th team in the field of 68. The shortest team in the 363-team Division I—average height of six foot three and change—defeated the team led by seven foot four All-American Zach Edey.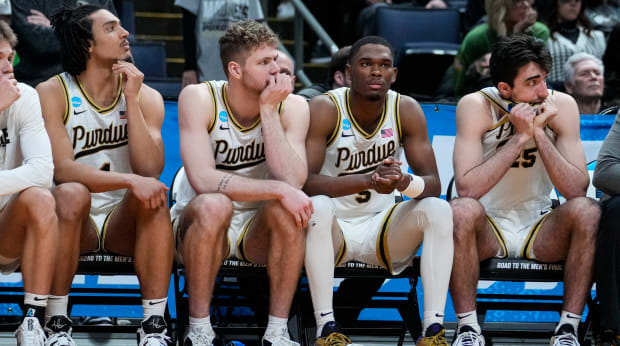 What an absolute flaming garbage barge, floating down the Wabash River. Purdue has a great heritage of success, but its current place in history as the Exxon Valdez of March has overwhelmed everything else.
How the Big Ten regular-season champion and tournament champion could lose to a team that didn't even win its own conference tournament, I'm not sure. Fairleigh Dickinson was beaten in the Northeast Conference title game by Merrimack, which wasn't eligible for the Big Dance as a transitioning school from Division II. And the NEC is terrible—0–31 in the NCAA Tournament until this game.
Fairleigh Dickson was ranked No. 298 out of 363 in Division I in the Pomeroy Ratings coming into this game. The Knights weren't even favored in their First Four game Wednesday in Dayton against Texas Southern, which lost 20 games this season. They are, quite likely, the worst team to ever win two NCAA Tournament games.
Purdue, for what it's worth, isn't as good as the 2018 Virginia team that lost to UMBC. Most of us could see the warning lights flashing on the Boilermakers, despite winning the league and the league tourney. Nobody picked the Boilermakers to lose this game, but they were a fairly popular pick to go down in rounds two, three or four—missing the Final Four yet again.
Surrounding Edey, Purdue was dependent on freshmen guards and wings who were fine, not great. They had a pileup of role players surrounding a pillar of power in the middle. FDU succeeded in limiting Edey with a swarm of double teams, and the supporting cast flopped.
The stat sheet is a black-and-gold nightmare. Purdue was 5-of-26 from three-point range. Outside of Edey, it was 7-of-16 from two-point range. Point guard Braden Smith committed seven turnovers.
But beyond game stats was the clear vision of who handled the pressure and who wilted under it. For the third straight year, Purdue demonstrably choked.
Losing to North Texas in Indianapolis was brutal—and you could see the burden compounding itself as the game went along and Purdue failed to exert itself. Losing to Saint Peter's last year was largely the same—top-five NBA draft pick Jaden Ivey, plus a veteran cast around him, kept pressing and pressing. And now this.
Watching a team actively melt down—and the coach fail to figure out how to stop it—is a painful reality of sports. With Purdue and Painter, it's a recurring scene. How a coach with Edey and 10 scholarship players couldn't figure out how to score against Lilliputian Fairleigh Dickinson, I have no idea.
There is no choice now for Purdue but to pull back and examine everything about its operation. Much like Bennett at Virginia, the Boilermakers have a coach who they'd probably like to keep forever. Much like Bennet at Virginia, the Boilermakers have succeeded in beating their conference competition and performing at a high level during the regular season. Much like Bennett and Virginia, they have then flopped time after time after time when it's time to enter the wider world.
Bennett put Painter behind him in the Big Dance futility race with a literal last-second play in the 2019 regional final, on Virginia's way to the national title at the Boilermakers' expense. This Purdue loss adds some further distance between the two.
When it really matters, Purdue doesn't guard well enough. It doesn't make enough big shots. It doesn't coach its way out of tight spots. The Painter system is flawed, perhaps fatally in terms of NCAA championship competition.
The school of John Wooden, Rick Mount, Big Dog Robinson and many other greats has a new chapter of NCAA tournament embarrassment. This is the worst one yet, and it's the third in succession. Purdue is the new punchline of March Sadness.