The end of the NBA regular season is drawing near. Just last week, three teams clinched playoff spots, though there's still fierce battles for playoff position going on in both conferences.
The Bucks were one of the teams that locked up a spot in the postseason and they remain atop this week's power rankings. The Celtics and Nuggets are also playoff-bound, though both teams have faltered in recent weeks and are trending in the wrong direction with April approaching. The 76ers, the hottest team in the league riding an eight-game winning streak, jumped Boston for the No. 2 spot and is within shouting distance of Milwaukee for the best record in basketball.
Further down the standings, the Heat, Mavericks and Thunder all moved up while the Nets and Hawks both slid down.
Find out how all 30 NBA teams stack up with the regular season finale just 20 days away.
1. Milwaukee Bucks
Record: 51–20
Previous ranking: 1
The Bucks survived a challenge from the Kings on the road last week, but Giannis Antetokounmpo's 46 points and 12 rebounds ultimately prevented Sacramento from lighting the beam. He followed that up with 36 points and 11 boards in a win over the Suns, the 50th of the season for Milwaukee, which became the first team to clinch a playoff spot this season. Back in Wisconsin, the Pacers pulled off a 16-point upset win at FiServ Forum on Thursday, but the Bucks got back to their winning ways Sunday against the Raptors, in part thanks to an Antetokounmpo triple-double, his fourth of the season.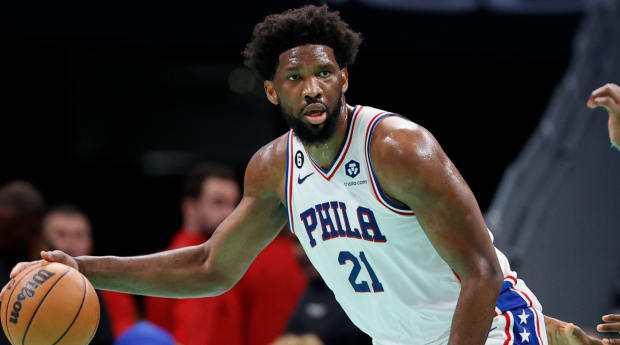 2. Philadelphia 76ers
Record: 48–22
Previous ranking: 3
Philadelphia swept its three-game road trip last week to stretch its winning streak to eight and pass Boston for the No. 2 seed in the East. Joel Embiid, the league's leading scorer and new MVP favorite, was startlingly efficient in each contest. He racked up 36 points and 18 boards against the Cavaliers, tallied 38 and 13 as the 76ers throttled the Hornets and added another 31 points in a 20-point win over the Pacers. Tyrese Maxey matched Embiid's scoring total against Indiana as Philly broke 140 points for the third time this season.
3. Sacramento Kings
Record: 43–27
Previous ranking: 5
The Kings put up quite the fight against the Bucks at home last Monday but still fell by nine points. De'Aaron Fox finished with 35 points and Kevin Huerter hit a career-high eight threes in the losing effort. They began a road trip two nights later in Chicago where Fox drained a game-winning three and Domantas Sabonis put together his second consecutive triple-double. Sabonis had a 20-20 game in a win over Brooklyn and then nearly triple-doubled again in a win over Washington on Saturday. The final leg of Sacramento's four-game road trip is Monday night in Salt Lake City.
4. Boston Celtics
Record: 49–23
Previous ranking: 2
The Celtics' struggles continued last week with two tough losses on the road. With a 5–5 mark over their last 10, they've fallen behind the 76ers in the standings to third place. Jayson Tatum missed the potential game-tying shot in Houston on Monday and Boston lost by two despite Jaylen Brown's season-high 43 points. The C's rebounded to win in Minnesota and Portland but they lost Saturday in Salt Lake City on the second night of a back-to-back. Marcus Smart (hip) and Al Horford (back) both missed the Utah game, though Malcolm Brogdon (Achilles) returned from a one-game absence.
5. Cleveland Cavaliers
Record: 45–28
Previous ranking: 6
Cleveland is still going steady despite the absence of Jarrett Allen (eye). The Cavaliers beat the Hornets again last Tuesday as Evan Mobley's 26 points paced the team and Cedi Osman chipped in 24 off the bench. They lost to the visiting 76ers by nine the next night and had no answer for Embiid. Cleveland bounced back Friday and blew out Washington by 23 at home. Next up is a two-game set in Brooklyn.
6. Denver Nuggets
Record: 48–24
Previous ranking: 4
Denver's losing streak stretched to a season-long four games following a 15-point defeat in Toronto last Tuesday. The Nuggets got back in the win column a few nights later against the Pistons, and in doing so they clinched the Northwest Division title and the first playoff spot of any Western Conference team. They split their two-game set in New York as they lost to the Knicks and beat the Nets. The finale of Denver's five-game road trip is Wednesday in Washington, D.C. and then Milwaukee heads to the Mile High City this weekend.
7. New York Knicks
Record: 42–30
Previous ranking: 7
New York had a light week with just two games on its schedule and it won both. First was the final leg of a four-game road trip in which the Knicks beat the Trail Blazers by 16 behind Immanuel Quickley's 26 points. Jalen Brunson (foot) returned from his three-game absence to lead his team to a win over the Nuggets. Brunson, Julius Randle and RJ Barrett each had 20-plus points in the contest to complete the season sweep of Denver.
8. Memphis Grizzlies
Record: 43–27
Previous ranking: 8
Ja Morant is officially eligible to return from his eight-game suspension Monday against the Mavericks. Though he won't be back in action just yet, he could return Wednesday against Houston. Memphis beat Dallas twice while Morant was out, including a blowout win last week when the Mavericks were also without their stars. Following that game, the Grizzlies hit the road where they lost to the Heat by 19 and beat the Spurs by eight in overtime. Back at FedEx Forum on Saturday, they beat the Warriors by 14 to even the season series, 2–2.
9. Los Angeles Clippers
Record: 38–34
Previous ranking: 10
A surprising loss to Orlando interrupted Los Angeles's win streak, but it's still rolling with five wins over its last six. The Clippers survived Stephen Curry's 50-point outburst and beat the Warriors by eight behind Kawhi Leonard's team-high 30 points. With Leonard out against the Magic, Paul George led the way with 30 in a five-point defeat. Leonard returned Sunday for a 15-point road win over the Clippers. George, Leonard and Eric Gordon each had 20-plus points and Russell Westbrook finished with nine points, 12 rebounds and 10 assists. L.A. is home for its next four games with a top-four seed and home court advantage within reach.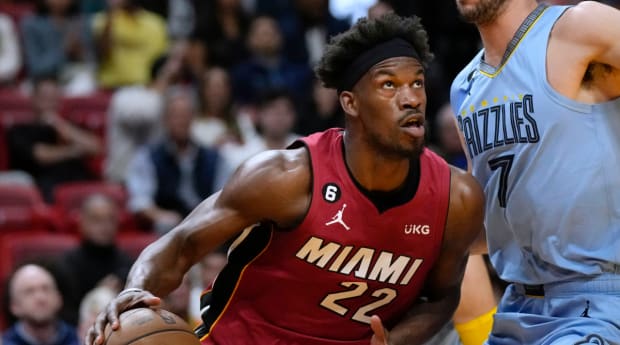 10. Miami Heat
Record: 39–34
Previous ranking: 14
The Heat are bearing down on the Nets for sixth pace in the East after a 3–1 week. At home, they beat the Jazz and scored a season-high 138 points in a blow out win over the Grizzlies. During a quick, two-game road trip, Miami fell short in Chicago on Saturday and then defeated Detroit on Sunday. The Heat only have two games on their schedule this week and they're against Brooklyn and New York, the two teams just ahead of them in the standings.
11. Phoenix Suns
Record: 38–33
Previous ranking: 9
The Suns struggled last week against a difficult slate of opponents. First was an 11-point loss on the road to Golden State followed by a 12-point defeat in the desert versus Milwaukee. Phoenix ended its three-game losing streak Thursday with a three-point win over Orlando. Devin Booker's 46 points weren't enough to get past Oklahoma City on the road Saturday. The Suns have now dropped four of five and home court advantage in the postseason is on the line as they await Kevin Durant's return.
12. Golden State Warriors
Record: 36–36
Previous ranking: 11
Last week was par for the course for Golden State this season. At home against Phoenix on Monday, Klay Thompson went for 38 points and eight threes in an 11-point win. And then the Warriors kicked off their five-game road trip with three consecutive losses. Curry scored 50, which tied a season-high, in a losing effort against the Clippers and he added 31 in a loss to Atlanta. Saturday against the rival Grizzlies, who were without Morant, the Dubs fell by 14. Golden State, which is 29–7 at home and 7–29 on the road, is in seventh place in the West, just a half game behind Dallas.
13. Dallas Mavericks
Record: 36–35
Previous ranking: 15
After an ugly loss to Memphis with no Luka Dončić (thigh) or Kyrie Irving (foot), Dallas beat San Antonio in overtime on the road without its All-Star duo. Five Mavericks players scored 20-plus points, led by Christian Wood, who racked up 28 points and 13 boards off the bench. Irving returned from his three-game absence Friday against the Lakers and went for 38 in a one-point win. Dallas has inched up to sixth place in the West, where they would avoid the play-in tournament, but are still in a precarious position.
14. Oklahoma City Thunder
Record: 35–36
Previous ranking: 17
Oklahoma City moved up the standings to eighth place last week and is now just one game shy of .500. Shai Gilgeous-Alexander's 35 points and a Josh Giddey triple-double lifted the team to a 14-point victory over Brooklyn before the Thunder lost by 17 in Toronto. They got past the Suns by four on Sunday thanks to a fourth-quarter comeback powered by SGA's sixth 40-point game of the season. OKC is now on the road for its next four, the first three of which are in L.A.—two against the Clippers and one against the Lakers.
15. Brooklyn Nets
Record: 39–32
Previous ranking: 12
The Nets went winless last week and are now just barely ahead of the Heat for the final guaranteed playoff spot in the East. Mikal Bridges scored 34 in a 14-point loss to the Thunder on the road and Spencer Dinwiddie put together his third game in a row with 10-plus assists. Brooklyn returned home to Barclays Center later in the week and lost to Sacramento by five and Denver by six. The next two games for the Nets are at home against the Cavaliers on Tuesday and Thursday.
16. Los Angeles Lakers
Record: 35–37
Previous ranking: 16
Anthony Davis's 35 points and 17 rebounds powered the Lakers to a 15-point victory against his former team, the Pelicans, last Tuesday. After that game, L.A. was once again one win away from .500 but it dropped its next two on the road in Houston (without Davis) by four and back home to Dallas by one. Austin Reaves exploded for a career-high 35 points off the bench Sunday to lift Los Angeles to a crucial win against the Magic. LeBron James (foot) is still sidelined but coach Darvin Ham indicated he will be back before the regular season is over. The 10th-place Lakers have 10 games left on their schedule.
17. Atlanta Hawks
Record: 35–36
Previous ranking: 13
Minnesota blew out Atlanta by 21 points last Monday at State Farm Arena. Trae Young finished with 41 points and seven dimes but the defense allowed 136 points to the Timberwolves, the fourth-highest total its allowed all year. The Hawks rebounded with a home win Friday over the Warriors, whose road struggles reared their head once again. They then hit the road over the weekend and blew a 24-point lead to the Spurs in a game where Young was held to single digits.
18. Utah Jazz
Record: 34–36
Previous ranking: 19
Utah is coming off a light week in which it played just two games. The final leg of a six-game road trip was a four-point defeat to the Heat last Monday in Miami. Lauri Markkanen had 38 points in the game and rookie Simone Fontecchio scored a career-high 23. The Jazz enjoyed a long layoff before their next game Saturday against the Celtics and the rest paid off with a one-point win thanks to Walker Kessler swatting away a Grant Williams layup attempt. The remaining schedule for Utah is one of the toughest in the league, but in 11th place they are still very much in contention for a play-in spot, which would be quite the accomplishment based on the preseason expectations surrounding Will Hardy's crew.
19. Minnesota Timberwolves
Record: 35–37
Previous ranking: 18
The Timberwolves are back under .500 after a 1–3 week. It was a slip-up they couldn't afford to have given their place in the standings. They're now 1–5 over their last six and Anthony Edwards (ankle) is on the injury report. Minnesota blew out Atlanta by 21 on the road last Monday and then returned home where it lost to Boston by two. Edwards left the double-overtime road loss to the Bulls early and was out Saturday against the Raptors and his team fell by 15 without him. The T-Wolves will try to avoid finishing their road trip winless Monday night at Madison Square Garden.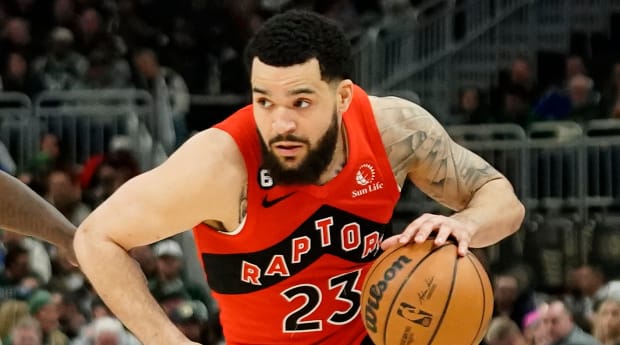 20. Toronto Raptors
Record: 35–37
Previous ranking: 21
Toronto took down the No. 1 team in the West to kick off its winning streak last Tuesday. The Raptors jumped on the visiting Nuggets early to the tune of a 49-point first quarter. Denver fought its way back in the fourth quarter but Fred VanVleet's 36 points helped put the game away. Next up were resounding wins over the Thunder and Timberwolves to make it three in a row. Toronto's run ended Sunday when it lost to Milwaukee in a game that Scottie Barnes (wrist) left early. It has three winnable games at home on the docket this week.
21. Chicago Bulls
Record: 33–37
Previous ranking: 22
The Bulls, winners of four of their last five, are picking things up at the right time as they try to hold on to the final play-in spot in the East. Their only loss last week was to the Kings on a Fox buzzer beater. Chicago rebounded to top Minnesota in double overtime behind DeMar DeRozan's season-high 49 points while Zach LaVine tacked on 39 in the high-scoring contest. Over the weekend, the Bulls handily dispatched the Heat at home on the second night of a back-to-back as DeRozan once again led the way. Their next two games are against the streaking 76ers, one on the road and one at home.
22. New Orleans Pelicans
Record: 34–37
Previous ranking: 20
The Pelicans are still teetering on the cusp of the play-in with a handful of other Western Conference opponents. They lost by 15 last Tuesday to the Lakers, one of the other teams jockeying for position alongside them. New Orleans then split a two-game set on the road with Houston. Jabari Smith Jr.'s late three-pointer was the deciding shot in a two-point loss Friday, and the Pelicans rebounded to win by 10 on Sunday behind 26 points apiece from Brandon Ingram and C.J. McCollum.
23. Indiana Pacers
Record: 32–39
Previous ranking: 23
Of Indiana's three games last week, it won its toughest task and dropped the other two. The Pacers suffered two 20-point losses, Monday on the road to the Pistons and at home Saturday against the 76ers. In between the pair of blowouts, they went on the road and beat the Bucks for the first time this season, by 16 points nonetheless. Indiana connected on 22 threes to execute the upset while Andrew Nembhard, Aaron Nesmith and Buddy Hield all finished with 20-plus points. Tyrese Haliburton (ankle) remains out and has missed the team's last four games.
24. Washington Wizards
Record: 32–39
Previous ranking: 24
A play-in game is still on the table for the Wizards, but they're not doing themselves any favors with just one win over their previous six games. That lone victory came last Tuesday against the Pistons as Bradley Beal's 36 points powered the team to a 20-point win. Washington lost by 23 a few nights later in Cleveland. The Wizards returned to Capital One Arena over the weekend and Kyle Kuzma's 33 points weren't enough to prevent a 14-point defeat at the hands of the visiting Kings.
25. Orlando Magic
Record: 29–43
Previous ranking: 26
Orlando was on the road for the past week and came away with just one victory in four tries. Its worst loss was last Tuesday in San Antonio, an 18-point defeat in spite of Paolo Banchero's 27-point performance. The Magic fell just short two days later in Phoenix, a three-point loss that came down to the game's final seconds. Markelle Fultz led the team's fourth-quarter comeback win against the Clippers on Saturday and finished with 27 points while Wendell Carter Jr. added 27 points and 12 boards. Orlando lost to the Lakers by six on the second leg of a back-to-back Sunday and is home for its next three games.
26. Portland Trail Blazers
Record: 31–40
Previous ranking: 25
The Trail Blazers, 2–8 in their last 10, are falling out of the play-in picture with only a few weeks left in the regular season. Portland doubled its losing streak to six games last week, a new season-long. Each of its losses came at home and Jerami Grant (quadriceps) was out for all three games. Damian Lillard went for 38 points in a 16-point defeat to the Knicks and he followed that up with 41 in a 14-point loss to the Celtics. Lillard had a poor shooting outing in Sunday's 15-point loss to the Clippers while Jusuf Nurkic led the team with 23 points and 11 boards.
27. Houston Rockets
Record: 18–53
Previous ranking: 29
Houston won three in a row last week for the first time all season. The streak began against Boston last Monday, powered by 28 points from Jalen Green and double doubles by Jabari Smith Jr. and Kevin Porter Jr. The Rockets outlasted the Lakers a few nights later and then beat the Pelicans as well, with each game decided by four points or fewer. The run came to an end Sunday with a 10-point loss to New Orleans despite Green's 40 points.
28. Charlotte Hornets
Record: 22–50
Previous ranking: 27
Charlotte was on the wrong end of two lopsided final scores last week and has now lost its last four. The Hornets lost to the Cavaliers by 16 at home in a game in which Kelly Oubre Jr. led all scorers with 28 points. They followed that up with a 39-point loss to the 76ers as they finished with a season-low 82 points. The team has been without Mark Williams (thumb) for the last four games.
29. San Antonio Spurs
Record: 19–52
Previous ranking: 28
The Spurs have held their own over the last few weeks with a 5–5 record over their last 10 games. They beat the Magic by 18 last Monday behind Jeremy Sochan's 29 points and 11 rebounds and downed the Hawks by eight on Sunday thanks to Keldon Johnson's 29-point, 12-rebound double-double. In between those victories, San Antonio pushed Dallas and Memphis to overtime but couldn't put either game away in the extra period.
30. Detroit Pistons
Record: 16–56
Previous ranking: 30
The Pistons put an end to their season-long, 11-game skid with a resounding win over the Pacers last Monday. Cory Joseph's 22 points off the bench led the team while James Wiseman, Jalen Duren and Killian Hayes all tallied double-doubles. Detroit began a new losing streak the very next night in Washington, D.C. with a blowout to the Wizards. The Pistons dropped their next two at home to the Nuggets and Heat, both by double digits.