In a fast-paced, high-scoring NBA season like this, there is at least one upside: It makes for an incredibly fun MVP conversation.
The latest debate shift—which seemed to be trending firmly toward reigning two-time MVP Nikola Jokić until he got thoroughly outplayed by fellow candidate Joel Embiid, who had 47 and 18 against him—occurred late Thursday night when Giannis Antetokounmpo notched 54 points and 19 boards to lead Milwaukee from 21 points down in a one-point home victory over the Clippers. It marked the third time in Antetokounmpo's last 11 outings that he'd hit the 50-point mark.
Just how on fire has the 28-year-old been? Following Thursday's showing, he'd logged at least 20 points in a half in six out of his last seven halves of basketball. It explains much of how the Bucks have won six straight and pulled within two games of the first-place Celtics in the East.
Antetokounmpo's latest scoring outburst comes at a welcome time for Milwaukee, which, until recently, had been without three-time All-Star and iso extraordinaire Khris Middleton, who's been an injury report mainstay dating back to last season's playoff run. Between his absence in 39 games this season and sixth man Bobby Portis's missing the past five games due to an MCL sprain, the Bucks have had one of the NBA's least efficient offenses, ranking just 24th despite Giannis averaging a career-high 32.3 points per contest on 53.6% shooting from the floor.
It didn't take much to see his greatness shining through Milwaukee's rough spots Thursday. Middleton and Jrue Holiday, who was named an All-Star reserve hours before the contest, combined to start a frigid 0-for-10 from the field through the first quarter and a half. Even Antetokounmpo struggled a bit out of the gate, making just three of nine in the first period as he took time to decode 7-footer Ivica Zubac's forcefield near the rim. In the second, with Zubac pinned to the bench due to foul trouble, the Clippers were too small to slow down Antetokounmpo, who bulldozed his way to three layups from inside of three feet in the final 59 seconds of the half.
And by that point, Middleton had found a comfort zone—something that looks far more the case in this return than it did during his last stint back from injury, when he shot just 28.8% through six games in December. He's at 44.3% overall and 36% from deep—far more in line with his career averages—since reentering the lineup and getting his footing as a member of the second unit. Perhaps most encouraging: He's accomplishing that with a variety of different looks from game to game. Against the Clippers, it was him drawing a basket and a foul on an isolation take against Nicolas Batum, then a fast break take over Marcus Morris. He showed no hesitation pulling up for three in transition in the face of ace defender Kawhi Leonard with just over six minutes remaining in the contest. And even with Holiday playing like an All-Star, that's the Middleton the Bucks ultimately need to come out on top in the Eastern Conference again.
As for Giannis, it goes without saying that Milwaukee has to have him at the dominant level he's consistently played at. Even with a ridiculous 64.2% true shooting percentage the past six outings—a rate on par with Damian Lillard's true shooting for the season—Antetokounmpo's shooting numbers are down across the board this season from two-point range, three-point range and even at the free throw line, where, at 64.6%, he's shooting well beneath his career average. That separates him from Jokić, Embiid and Luka Dončić (who suffered a heel contusion on a scary fall Thursday)—all of whom are enjoying career-best efficiency—and could take a toll on Giannis's MVP candidacy if he doesn't catch up in the coming months.
But some of that—not all, but some—can be attributed to Middleton's absence, not just as a devastating iso scorer, but also as Giannis's lethal pick-and-roll partner. (Without Middleton, opponents have loaded up on Antetokounmpo when he's served as a roll man this year, and his efficiency there has waned because of it.) The Bucks' bench also has been cold from outside this year without Middleton, who for years has played alongside that group in certain lineups. Portis, Pat Connaughton, Wes Matthews and George Hill, specifically, have all shot 35% or worse from three; the league average in 2022–23 is 36%.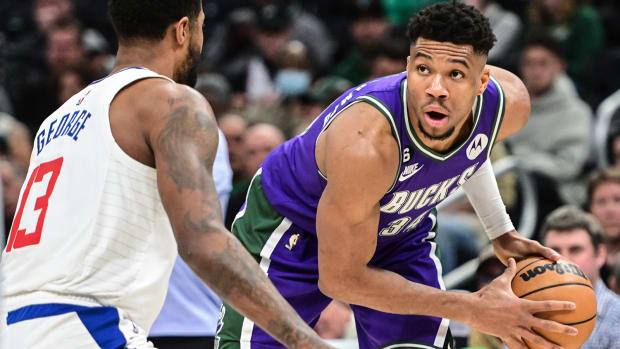 Still, Antetokounmpo has shown signs of thawing out since returning from a knee injury that kept him out five games: He's shot 38.5% (10-for-26) from three over this six-game win streak. By contrast, he'd shot just 24.5% for the season on nearly three attempts per game before that.
And Giannis's defense, as was shown Thursday in the late, game-on-the-line stages against Leonard, has still been fantastic. Brook Lopez has deservingly gotten the most of the Defensive Player of the Year buzz from a Bucks perspective. But chew on this statistic: Antetokounmpo has held shooters 15 percentage points beneath their average when he's defending scorers within six feet of the basket, according to NBA's tracking data. That number, on five such shot attempts per game, is neck and neck with Golden State's Draymond Green (-15.4%) and Memphis's Jaren Jackson Jr. (-15%) for the best rate in the league among guys defending at least four rim attempts per contest. (Lopez, who tackles defending eight of those looks per night, is at a highly impressive -10.9%.)
It's impossible to know just yet where Giannis will finish in the MVP race. But regardless of how it plays out, there are plenty of nights—especially in his past 11 games—where the superstar still looks the part of the best player in the world.