This is an archived article and the information in the article may be outdated. Please look at the time stamp on the story to see when it was last updated.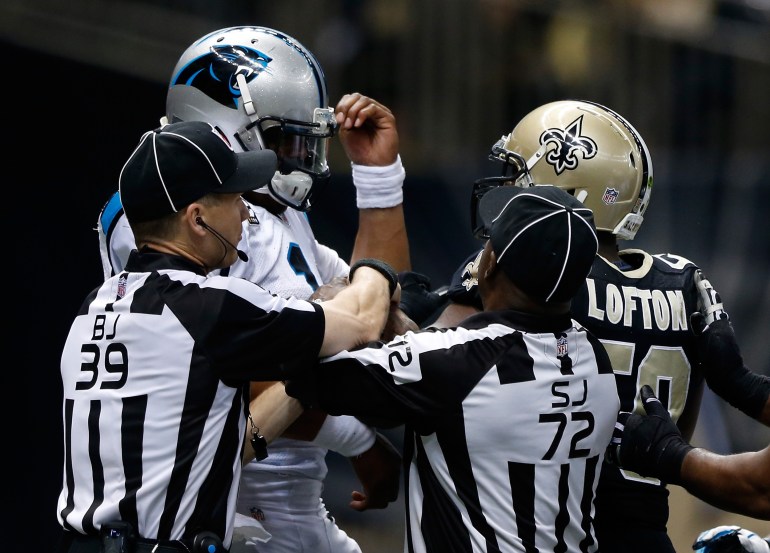 NEW ORLEANS (WGNO) – Social media is known to hit below the belt with fabricated news. Blaming Sundays Saints-Panthers brawl on a Hurricane Katrina remark nears a new low. And the worse the loss, the worse the internet rumors.
"It's terrible," says Who Dat Faith Harry. "It's really terrible."
Mark Channing at Markman Sports Cards in Metairie says he heard a vicious internet rumor about Panthers QB Cam Newton, "'You should have died in Katrina.' There's no way he said that."
Harry remembers seeing something similar on Facebook, "I did hear he said, 'I'm going to mess this place up more than Katrina."
Whynotgivehimthebusiness.com directly quotes Saints linebacker Curtis Lofton saying, "Cam took it to a new low. Right in my face he said, 'I (blank) you up more than Katrina.' I would fight him anytime he says (blank) like that."
The website says their disclaimer excuses them from reporting false accusations Cam Newton provoked the fight with a Katrina reference.
The disclaimer says all quotes and stories have been fabricated.
"Katrina never dies. Katrina is very fresh in us," says Saints fan Cari Wellington who's outraged social media can be so irresponsible. "Katrina is like years ago when you said, 'yo mama. There was a lot of jealousy. You kind of hurt."
Lofton is on record saying Newton's touchdown celebration was taunting and disrespectful.
Saints fans who've been down before say the team and Who Dat Nation will fight back, but with class.
"We're walking around with the Who Dat Nation shirt and with the spirit," says Wellington.
"No bags," says Harry "We don't need any bags."
"You can't have someone disrespect you in your house. So they kinda stood their ground," says Channing. "And they are still mathematically alive to win the division. That's crazy."