This is an archived article and the information in the article may be outdated. Please look at the time stamp on the story to see when it was last updated.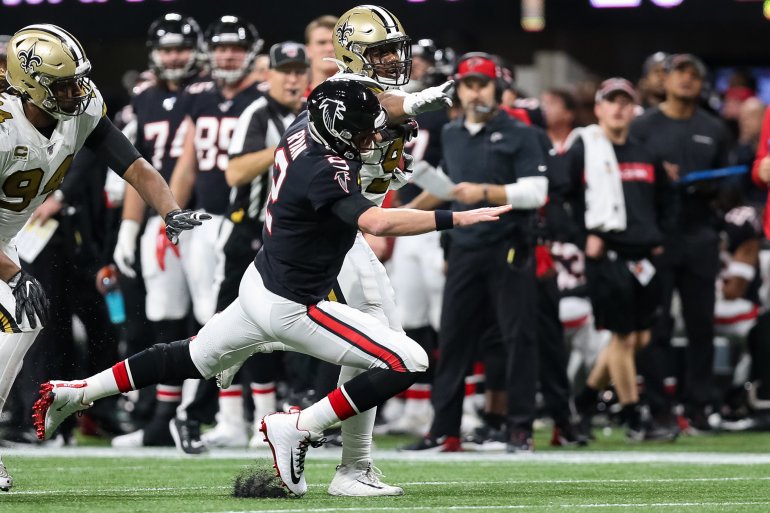 ATLANTA – It was an ugly win, but the Saints managed to flatten the Falcons in Atlanta on Thanksgiving night.
From Taysom Hill making plays from nearly every position to the stiff arm that sent Matt Ryan sprawling, the game certainly delivered exciting plays.
But there were quite a few things left for Saints fans to worry about.
In the end, the Saints feasted on Dirty Bird.
Here are some of the best moments from the game:
ATLANTA, GA - NOVEMBER 28: Matt Ryan #2 of the Atlanta Falcons along side Cameron Jordan #94 is unable to tackle Shy Tuttle #99 of the New Orleans Saints during the second half of a game at Mercedes-Benz Stadium on November 28, 2019 in Atlanta, Georgia. (Photo by Carmen Mandato/Getty Images)

ATLANTA, GA - NOVEMBER 28: Matt Ryan #2 of the Atlanta Falcons along side Cameron Jordan #94 is unable to tackle Shy Tuttle #99 of the New Orleans Saints during the second half of a game at Mercedes-Benz Stadium on November 28, 2019 in Atlanta, Georgia. (Photo by Carmen Mandato/Getty Images)

ATLANTA, GA - NOVEMBER 28: Shy Tuttle #99 of the New Orleans Saints slaps hands with teammates following making an interception during the second half of a game against the Atlanta Falcons at Mercedes-Benz Stadium on November 28, 2019 in Atlanta, Georgia. (Photo by Carmen Mandato/Getty Images)

ATLANTA, GA - NOVEMBER 28: Members of the New Orleans Saints celebrate a defensive play during the second half of a game against the Atlanta Falcons at Mercedes-Benz Stadium on November 28, 2019 in Atlanta, Georgia. (Photo by Carmen Mandato/Getty Images)

ATLANTA, GEORGIA - NOVEMBER 28: Calvin Ridley #18 of the Atlanta Falcons drops the ball before crossing the pylon on a two-point conversion in the final minutes against Marcus Williams #43 of the New Orleans Saints at Mercedes-Benz Stadium on November 28, 2019 in Atlanta, Georgia. (Photo by Kevin C. Cox/Getty Images)

ATLANTA, GA - NOVEMBER 28: Calvin Ridley #18 of the Atlanta Falcons leaps for a reception as Eli Apple #25 of the New Orleans Saints defends during the second half of an NFL game at Mercedes-Benz Stadium on November 28, 2019 in Atlanta, Georgia. (Photo by Todd Kirkland/Getty Images)

ATLANTA, GA - NOVEMBER 28: Vonn Bell #24 of the New Orleans Saints reacts after recovering a fumble along with teammates P.J. Williams #26 and Justin Hardee #34 during the second half of an NFL game against the Atlanta Falcons at Mercedes-Benz Stadium on November 28, 2019 in Atlanta, Georgia. (Photo by Todd Kirkland/Getty Images)

ATLANTA, GA - NOVEMBER 28: Vonn Bell #24 of the New Orleans Saints recovers a fumble during the second half of an NFL game against the Atlanta Falcons at Mercedes-Benz Stadium on November 28, 2019 in Atlanta, Georgia. (Photo by Todd Kirkland/Getty Images)

ATLANTA, GA - NOVEMBER 28: Members of the New Orleans Saints celebrate their victory with turkey legs following an NFL game against the Atlanta Falcons at Mercedes-Benz Stadium on November 28, 2019 in Atlanta, Georgia. (Photo by Todd Kirkland/Getty Images)

ATLANTA, GA - NOVEMBER 28: Drew Brees #9 of the New Orleans Saints leaves the field celebrating the victory with a turkey leg in hand following an NFL game against the Atlanta Falcons at Mercedes-Benz Stadium on November 28, 2019 in Atlanta, Georgia. (Photo by Todd Kirkland/Getty Images)

ATLANTA, GA - NOVEMBER 28: Taysom Hill #7 of the New Orleans Saints celebrates the victory with Drew Brees #9 while eating turkey legs following an NFL game against the Atlanta Falcons at Mercedes-Benz Stadium on November 28, 2019 in Atlanta, Georgia. (Photo by Todd Kirkland/Getty Images)

ATLANTA, GEORGIA - NOVEMBER 28: Taysom Hill #7 of the New Orleans Saints bites into a turkey leg after their 26-18 win over the Atlanta Falcons at Mercedes-Benz Stadium on November 28, 2019 in Atlanta, Georgia. (Photo by Kevin C. Cox/Getty Images)