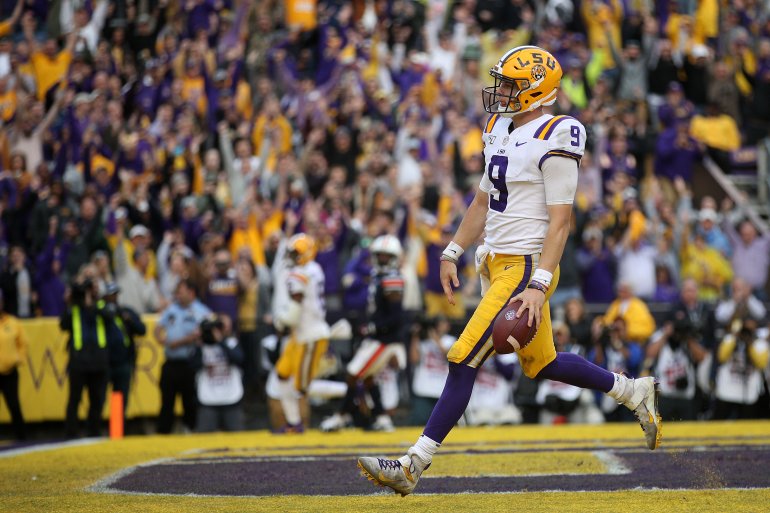 BATON ROUGE – It was a close game, but LSU quarterback Joe Burrow helped power his team past the Auburn Tigers.
Burrow ran seven yards for a touchdown on a fourth quarter quarterback draw, and second ranked LSU held off 9th ranked Auburn, 23-20 Saturday afternoon at Tiger Stadium in Baton Rouge.
Auburn's last win at Tiger Stadium was 1999.
With that win, LSU advanced to the top spot in the AP poll.
Here are some of the best moments from the game:
BATON ROUGE, LOUISIANA - OCTOBER 26: Quarterback Joe Burrow #9 of the LSU Tigers in action against the Auburn Tigers at Tiger Stadium on October 26, 2019 in Baton Rouge, Louisiana. (Photo by Chris Graythen/Getty Images)

BATON ROUGE, LOUISIANA - OCTOBER 26: Quarterback Joe Burrow #9 of the LSU Tigers in action against the Auburn Tigers at Tiger Stadium on October 26, 2019 in Baton Rouge, Louisiana. (Photo by Chris Graythen/Getty Images)

BATON ROUGE, LOUISIANA - OCTOBER 26: Quarterback Joe Burrow #9 of the LSU Tigers in action against the Auburn Tigers at Tiger Stadium on October 26, 2019 in Baton Rouge, Louisiana. (Photo by Chris Graythen/Getty Images)

BATON ROUGE, LOUISIANA - OCTOBER 26: Quarterback Joe Burrow #9 of the LSU Tigers in action against the Auburn Tigers at Tiger Stadium on October 26, 2019 in Baton Rouge, Louisiana. (Photo by Chris Graythen/Getty Images)

BATON ROUGE, LOUISIANA - OCTOBER 26: Running back Clyde Edwards-Helaire #22 of the LSU Tigers in action against the Auburn Tigers at Tiger Stadium on October 26, 2019 in Baton Rouge, Louisiana. (Photo by Chris Graythen/Getty Images)

BATON ROUGE, LOUISIANA - OCTOBER 26: Smoke Monday #21 of the Auburn Tigers commits a facemask penalty against Terrace Marshall Jr. #6 of the LSU Tigers after a reception during the first half at Tiger Stadium on October 26, 2019 in Baton Rouge, Louisiana. (Photo by Chris Graythen/Getty Images)

BATON ROUGE, LOUISIANA - OCTOBER 26: Roger McCreary #23 of the Auburn Tigers is tackled by Ja'Marr Chase #1 of the LSU Tigers after intercepting a pass during the second half at Tiger Stadium on October 26, 2019 in Baton Rouge, Louisiana. (Photo by Chris Graythen/Getty Images)

BATON ROUGE, LOUISIANA - OCTOBER 26: Joey Gatewood #1 of the Auburn Tigers runs with the ball against the LSU Tigers during the second half at Tiger Stadium on October 26, 2019 in Baton Rouge, Louisiana. (Photo by Chris Graythen/Getty Images)

BATON ROUGE, LOUISIANA - OCTOBER 26: Ja'Marr Chase #1 of the LSU Tigers runs with the ball after a reception against Roger McCreary #23 of the Auburn Tigers during the second half at Tiger Stadium on October 26, 2019 in Baton Rouge, Louisiana. (Photo by Chris Graythen/Getty Images)

BATON ROUGE, LOUISIANA - OCTOBER 26: Clyde Edwards-Helaire #22 of the LSU Tigers runs with the ball against the Auburn Tigers during the second half at Tiger Stadium on October 26, 2019 in Baton Rouge, Louisiana. (Photo by Chris Graythen/Getty Images)

BATON ROUGE, LOUISIANA - OCTOBER 26: Michael Divinity Jr. #45 of the LSU Tigers sacks Bo Nix #10 of the Auburn Tigers during the second half at Tiger Stadium on October 26, 2019 in Baton Rouge, Louisiana. (Photo by Chris Graythen/Getty Images)

BATON ROUGE, LOUISIANA - OCTOBER 26: A general view as LSU Tigers cheerleaders perform against the Auburn Tigers during the second half at Tiger Stadium on October 26, 2019 in Baton Rouge, Louisiana. (Photo by Chris Graythen/Getty Images)