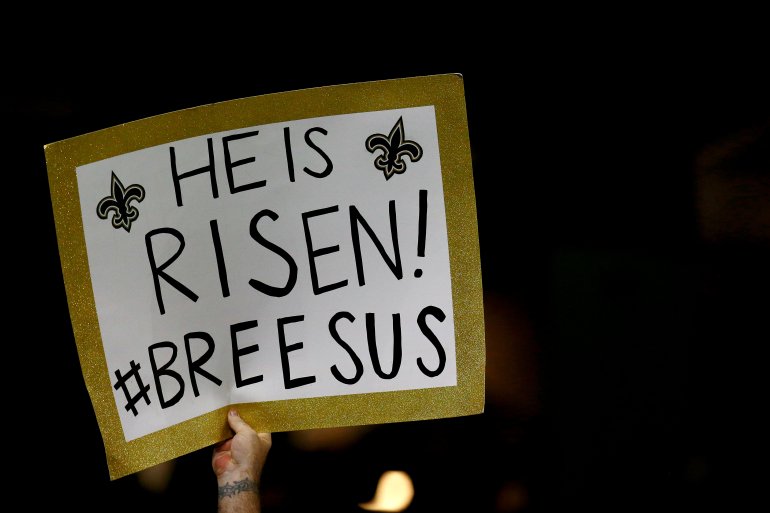 NEW ORLEANS – Drew Brees returned to top form to lead the New Orleans Saints to a decisive victory over the Arizona Cardinals.
Brees showed no signs of any lingering issues with his thumb, throwing for 373 yards on a 34-43 passing effort and a trio of touchdowns.
No surprise that his main target was Michael Thomas, who finished with 112 yards on 11 catches.
The Saints (7-1) now get to rest up on a bye week before hosting the Falcons for a noon kick-off on Sunday, November 10.
Here are some of the best moments from the game:
NEW ORLEANS, LOUISIANA - OCTOBER 27: Drew Brees #9 of the New Orleans Saints celebrates a touchdown against the Arizona Cardinals at Mercedes Benz Superdome on October 27, 2019 in New Orleans, Louisiana. (Photo by Chris Graythen/Getty Images)

NEW ORLEANS, LOUISIANA - OCTOBER 27: Drew Brees #9 of the New Orleans Saints looks on against the Arizona Cardinals at Mercedes Benz Superdome on October 27, 2019 in New Orleans, Louisiana. (Photo by Chris Graythen/Getty Images)

NEW ORLEANS, LOUISIANA - OCTOBER 27: Drew Brees #9 of the New Orleans Saints sits on the bench during the game against the Arizona Cardinals at Mercedes Benz Superdome on October 27, 2019 in New Orleans, Louisiana. (Photo by Chris Graythen/Getty Images)

NEW ORLEANS, LOUISIANA - OCTOBER 27: A sign is seen during a NFL game during a game between the New Orleans Saints and the Arizona Cardinals at the Mercedes Benz Superdome on October 27, 2019 in New Orleans, Louisiana. (Photo by Sean Gardner/Getty Images)

NEW ORLEANS, LOUISIANA - OCTOBER 27: Cameron Jordan #94 of the New Orleans Saints celebrates after a sack on Kyler Murray #1 of the Arizona Cardinals at Mercedes Benz Superdome on October 27, 2019 in New Orleans, Louisiana. (Photo by Chris Graythen/Getty Images)

NEW ORLEANS, LOUISIANA - OCTOBER 27: Cameron Jordan #94 of the New Orleans Saints sacks Kyler Murray #1 of the Arizona Cardinals at Mercedes Benz Superdome on October 27, 2019 in New Orleans, Louisiana. (Photo by Chris Graythen/Getty Images)

NEW ORLEANS, LOUISIANA - OCTOBER 27: Michael Thomas #13 of the New Orleans Saints runs is tackled by Haason Reddick #43 of the Arizona Cardinals during a NFL game at the Mercedes Benz Superdome on October 27, 2019 in New Orleans, Louisiana. (Photo by Sean Gardner/Getty Images)

NEW ORLEANS, LOUISIANA - OCTOBER 27: Kyler Murray #1 of the Arizona Cardinals looks to throw a pass against the New Orleans Saints at Mercedes Benz Superdome on October 27, 2019 in New Orleans, Louisiana. (Photo by Chris Graythen/Getty Images)

NEW ORLEANS, LOUISIANA - OCTOBER 27: Taysom Hill #7 of the New Orleans Saints runs the ball during a NFL game against the Arizona Cardinals at the Mercedes Benz Superdome on October 27, 2019 in New Orleans, Louisiana. (Photo by Sean Gardner/Getty Images)

NEW ORLEANS, LOUISIANA - OCTOBER 27: Drew Brees #9 of the New Orleans Saints reacts after a touchdown against the Arizona Cardinals at Mercedes Benz Superdome on October 27, 2019 in New Orleans, Louisiana. (Photo by Chris Graythen/Getty Images)

NEW ORLEANS, LOUISIANA - OCTOBER 27: Drew Brees #9 of the New Orleans Saints and Taysom Hill #7 of the New Orleans Saints celebrate a touchdown against the Arizona Cardinals at Mercedes Benz Superdome on October 27, 2019 in New Orleans, Louisiana. (Photo by Chris Graythen/Getty Images)

NEW ORLEANS, LOUISIANA - OCTOBER 27: Kyler Murray #1 of the Arizona Cardinals congratulates Drew Brees #9 of the New Orleans Saints after his team was defeated 31-9 during a NFL game at the Mercedes Benz Superdome on October 27, 2019 in New Orleans, Louisiana. (Photo by Sean Gardner/Getty Images)