This is an archived article and the information in the article may be outdated. Please look at the time stamp on the story to see when it was last updated.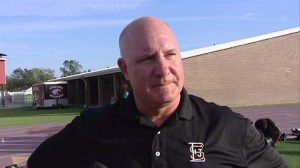 RESERVE, La. (WGNO) – East St. John's head football coach and director of athletics, Phil Banko, was officially dismissed from his duties Monday.
Rumors of Banko's departure have swirled for more than a week.
Banko said he met Monday with Kevin George, superintendent of the St. John the Baptist Parish public school system. "The superintendent informed me that he wanted to go in a different direction, and I certainly respect that," Banko said.
He continued, "A part of me will always be a Wildcat."
Banko coached East St. John for four seasons. The Wildcats made playoff appearances in all 4 seasons, and reached the round of 16 in three.
We'll have more on this story tonight at 10 p.m.