This is an archived article and the information in the article may be outdated. Please look at the time stamp on the story to see when it was last updated.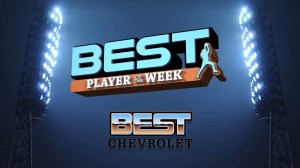 (WGNO) – Foster Moreauquarterback Trey LaForge is a two-way star, in hoops and in football — and he could have a future in both.
In the scrimmage against McDonogh 35, LaForge was on target. He threw a 70 yard touchdown pass to tight end Foster Moreau.
Later, LaForge on the bootleg to Moreau, who gets two great blocks and scores from 56-yards out.
LaForge was 10 of 15 passing for 197 yards and three touchdowns.
Trey LaForge of Jesuit is this week's Best Chevrolet, Best Player of the Week.