This is an archived article and the information in the article may be outdated. Please look at the time stamp on the story to see when it was last updated.
Best bug zappers
IN THIS ARTICLE:
Depending on where you live, a bug zapper could be a year-round necessity. But choosing which bug zapper is best for you can be difficult, especially with so many variations out there.
While some bug zappers are designed for use indoors, outdoors or both, other insect killers may include octenol attractants to draw in flying pests. Still other bug zappers may have different features entirely, like fly-swatting capabilities or USB power.
Before you buy a bug zapper, it's important to note the things you need in an insect killer, whatever your particular use may be. Below are some factors to consider when looking at insect killers, as well as the best indoor and outdoor bug zappers available.
Factors to consider when looking at bug zappers
Indoor vs. outdoor bug zappers
While many bug zappers are made to work both indoors and outdoors, there are also many that are made for one or the other. In particular, some outdoor bug zappers are probably too powerful for safe use inside, and alternatively, some indoor-only bug zappers may not be powerful enough to do justice to the insect population in your yard. In either case, it's important to read any labels on a bug zapper you do purchase, to be sure it correctly fits your needs.
Bug zapper and attractant
Many bug zappers operate entirely by allowing bugs to fly up to them, and while those work fairly well, others take insect killing to the next level with the use of an insect attractant. An attractant does just what it sounds like — it attracts insects to increase the amount of bugs zapped within a certain area, ultimately bringing the volume of insects down even further. Many of these attractant packages include octenol, which is particularly useful for attracting mosquitoes.
Coverage area
With coverage areas ranging between 1,500 square feet to 1 acre, outdoor bug zappers often include information on their packaging or listing about the range of the actual insect killer. While those living on a farm, ranch or other plot of land may benefit from models with an acre of coverage space, those using bug zappers on smaller land or indoors can disregard this specification.
Best indoor and outdoor bug zappers
Best of the best bug zapper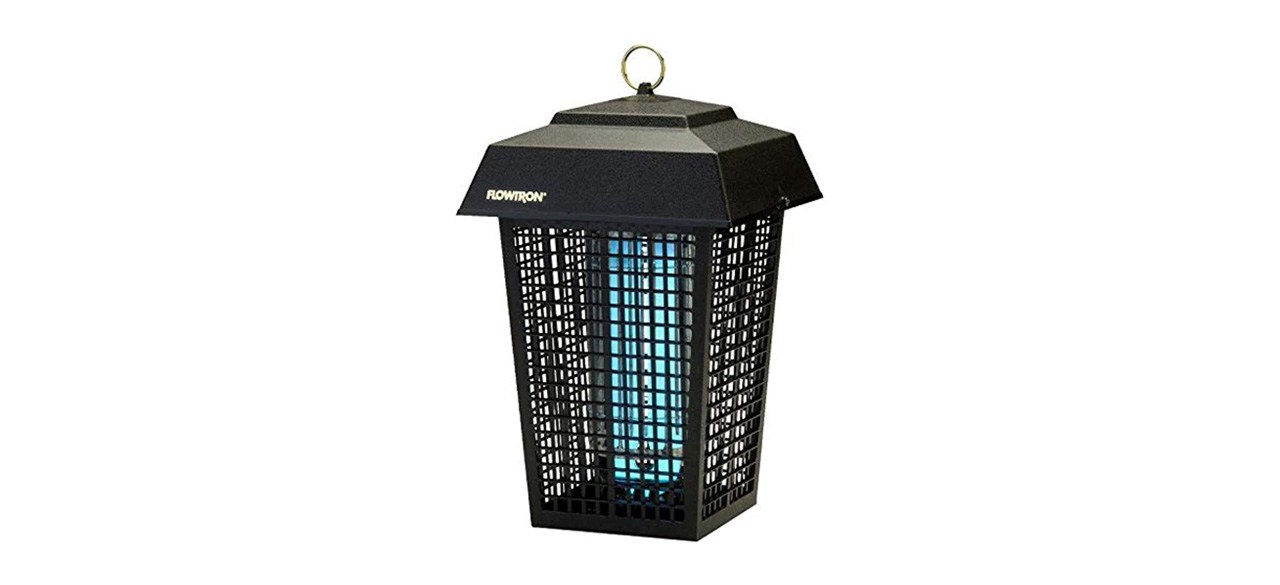 Flowtron BK-40D Electronic Insect Killer: available at Amazon
Our take: This electronic bug zapper has a strong UV light, an attractant, and a vast radius of 1 acre, making it very powerful.
What we like: Eradicates pests using UV light and electrified grid work. Includes one USDA-tested Octenol attractant with purchase. Waterproof and clog proof. Replacing the bulb is simple. Includes 2 AA batteries.
What we dislike: Rather loud hum.
Best bang for your buck bug zapper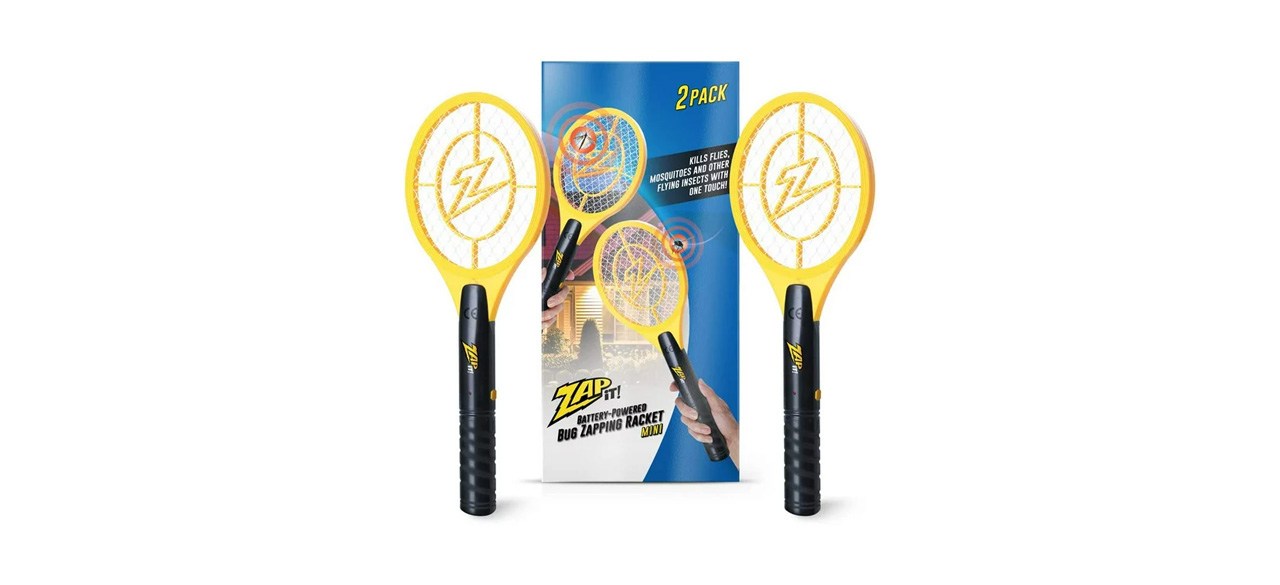 ZAP IT! Mini Electric Bug Zapping Racket: available at Walmart
Our take: Super affordable mini bug-zapping rackets that are fun and safe to use.
What we like: Affordable. Features 4,000-volt mesh and triple-layered to protect against accidental shock. Handle has LED light that illuminates pests. Safety switch disables current until needed.
What we dislike: A few complaints that they stop working after a short time.
Best bug zapper and attractant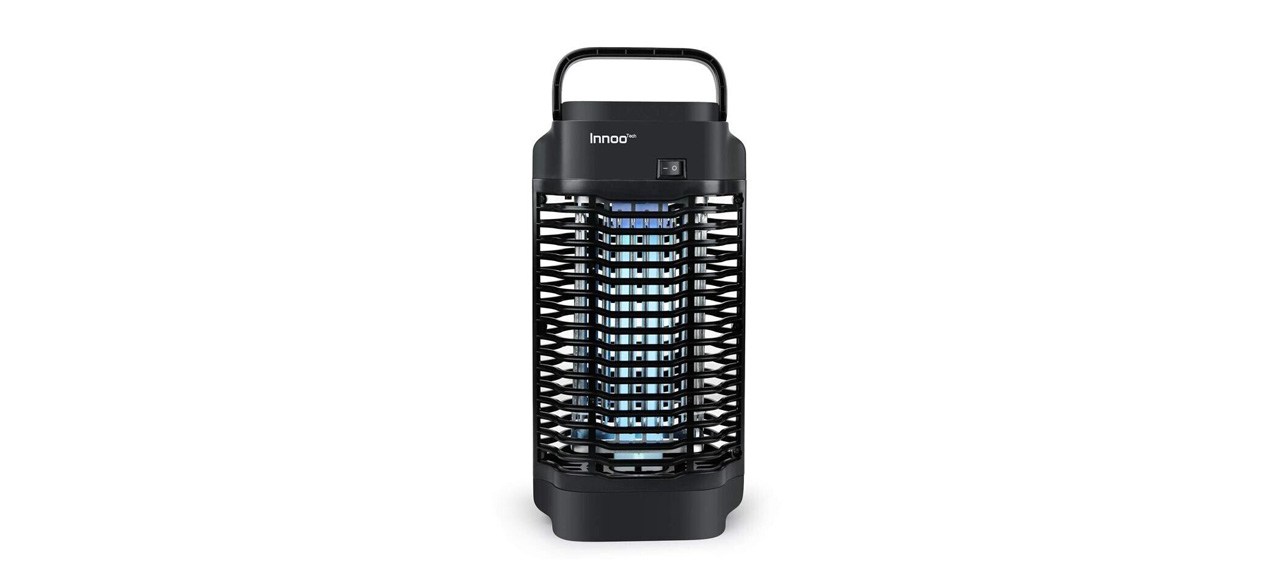 New Fi Bug Zapper: available at Amazon
Our take: The 5-star New Fi Bug Zapper is an environmentally friendly bug zapper that uses both blue violet light and ultraviolet light to lure and zap pests.
What we like: With 4200 volts, it attracts and kills most flying insects. The plastic casing keeps family members and pets from having contact with the grids. The device can be hung or placed on a flat surface.
What we dislike: The product should only be used at night.
Best indoor bug zapper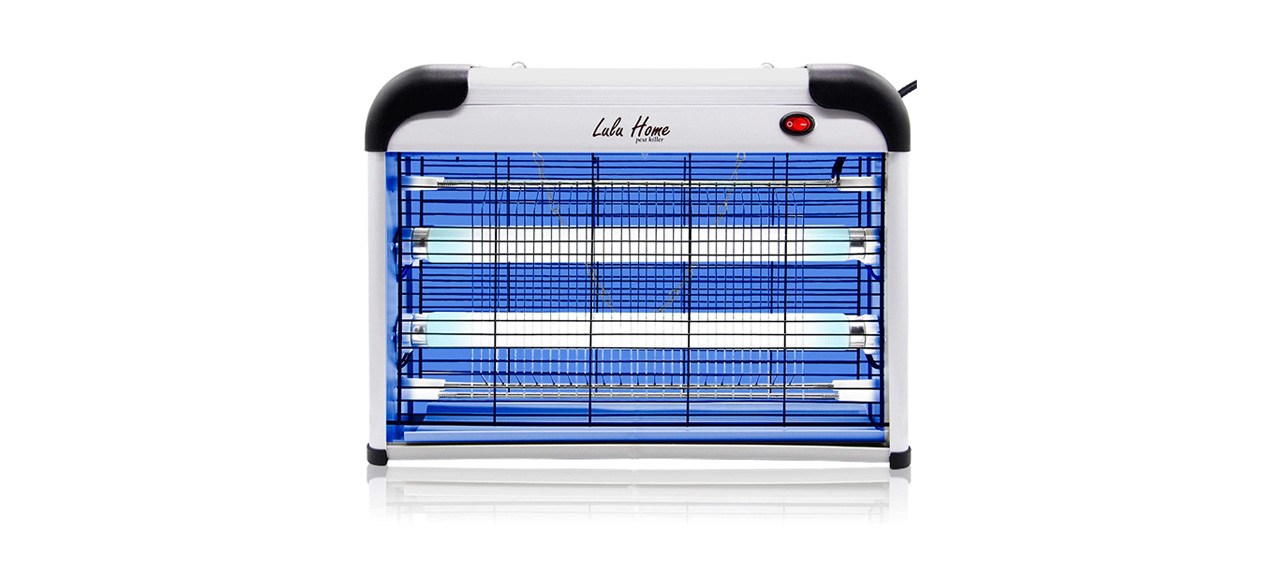 Lulu Home Electric Bug Zapper: available at Amazon
Our take: This indoor bug zapper is known for its quiet standby, despite being loud when zapping a bug.
What we like: Designed to be used inside. Mesh screen makes it easy to avoid touching the grid. No chemicals are used, and it is easy to clean.
What we dislike: Users report that this unit is loud when zapping bugs.
Best outdoor bug zapper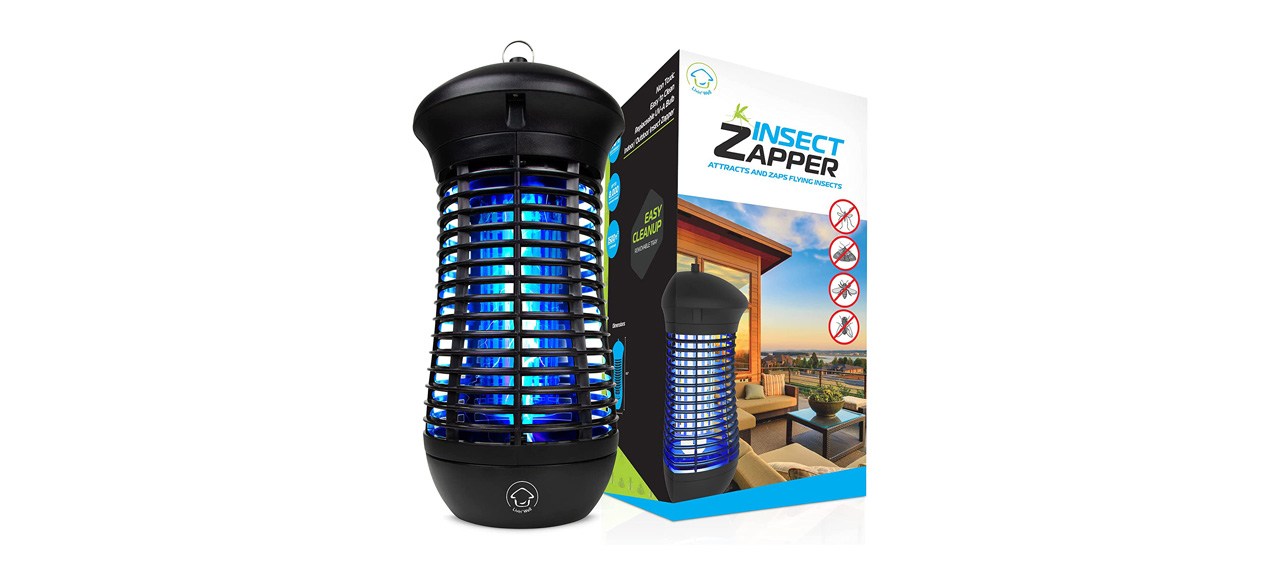 Livin' Well High-Powered Electric Mosquito Zapper: available at Amazon
Our take: This powerful outdoor bug zapper is versatile, and is particularly designed for use against mosquitos, flies and gnats.
What we like: Affordable. 1,500-square foot range. Weatherproof. Features a UVA bug light. Includes metal hanging hook and a 6-foot hole plug, as well as auto-drain holes to make it hang wherever you need it.
What we dislike: Some users mentioned that the safety cage's spacing was too tight for larger bugs.
Best rechargeable fly swatter bug zapper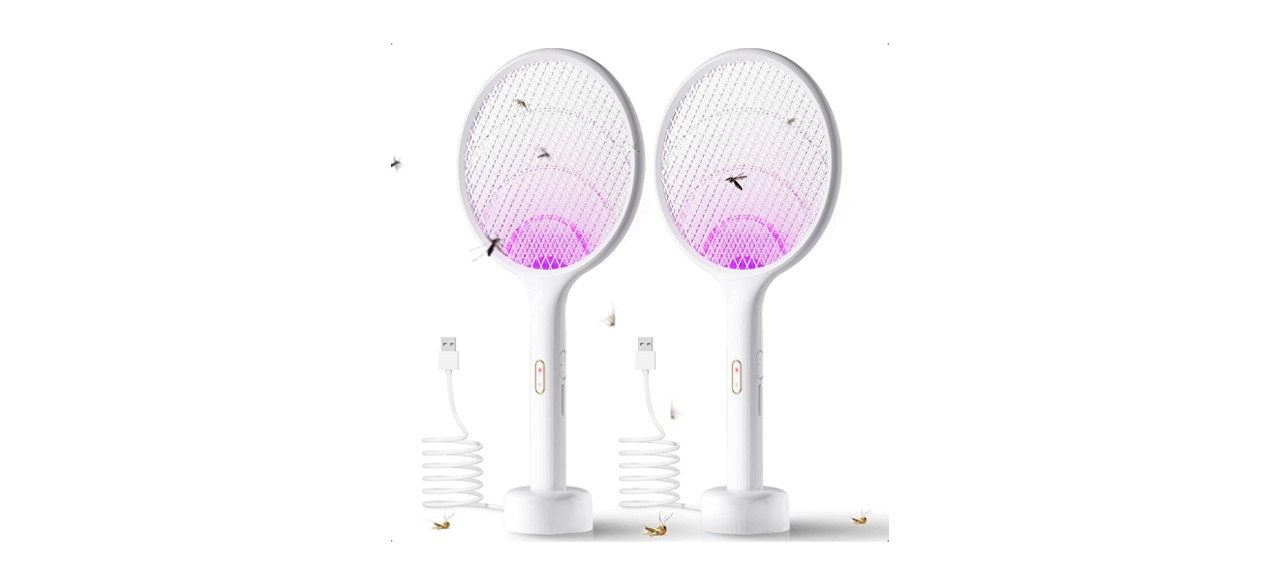 YISSVIC Electric Fly Swatter 2 Pack Bug Zapper Racket: available at Amazon
Our take: This combination fly swatter and bug zapper is super affordable and features USB recharging capabilities.
What we like: Can be used as a fly swatter with added bug zapping capabilities. USB recharging. Features purple light that attracts insects. Easy to use and clean. 2-pack.
What we dislike: Some users say it needs a sturdier standing base.
Best stationary USB-powered bug zapper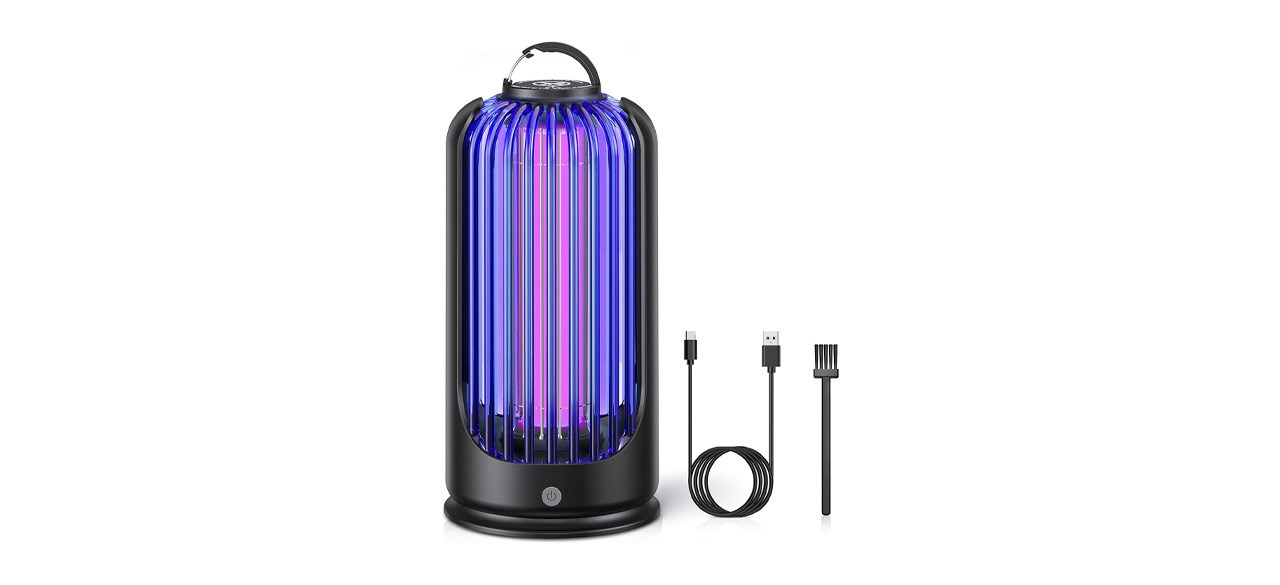 Elechome Electric Bug Zapper for Indoor Outdoor: available at Amazon
Our take: Excellent for staving off gnats and other small pests, this bug zapper uses UV LED light to attract its prey.
What we like: USB-powered design makes it easy to charge regularly or keep it plugged in and running continuously. Unique light tube design with no top enhances coverage area.
What we dislike: Some reports of the zap being excessively loud.
Best light bulb socket bug zapper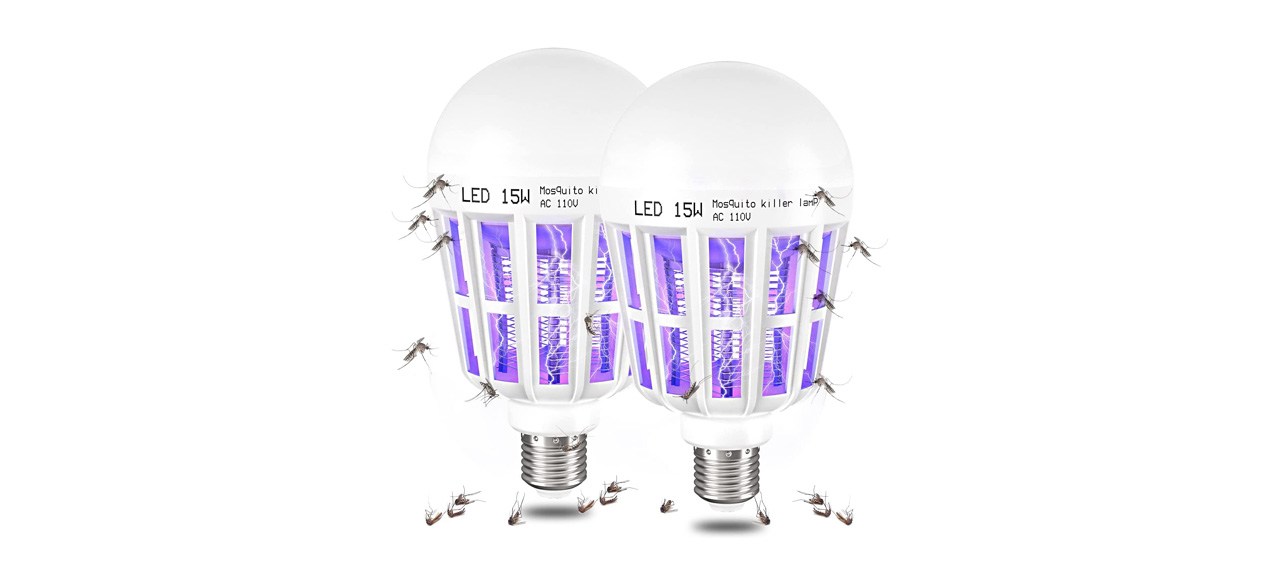 Hywean 2 Pack Bug Zapper Light Bulbs: available at Amazon
Our take: These 2-in-1 LED light and bug zappers are super affordable and plug into E27 110V light bulb sockets, making them the perfect pick for outdoor patio lighting.
What we like: Convenient light bulb socket power. Includes two separate modes – pure mosquito zapper, or both light and bug zapper. Harmless to humans and pets.
What we dislike: Only works if screwed into a light bulb socket.
Want to shop the best products at the best prices? Check out Daily Deals from BestReviews.
Sign up here to receive the BestReviews weekly newsletter for useful advice on new products and noteworthy deals.
Bob Beacham writes for BestReviews. BestReviews has helped millions of consumers simplify their purchasing decisions, saving them time and money.
Copyright 2023 BestReviews, a Nexstar company. All rights reserved.