This is an archived article and the information in the article may be outdated. Please look at the time stamp on the story to see when it was last updated.
We've long moved past the era when having a beard told others you were unkempt or rough around the edges. Now beards are common for everyone from students to politicians. But it's not enough to grow one and let it be. You have to keep it controlled and styled, usually with a beard trimmer.
In this article: Braun Beard Trimmer Kit, Remington Beard Trimmer and Solati Beard Trimmer Kit.
Power source
Beard trimmers are powered by a cord or batteries.
Corded trimmers typically have more power, which makes them good for slashing down thick growth. They can also be used anytime and anywhere, with little fuss … if you can find a power outlet. However, the cord can sometimes make them awkward to use, and they are only usable dry.
Battery-powered trimmers run on either disposable or built-in rechargeable batteries. In either case, they are easier to use, since there's no awkward cord. You do need to be careful about running out of power mid-trim, though. Charging for built-in batteries typically takes one to two hours and most can run for 60 to 90 minutes on a full charge. They can be used dry or wet if they're waterproof.
Dry vs. wet beard trimmers
Beard trimmers are usually intended to be used "dry" or "wet."
Dry trimmers are more common, used without water, steam or shaving cream. When you use a dry trimmer, it's easier to put finer touches on your beard and to find and catch stray hairs. However, these trimmers aren't great at cutting down large beards.
Wet trimmers are typically used in the shower, relying on their moisture and steam to make trimming more comfortable. These are perfect for those who just want to keep their beard at a certain length and in a basic shape but are too tricky to use for finer maintenance.
Blade material
Most beard trimmers use either stainless steel or carbon steel blades.
Stainless steel blades are more common and typically provide a smoother, cleaner shave. However, they usually use a coating that wears away over time.
Carbon steel blades usually have sharper edges for trimming the harshest hair. However, rust can be of great concern if you don't carefully maintain them.
Motor
A beard trimmer's motor has two aspects to consider.
Power is usually given in amps, with bigger numbers meaning more power. Most product listings don't put it front and center or event include it, since it usually isn't of much concern. Unless you have extra-thick hair, in which case you need the most powerful motor you can find to slash through it.
Speed is usually set in beard trimmers, though some offer two or three speeds. You may need to choose the speed in these, or the trimmer may switch automatically.
Beard guides vs. blade guards
Most beard trimmers use either beard guides or blade guards to help control how much hair is cut. Each has pros and cons.
Beard guides are another term for a trimmer with a built-in blade-adjustment system. These systems can be as finely adjustable as one-tenth of a millimeter per increment, but half a millimeter is more common. Another perk is that you don't have to keep track of blade guards.
Blade guards, or combs as they're also known, attach to your trimmer to help control how much hair is trimmed away. Trimmers that use them typically include at least three (a small, medium and large), but better kits can include 10-plus, with some even having adjustable lengths for yet more options.
Cost
Beard trimmers can cost anywhere from $10-$100, though most cost around $30.
Best beard trimmers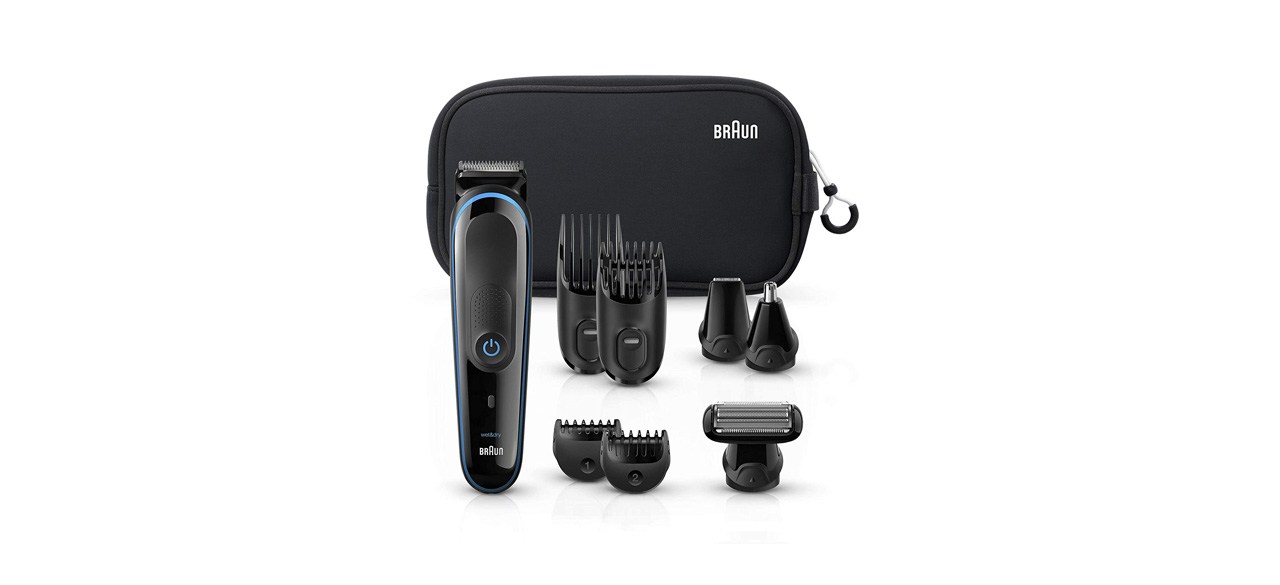 This kit includes multiple blade guards, an ear and nose trimmer, a standard Gillette razor, a brush and a case to keep everything in. It's waterproof and the battery lasts for an hour.
Sold by Amazon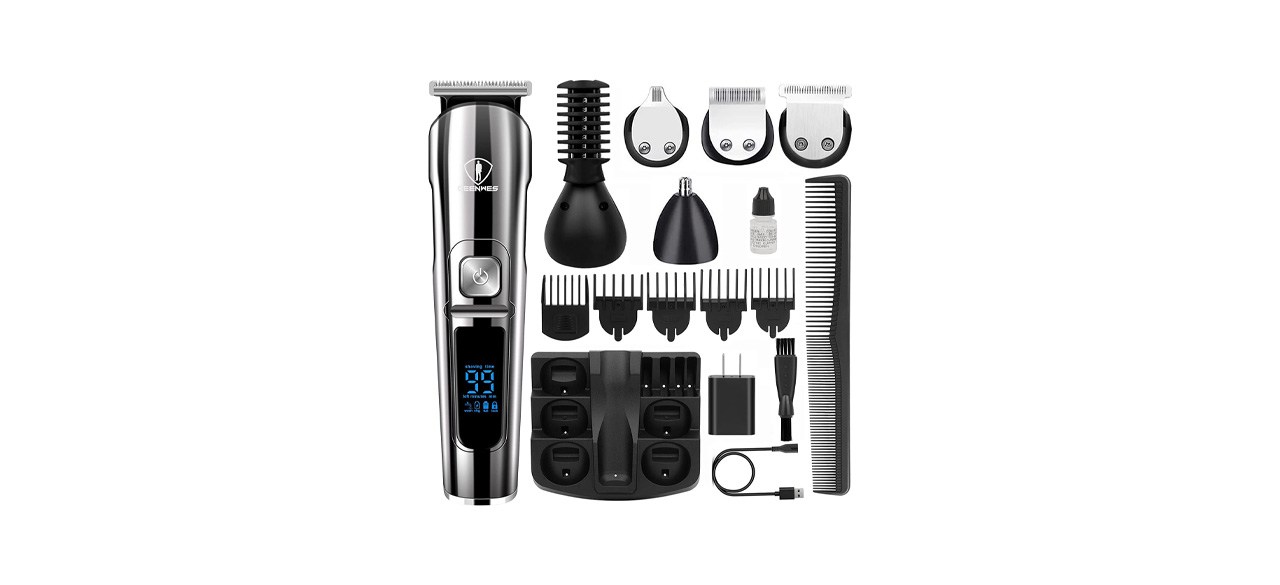 This kit includes a body trimmer, a standard trimmer, a precision trimmer, a design trimmer and an ear-and-nose trimmer, plus a display stand to hold everything. It's waterproof and the battery lasts for 80 minutes.
Sold by Amazon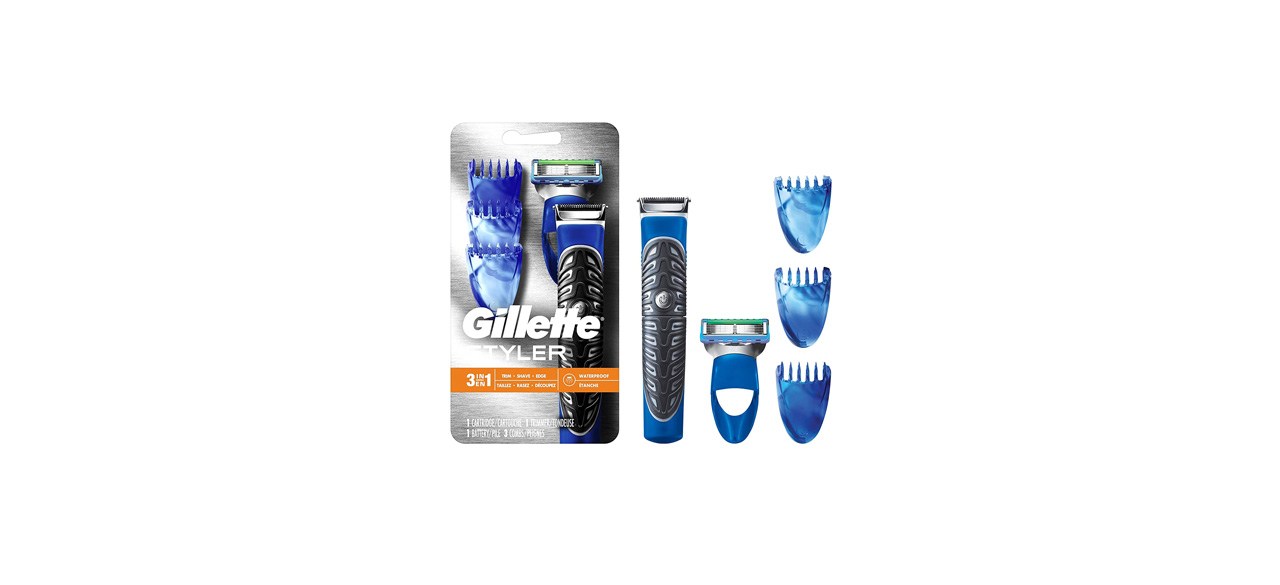 This basic kit includes the trimmer, three blade guards, a ProGlide blade refill with a mini blade handle, a battery and an organizer. Any five-blade Gillette razor refill fits the mini handle.
Sold by Amazon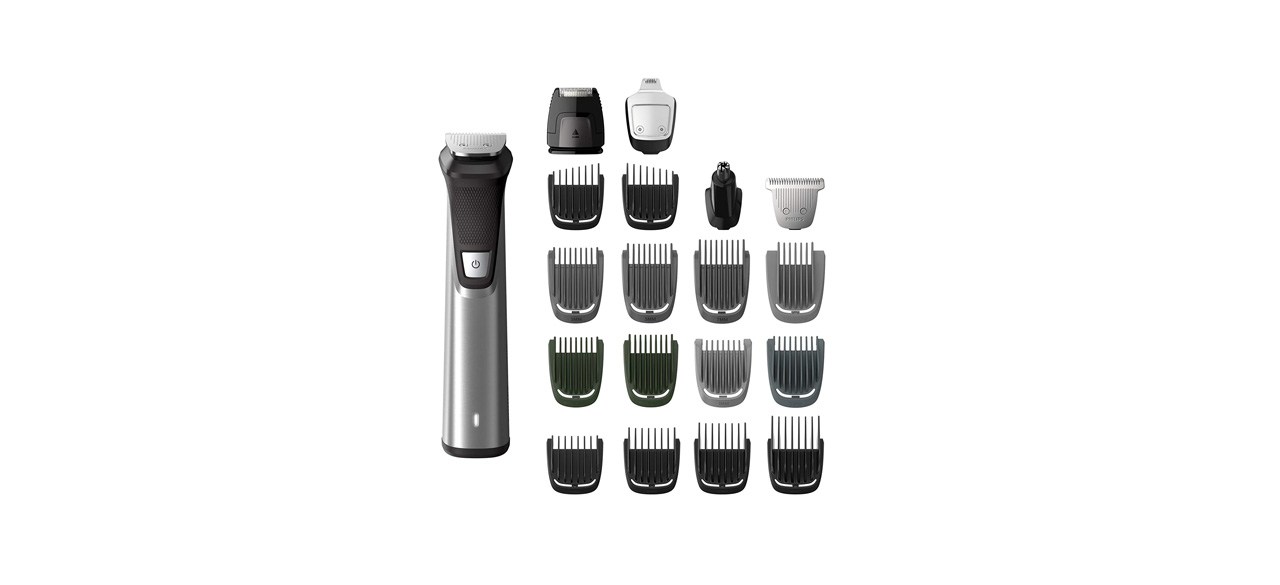 Philips Norelco Beard Trimmer Kit
This beard trimmer has self-sharpening blades that require no maintenance, including not needing blade oil. It's waterproof for easy rinsing and includes 18 attachments, such as 12 blade guards.
Sold by Amazon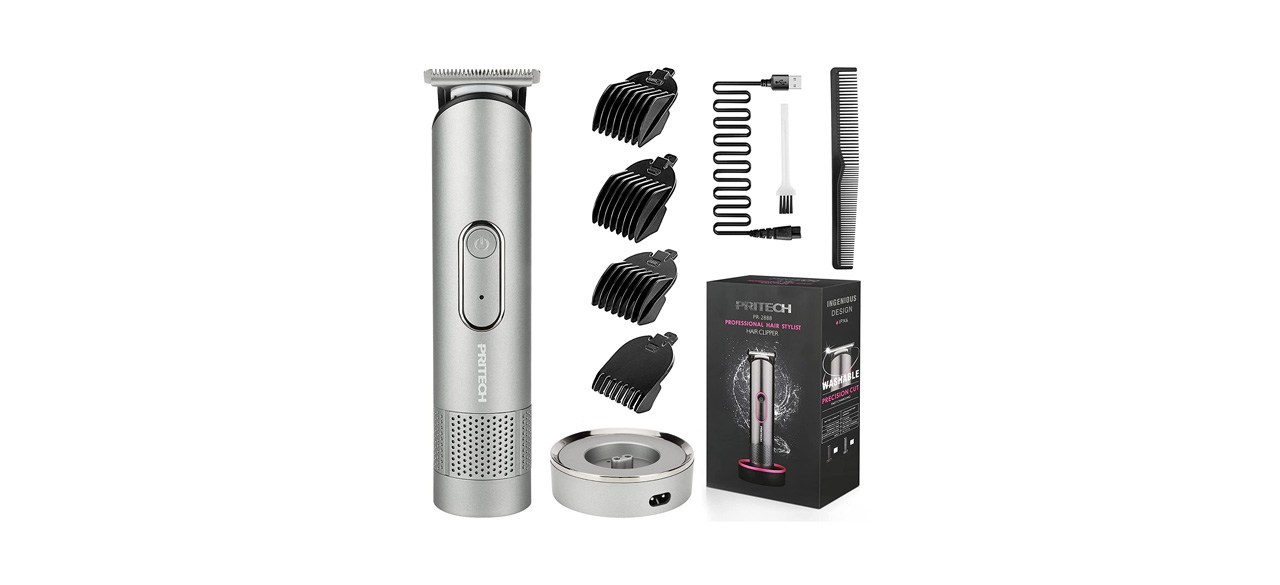 This trimmer includes a brush, a comb and four blade guards. It comes in five colors, including an all-pink one. The battery lasts for up to 150 minutes on a two-hour charge.
Sold by Amazon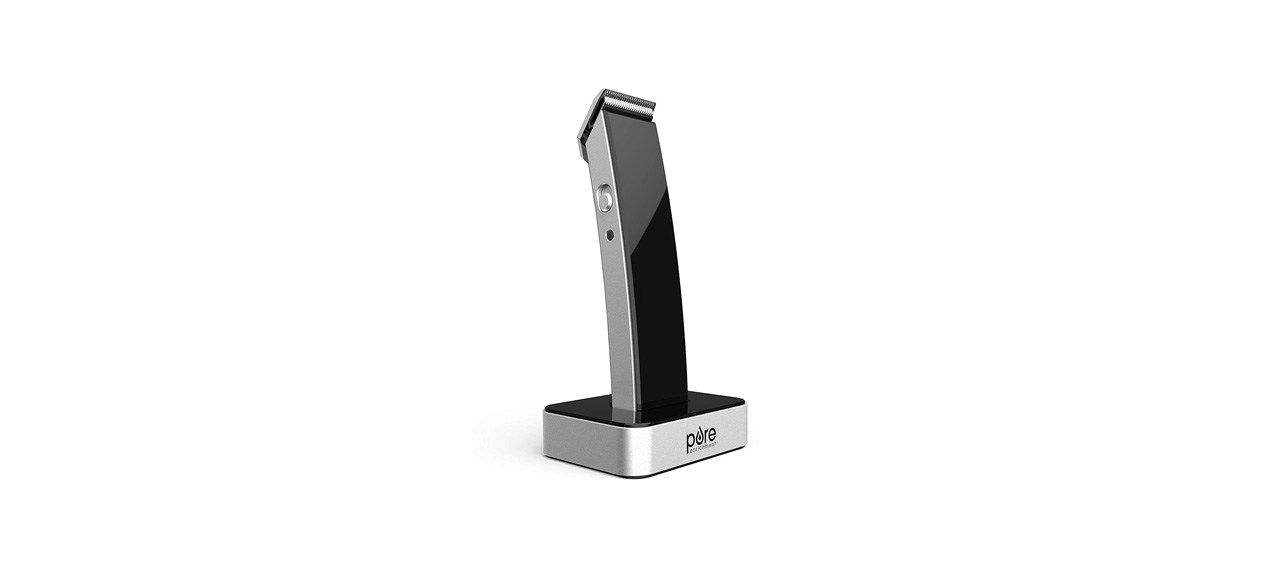 Pure Enrichment Beard Trimmer Kit
This trimmer is universal-voltage compatible, meaning it can be used in any country as long as you have the right cable. It comes with four blade guards and in black or silver.
Sold by Amazon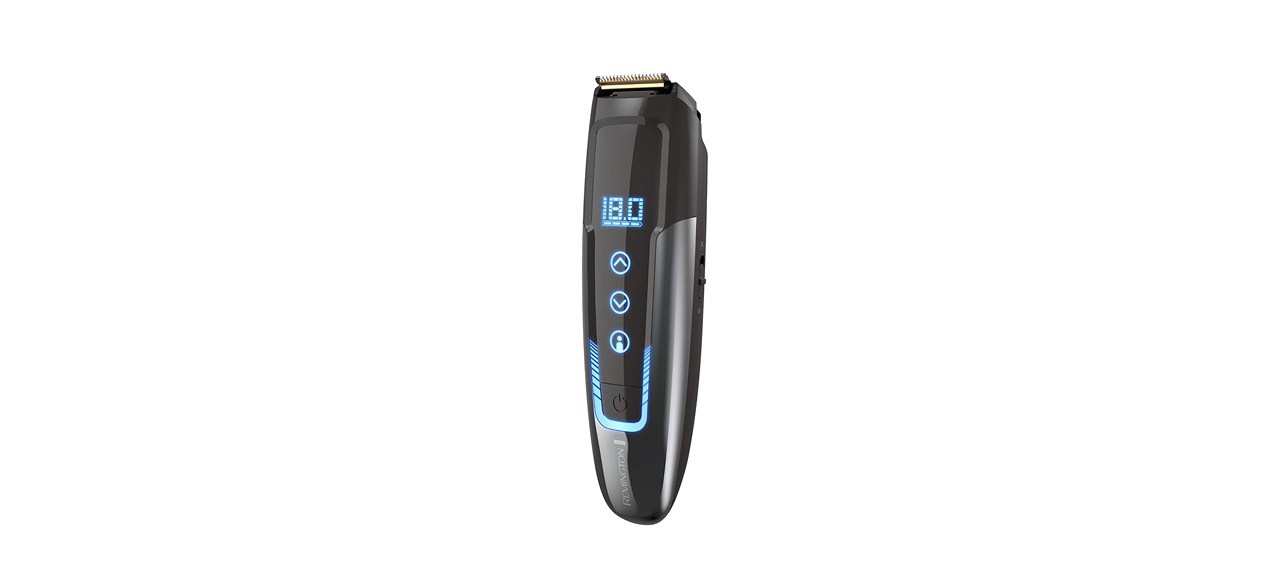 This trimmer uses a beard guide system with 175 length settings at increments of one-tenth of a millimeter. It can automatically adjust its cutting speed to your beard and the battery lasts for up to 50 minutes.
Sold by Amazon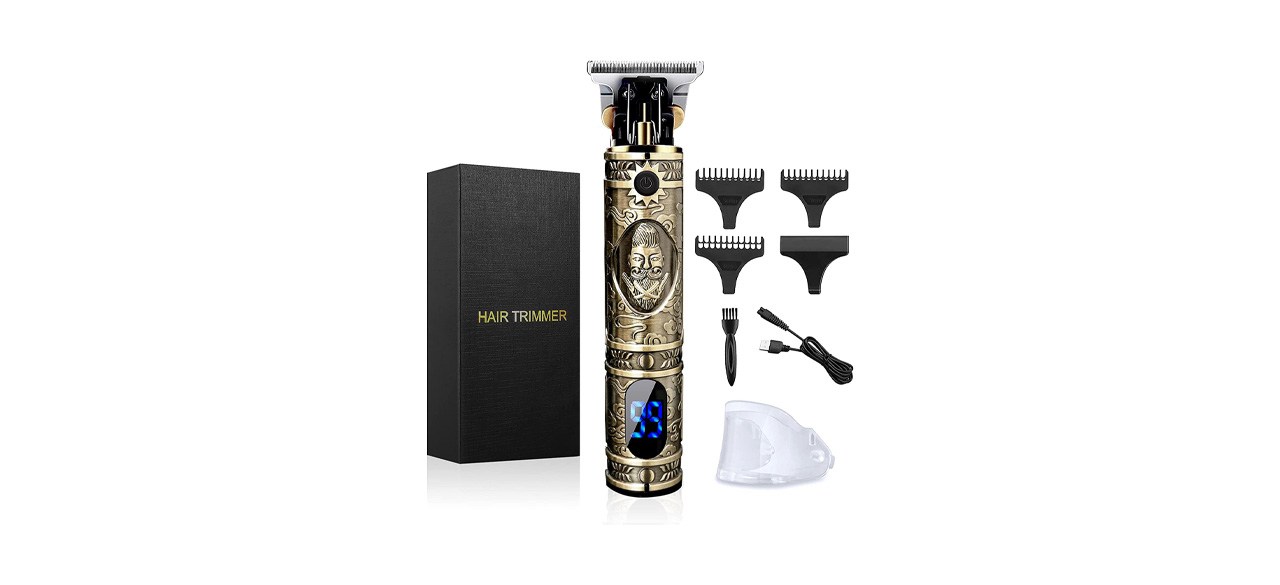 The big draw of this trimmer is its ultra-decadent golden design, making it as much a display piece for your bathroom as it is an effective trimmer. It comes with four blade guards.
Sold by Amazon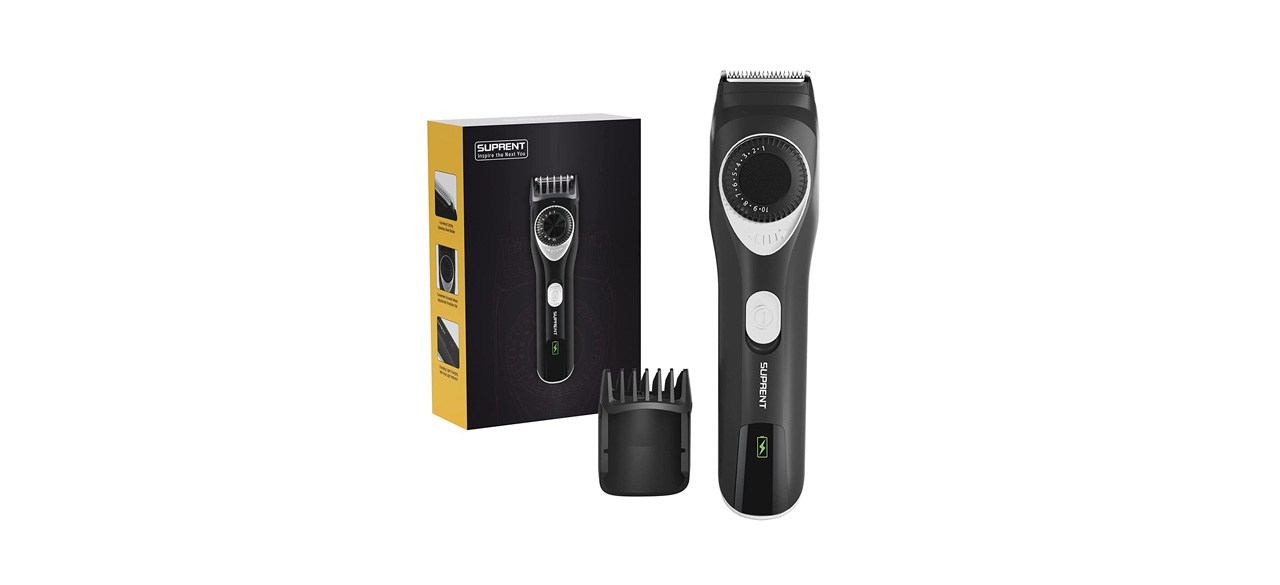 This trimmer also uses a beard guide system, though it only has 19 lengths at increments of one-half of a millimeter. The battery takes roughly 90 minutes to charge and lasts just as long.
Sold by Amazon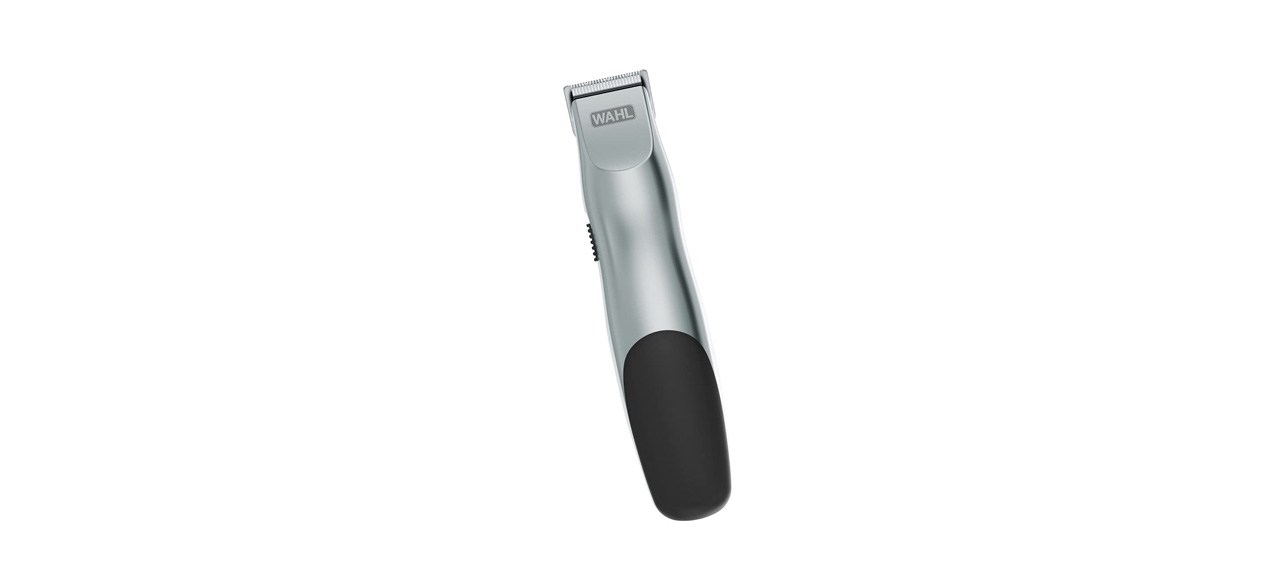 This is a simple though effective trimmer at a great price. It includes four blade guards, one of which has six length settings, and runs on two included AA batteries.
Sold by Amazon
Want to shop the best products at the best prices? Check out Daily Deals from BestReviews.
Sign up here to receive the BestReviews weekly newsletter for useful advice on new products and noteworthy deals.
Jordan C. Woika writes for BestReviews. BestReviews has helped millions of consumers simplify their purchasing decisions, saving them time and money.
BestReviews spends thousands of hours researching, analyzing, and testing products to recommend the best picks for most consumers.
Copyright 2023 BestReviews, a Nexstar company. All rights reserved.