Save big on TVs, appliances, laptops and more this Cyber Monday
Are you looking for the best Cyber Monday deals? You've come to the right place. At BestReviews, we've researched and tested countless products to help you shop with confidence, and we've found plenty of terrific products on sale now.
For example, in our roundup below, you can score great deals on a 32-Inch Amazon Fire TV, Beats Solo3 Wireless On-Ear Headphones and MacBook Air 13.3-Inch Laptop. We'll continue to update this page, so keep checking back for more.
Last updated on Nov. 27, 2023, at 4:55 a.m. PT.
TV deals
TVs are among the hottest items that are always on sale for Cyber Monday, and since many high-end TVs are expensive, it's the perfect time to shop for an upgrade. The best TVs have smart functions, a 4K resolution and QLED technology, but you'll also want to consider the size and overall picture quality.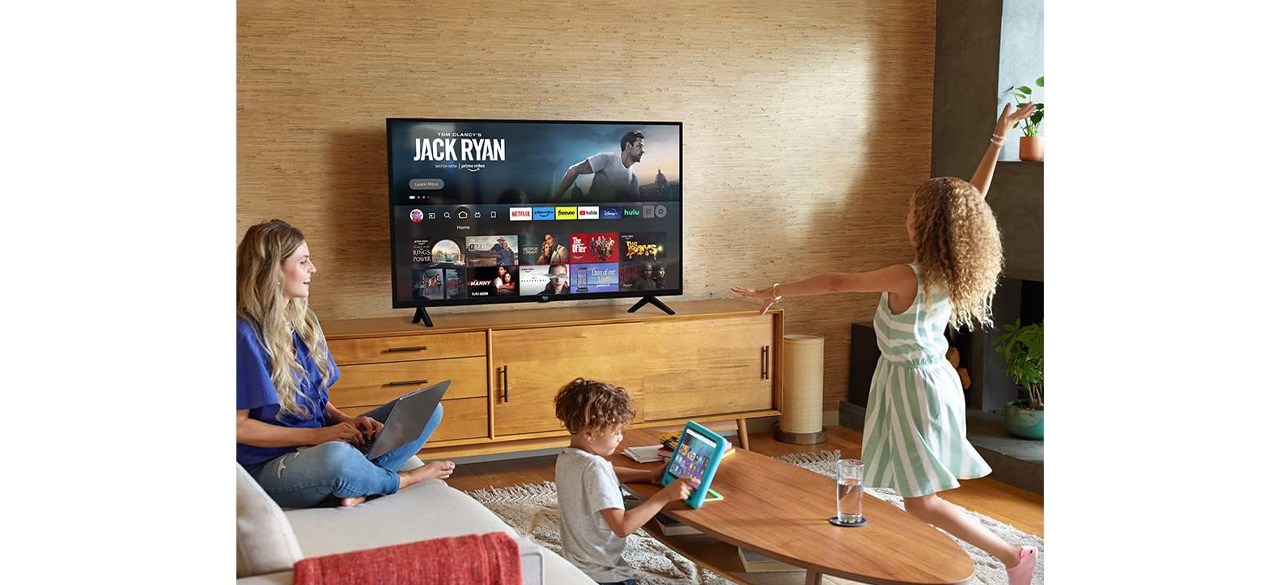 45% OFF
A 32-inch TV is perfect for bedrooms and other small rooms, making this Fire TV an excellent buy. It has picture- and sound-enhancing features such as HDR 10, HLG and Dolby Digital Audio, and because it's a Fire TV, you'll have access to Alexa and other smart functions.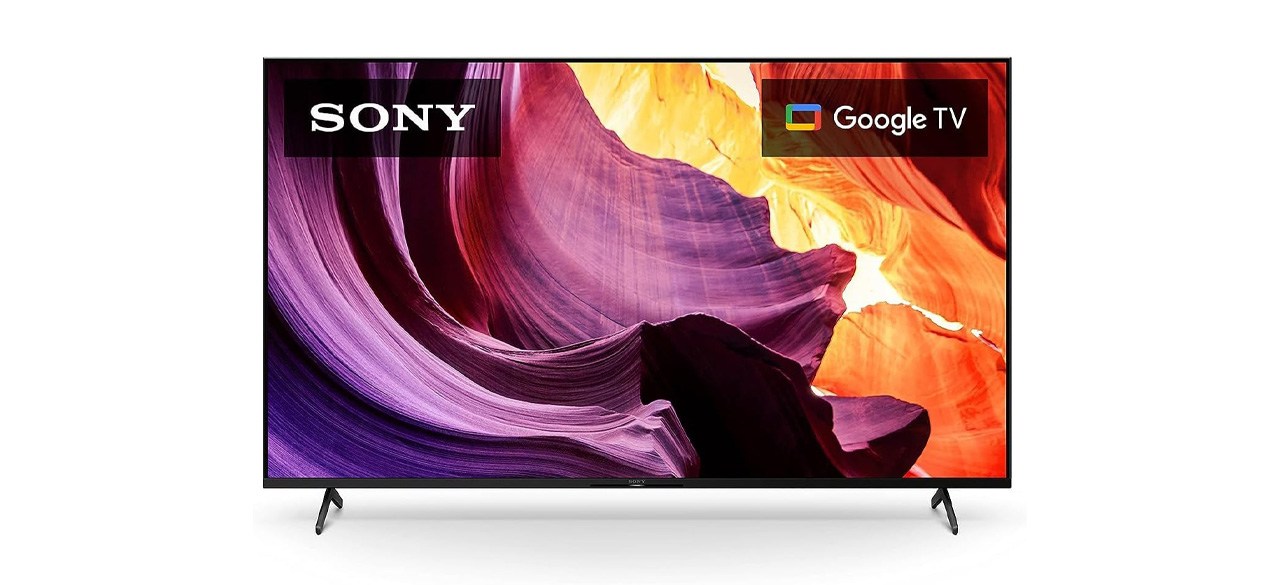 15% OFF
This smart TV is the perfect size for living rooms and basements, and the 4K resolution makes it excellent for sports and HD movies. The color reproduction is lifelike and vivid, and the Google TV interface allows you to access the most popular streaming apps, such as Netflix, Prime Video and Apple TV+.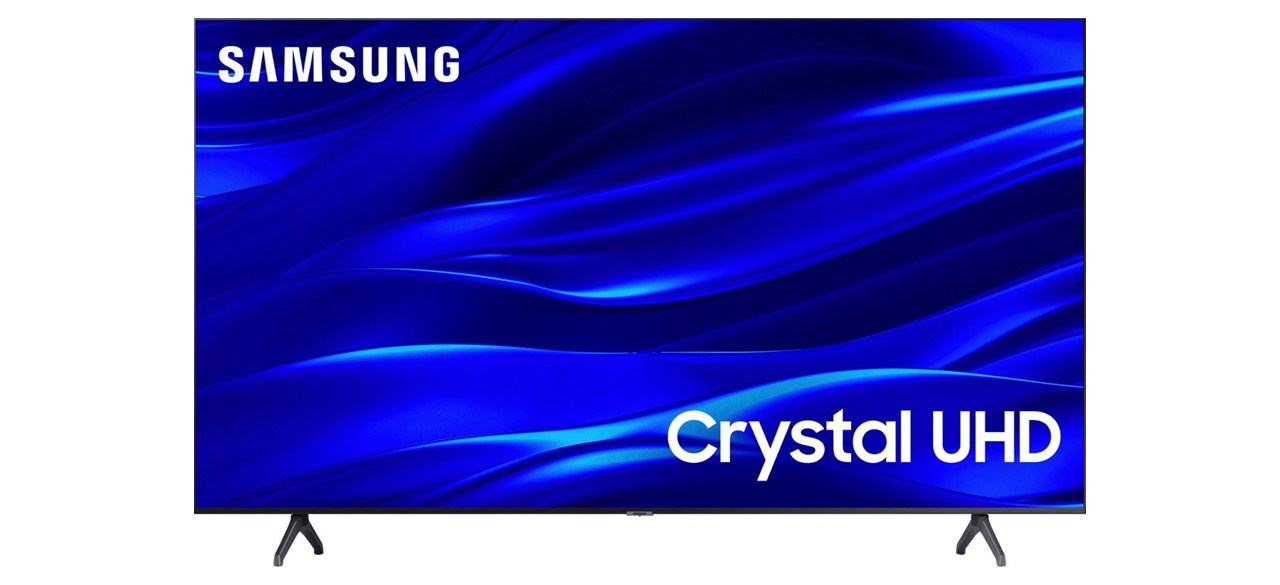 23% OFF
If you want a big-screen TV for your home theater or entertainment hub, this 75-inch crystal UHD TV is an excellent bargain pick. It features a 4K upscaling function for converting standard HD content to 4K, and a PurColor Crystal Display that delivers outstanding visuals and vibrant colors. It works with Alexa, Google Assistant and AirPlay 2 and has a universal guide for TV show and movie recommendations.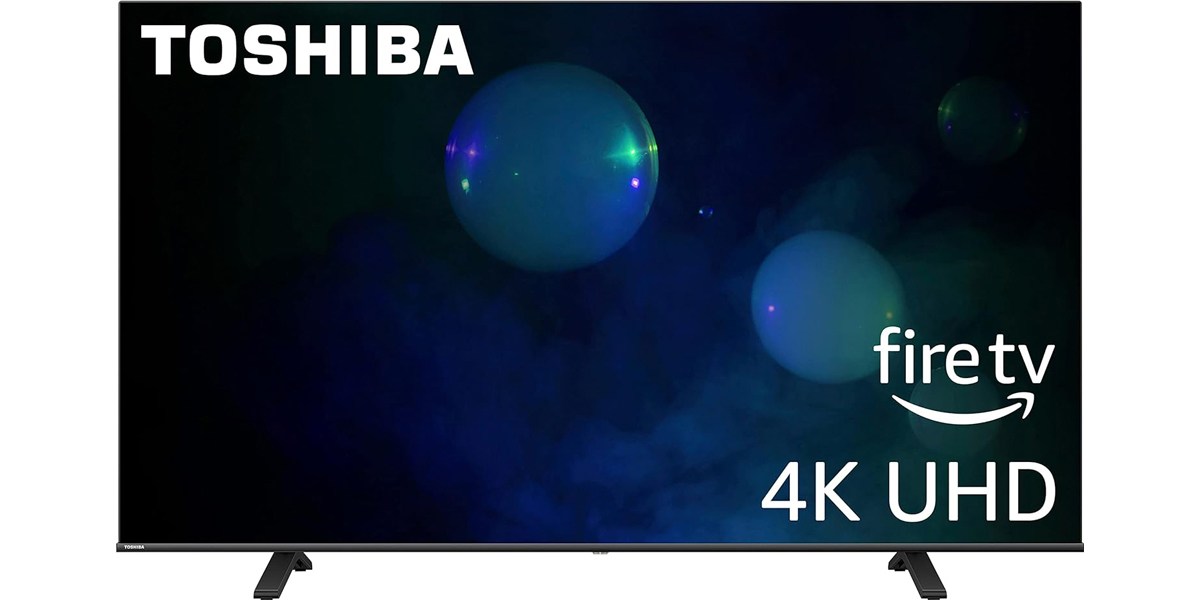 SOLD OUT
This TV has a high-powered 4K Regza Engine that reproduces vivid color detail and crystal-clear picture quality. It supports Dolby Vision HDR and HDR10 for improved contrast and has a game mode for minimizing latency and input lag. Plus, the Alexa voice remote is excellent for finding your favorite content and managing other smart devices on your network.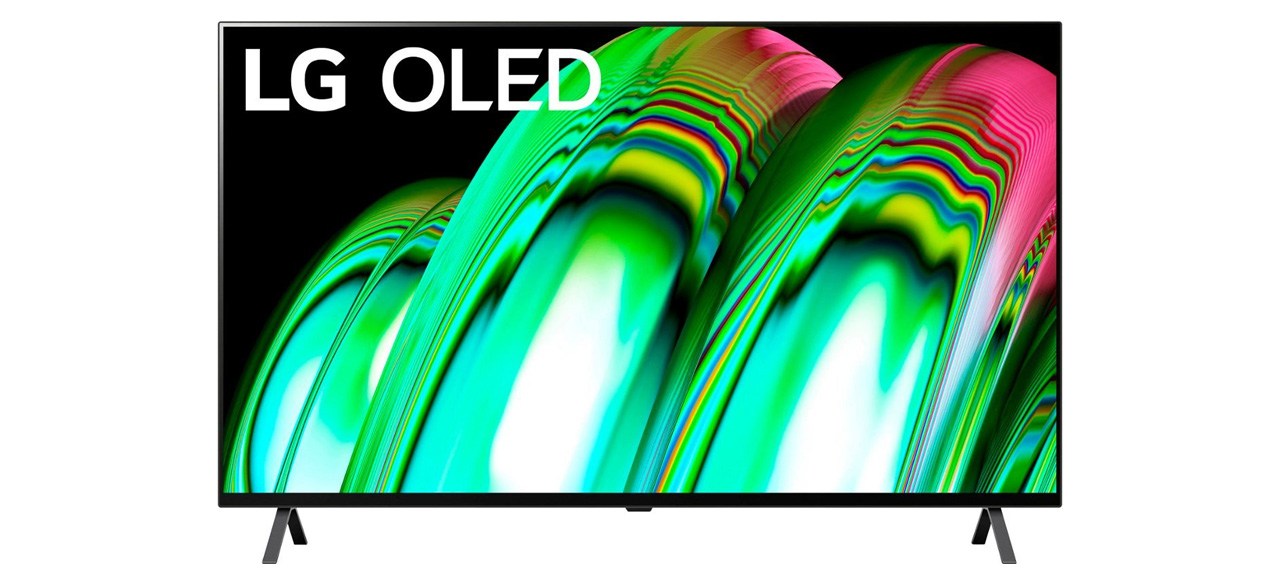 58% OFF
OLED TVs offer the best picture quality and consume less energy, making them a no-brainer if you want a high-quality TV. They're expensive, but on Cyber Monday, you can buy this LG OLED smart TV at a whopping 58% discount. It delivers lifelike details and 100% color details, and AI Picture Pro upscaling converts HD content into 4K quality.
Home and appliance deals
There are plenty of excellent home and appliance deals to take advantage of on Cyber Monday. Some products we're seeing significant price cuts on include air purifiers, space heaters, air fryers, coffee machines and microwaves.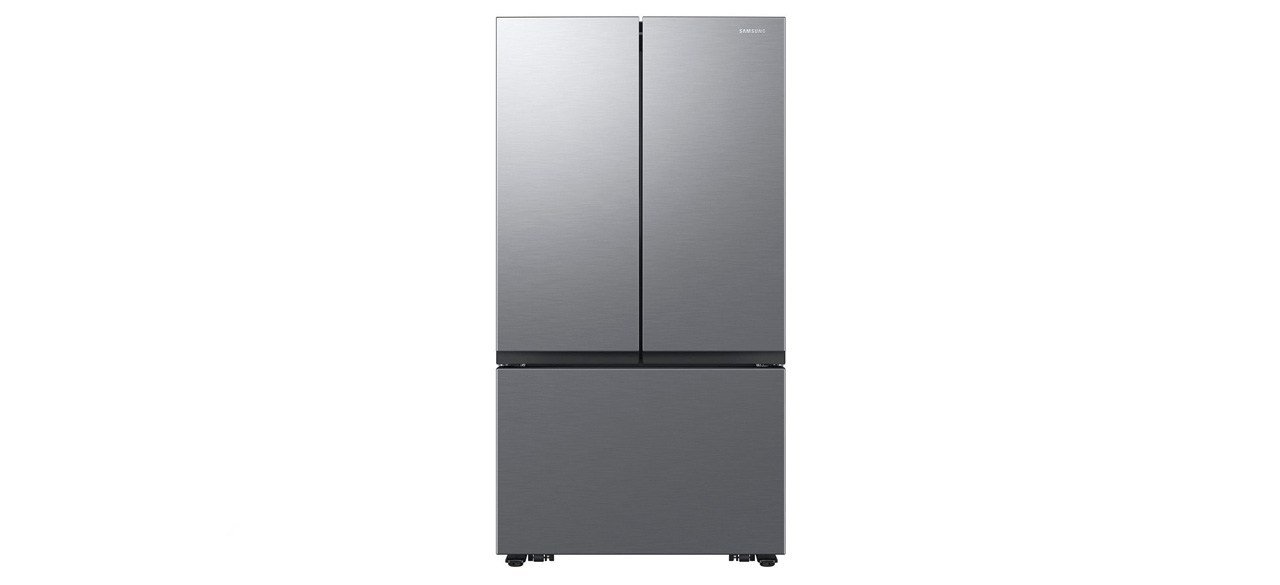 28% OFF
This refrigerator has a 27-cubic-foot capacity and a three-door design, making it suitable for large households. It has an automatic ice maker that provides cubed ice and ice bites and an all-around cooling system that ensures even cooling all over the interior. SmartThings lets you monitor energy consumption, and the recessed drawer handle makes the fridge look great in any kitchen.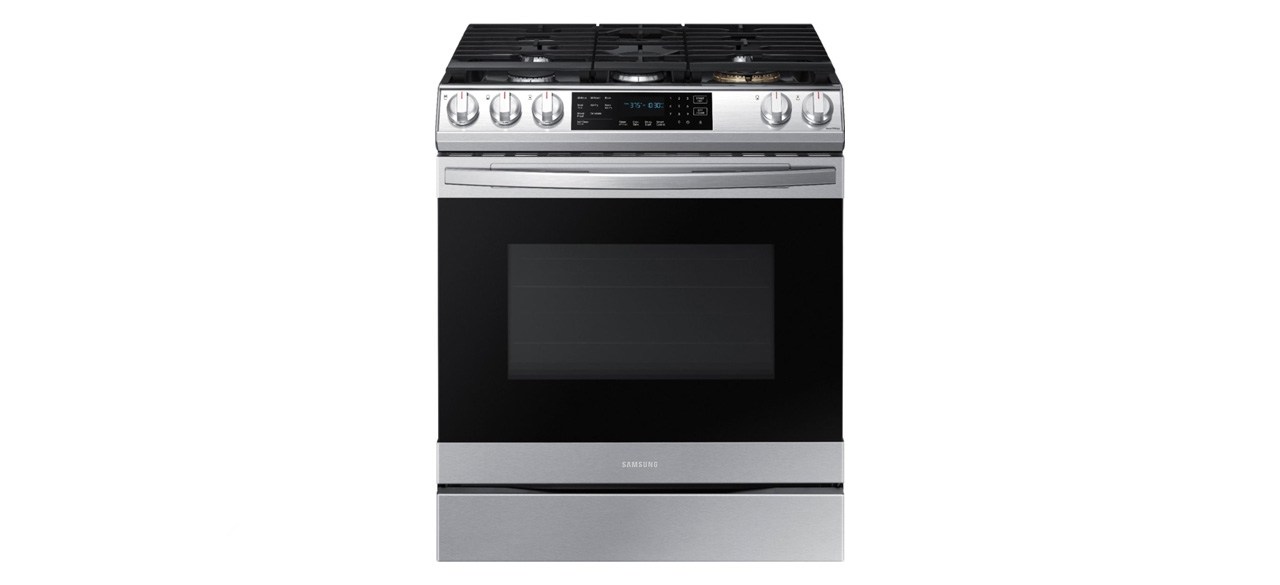 44% OFF
This oven heats quickly, and the smooth surface lets you easily slide your pots and pans across the seamless, edge-to-edge grates covering a five-burner cooktop. It's equipped with an air fryer function for frying foods without or with little oil, and an aluminum griddle for whipping up breakfast foods or sauteeing veggies. It has a fingerprint-resistant finish and supports voice assistants such as Bixby, Alexa and Google Assistant.
Headphone deals
Cyber Monday is one of the best times to shop for electronics, including headphones. Some top headphone brands offering huge discounts on Cyber Monday include Bose, Sony, Skullcandy, JBL, Beats and Apple.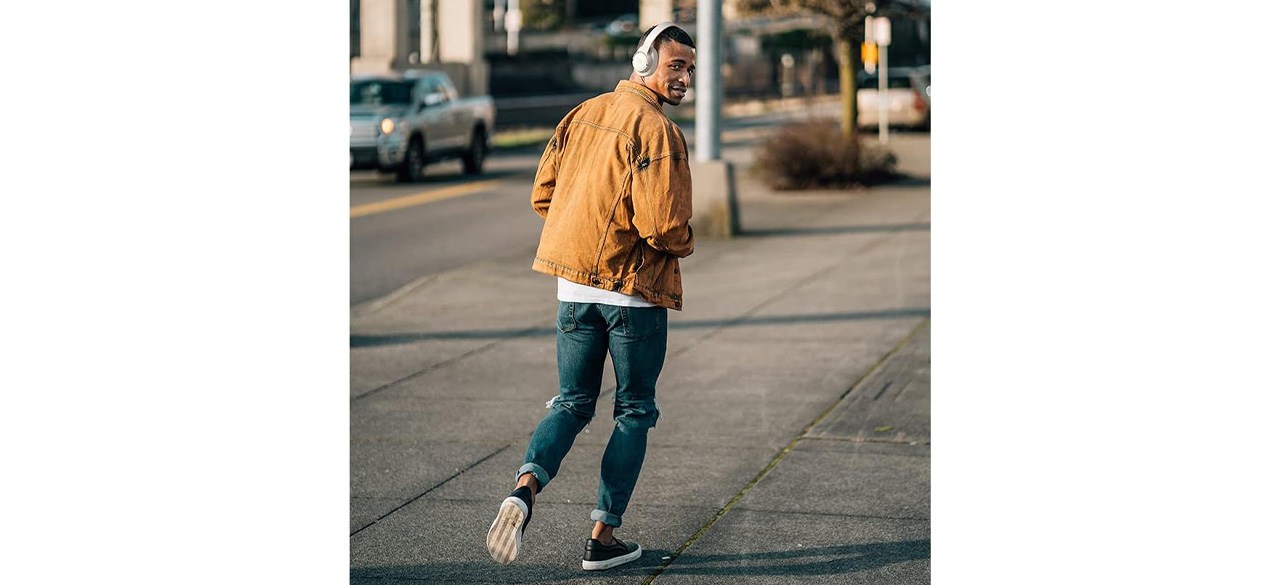 50% OFF
These headphones provide impressive audio quality and deep, punching bass. Active noise canceling is effective at drowning out external noise, letting you focus on the music, and the battery life lasts up to 50 hours in ambient mode. Plus, you can access smartphone voice assistants with the on-ear button controls.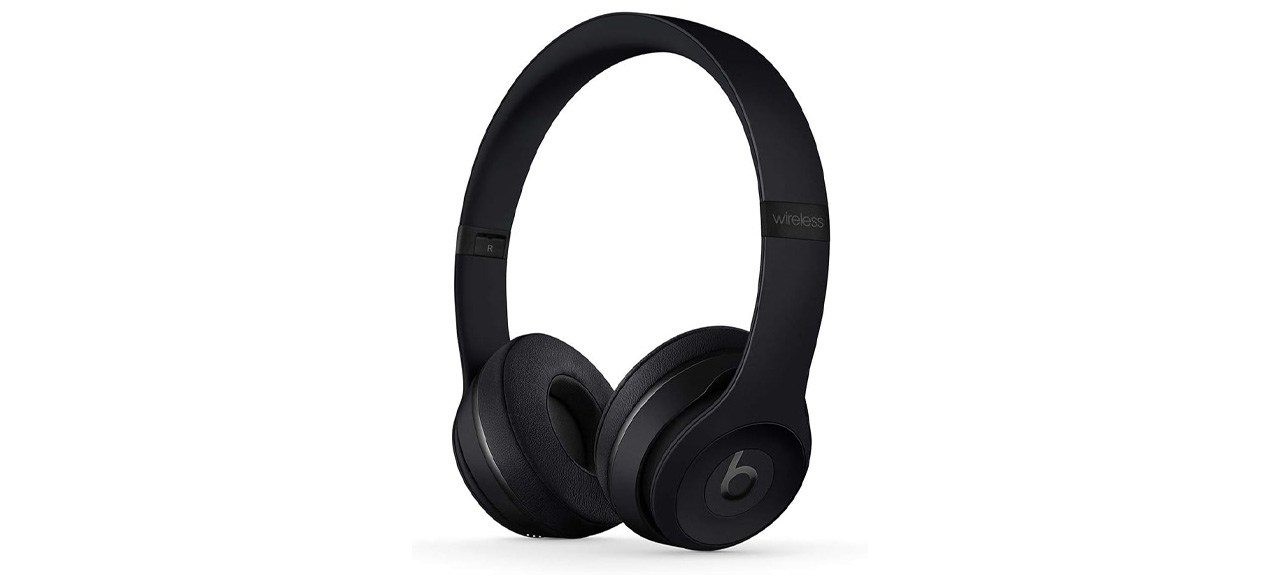 50% OFF
Beats Solo3 Wireless On-Ear Headphones are among the most versatile headphones, as they can be used while commuting, relaxing and exercising. The Apple W1 chip allows for a latency-free Bluetooth connection and hands-free access to Siri. Plus, fast fuel charging gives you three hours of playback after just five minutes of charging.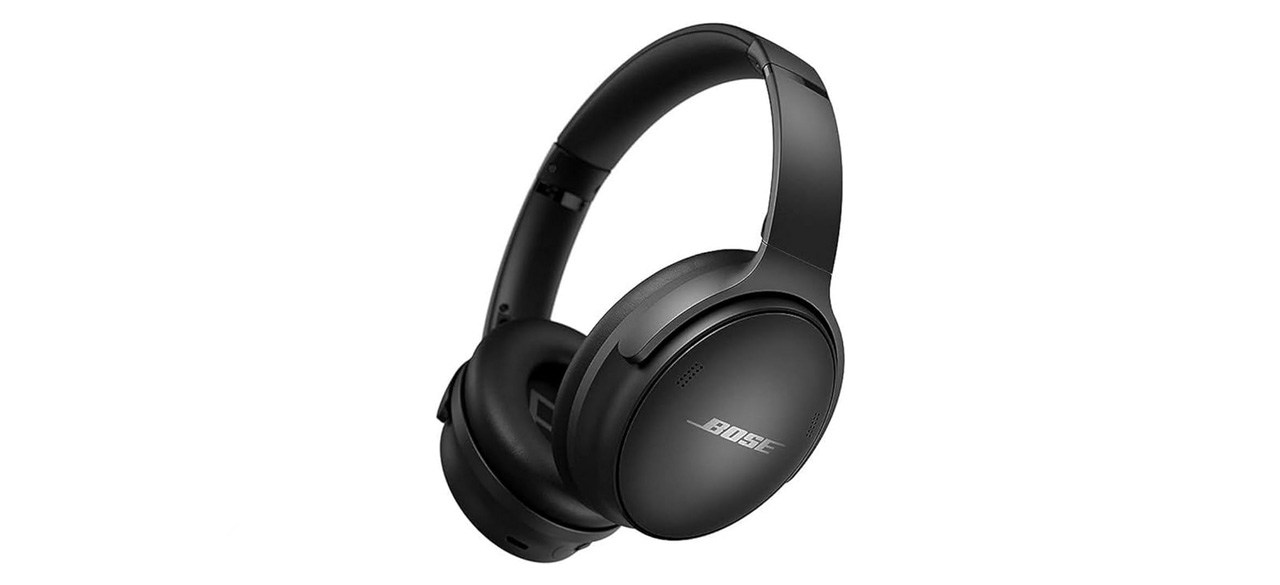 40% OFF
The Bose QuietComfort 45 Headphones offer superior sound quality thanks to a TriPort acoustic architecture that delivers depth and fullness and an active equalizer that provides consistent, high-fidelity audio at any volume. It has a quiet mode for filtering unwanted noise and an aware mode for listening to your environment, and the battery lasts up to 22 hours on a full charge.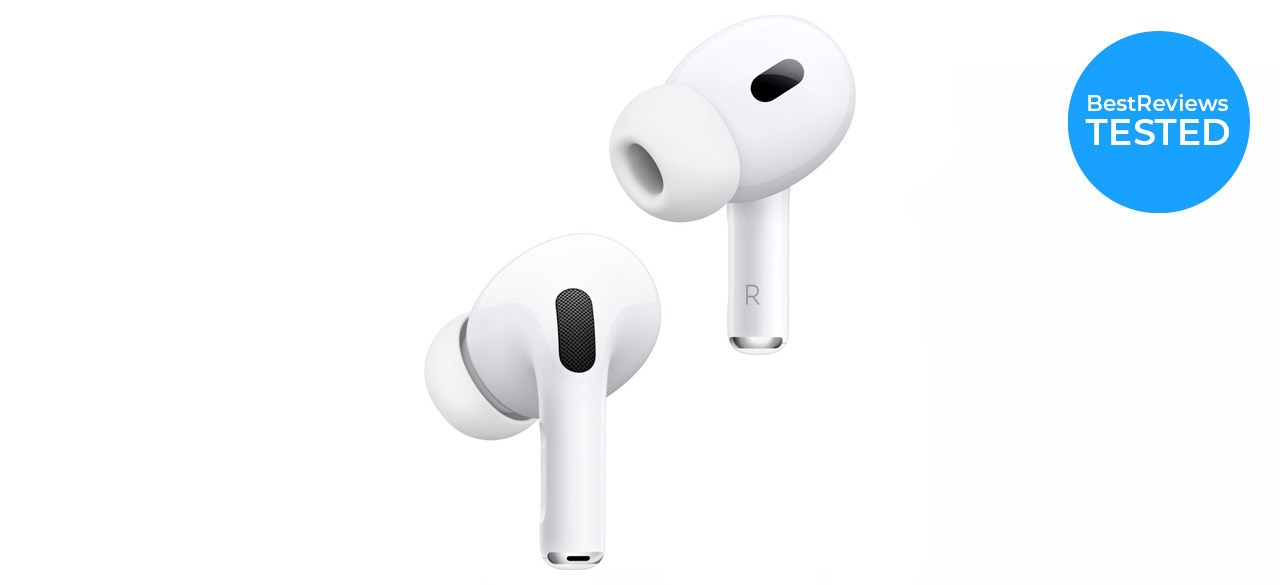 24% OFF
These earbuds really impressed us when we tested them. They're great if you own an iPhone or another Apple device, as the H1 chip connects and interacts with them seamlessly and lets you access Siri hands-free. Adaptive Audio tailors sound according to your environment, and a custom-built driver and amplifier provide crisp high notes and deep, rich bass. Personalized Spatial Audio offers an immersive listening experience, and noise cancelation is twice as effective as the previous generation.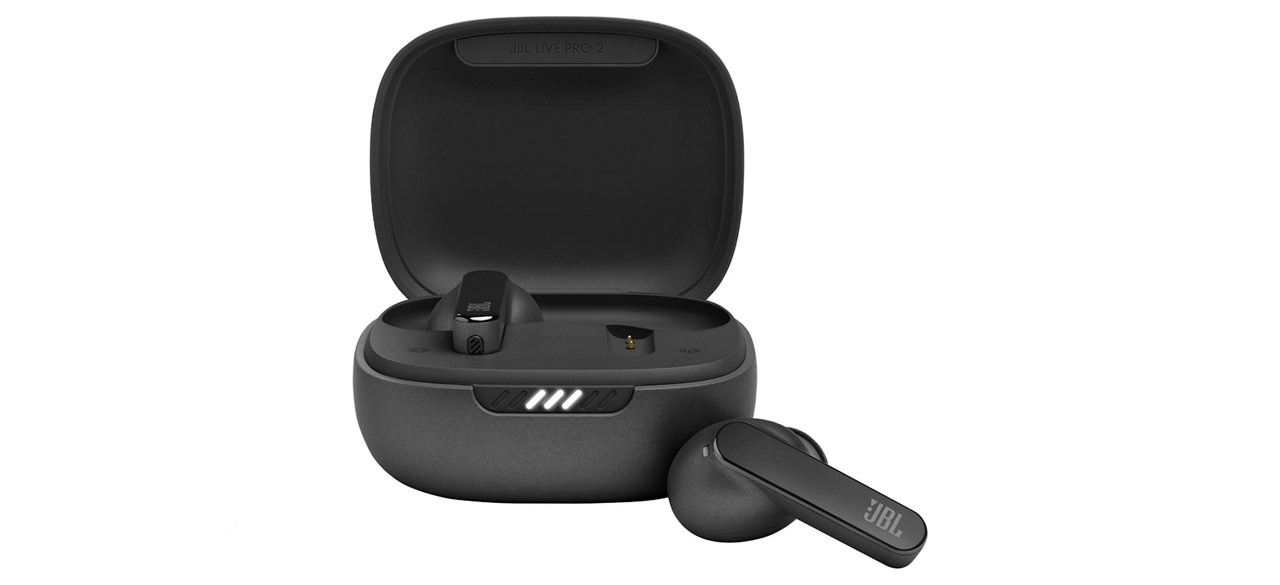 50% OFF
These earbuds offer 40 hours of listening time, and speed charging provides four hours of battery life after just a 15-minute charge. It has six beamforming microphones for filtering out noise, and Voice Aware lets you control how much of your own voice you can hear during calls. The 11-millimeter dynamic driver and oval-tube design provide improved comfort, isolation and deep bass.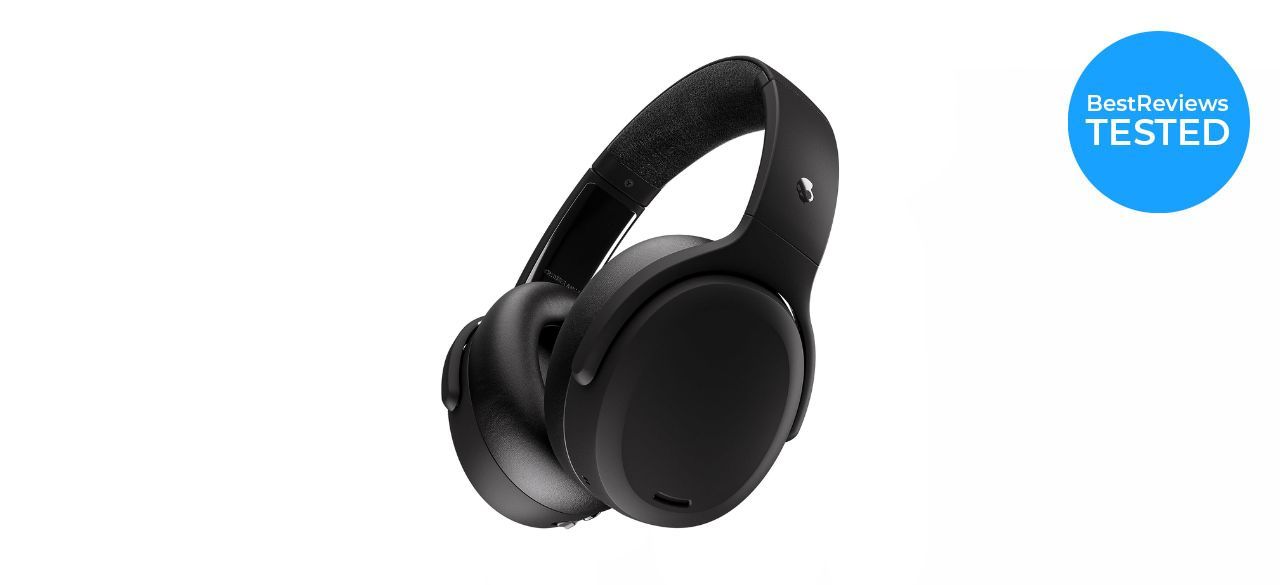 13% OFF
These over-ear headphones tested well in the BestReviews testing lab. The active noise cancellation and excellent battery life make these a must-have for students, commuters or anyone who wants an immersive listening experience. The bass was the most impressive of any headphones that went through the testing process and can be customized to be a perfect fit for every audiophile.
Laptop deals
Laptops are expensive, but Cyber Monday is the perfect time to shop for one if you missed out earlier this year during back-to-school sales. The best laptop brands, such as Acer, Dell, Asus and HP, will offer excellent discounts on office laptops, gaming laptops and Chromebooks.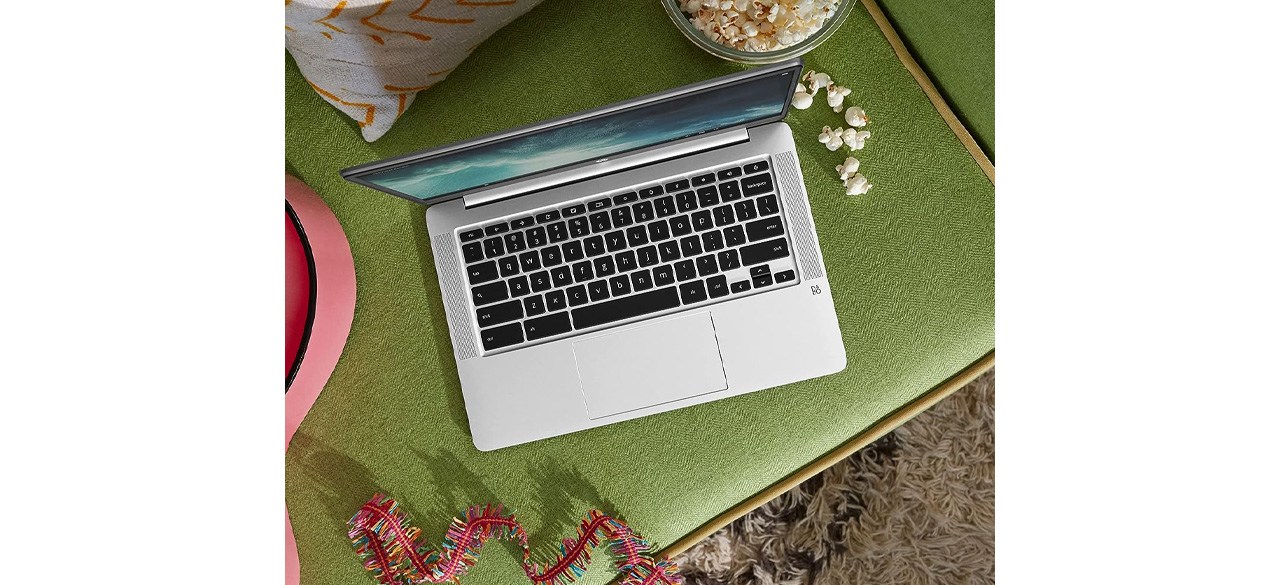 32% OFF
Chromebooks are excellent for students who need something lightweight for class or office workers who want a good laptop to travel with. This Chromebook has a 14-inch HD display, 4GB of RAM and 64GB of built-in flash memory storage, and the Intel UHD Graphics 600 graphics card renders 4K visuals.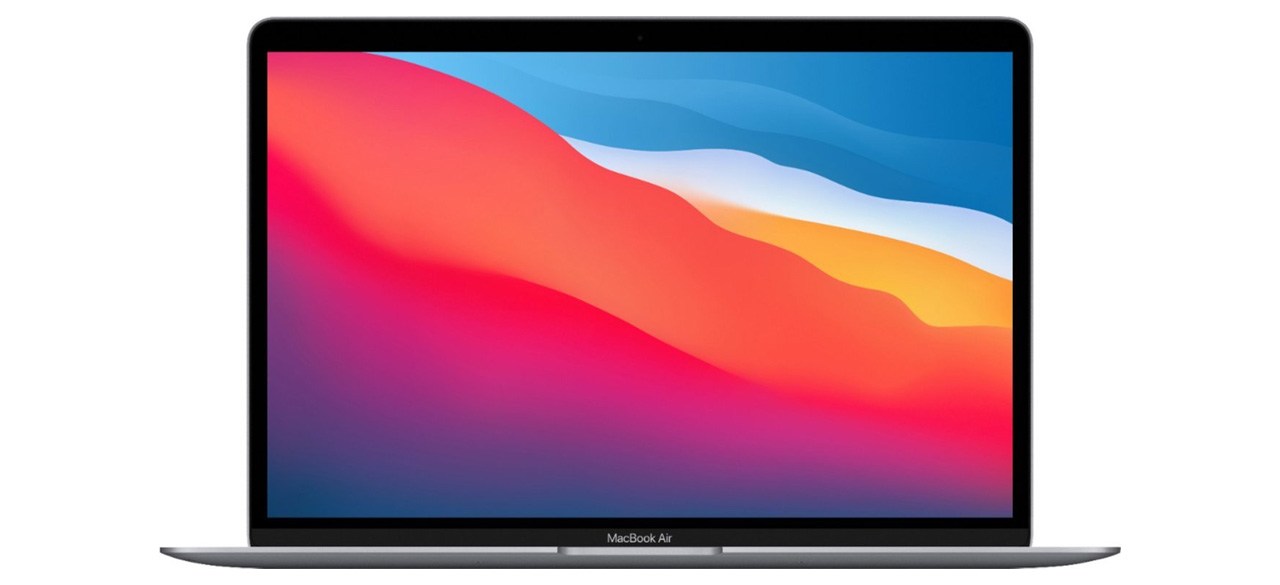 25% OFF
The MacBook Air is a high-powered laptop with a slim build that's perfect for traveling and everyday use. The M1 chip delivers blazing-fast processing power, and the seven integrated GPU cores allow you to run graphics-intensive games and software without any lag. The 13.3-inch screen looks fantastic, and the front-facing camera is designed for Facetime calls. Plus, it has a three-microphone setup and Touch ID for secure payments and added security.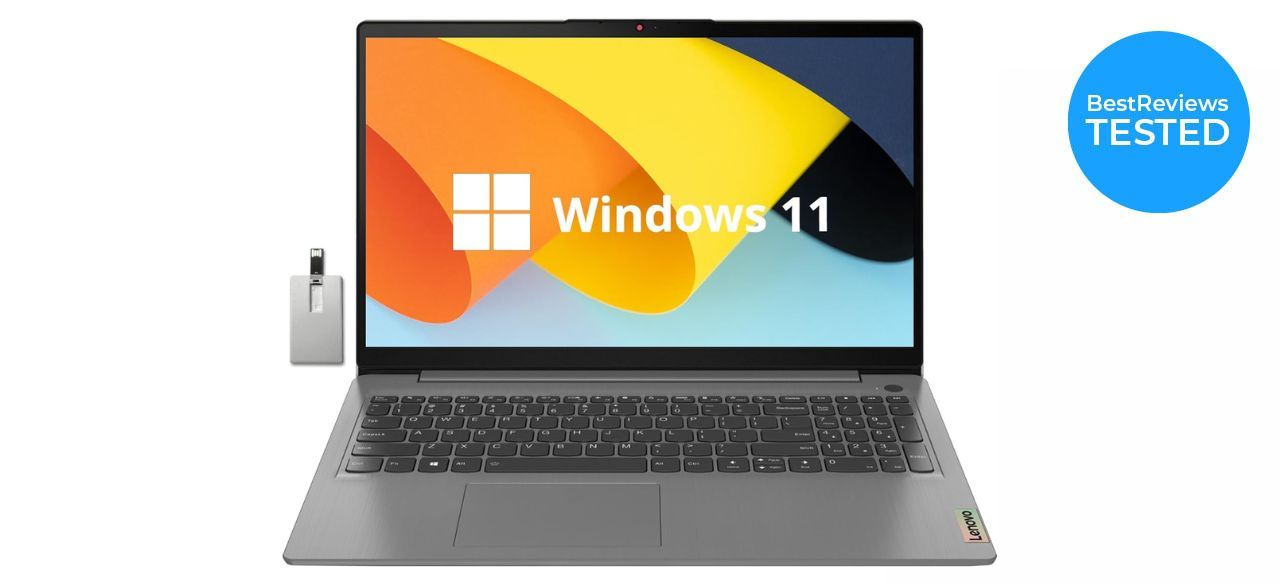 18% OFF
This Lenovo laptop is designed for the optimal gaming experience on a budget. It features a 15.6-inch screen, 8GB of RAM, 256GB hard disk storage, an AMD Ryzen 5 5600X processor and a CPU speed of 3 GHz.
Vacuum deals
Staying on top of your home cleaning can be challenging, but a high-quality vacuum cleaner can make the job much more manageable. On Cyber Monday, you'll want to look out for traditional vacuum cleaners by Dyson, robot vacuums and carpet cleaners.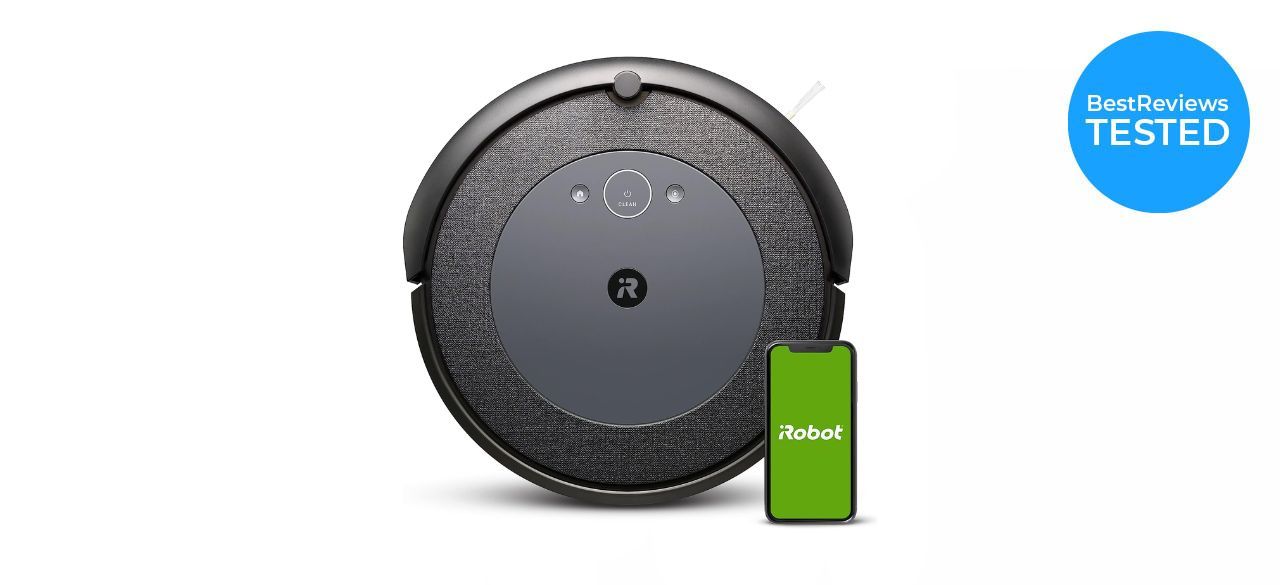 29% OFF
We tested this robot vacuum and were impressed by its powerful three-stage cleaning system for lifting dirt, debris and pet hair. It cleans in a uniform pattern, and the advanced detection technology allows it to focus on the dirtiest areas of your home. Smart mapping lets you program it to clean the rooms you want.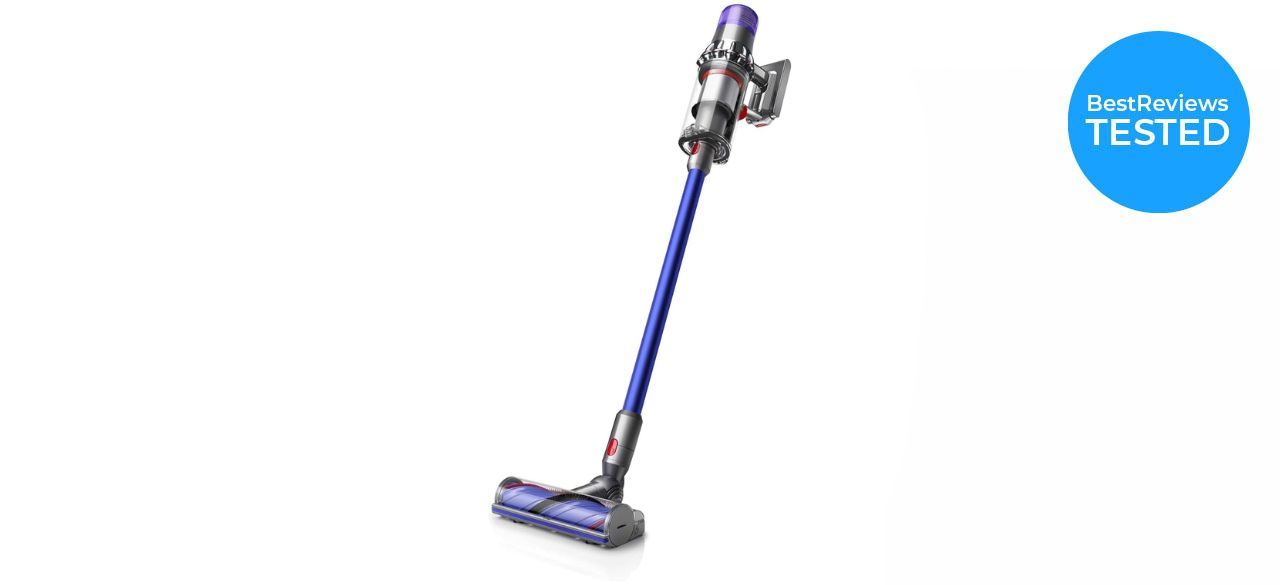 SOLD OUT
A cordless stick vacuum is excellent for getting to hard-to-reach areas in your home. This vacuum has a power trigger that activates when you apply pressure and an LCD screen that shows power modes, maintenance alerts and remaining battery life. It also converts into a handheld vacuum for cleaning car interiors and upholstery.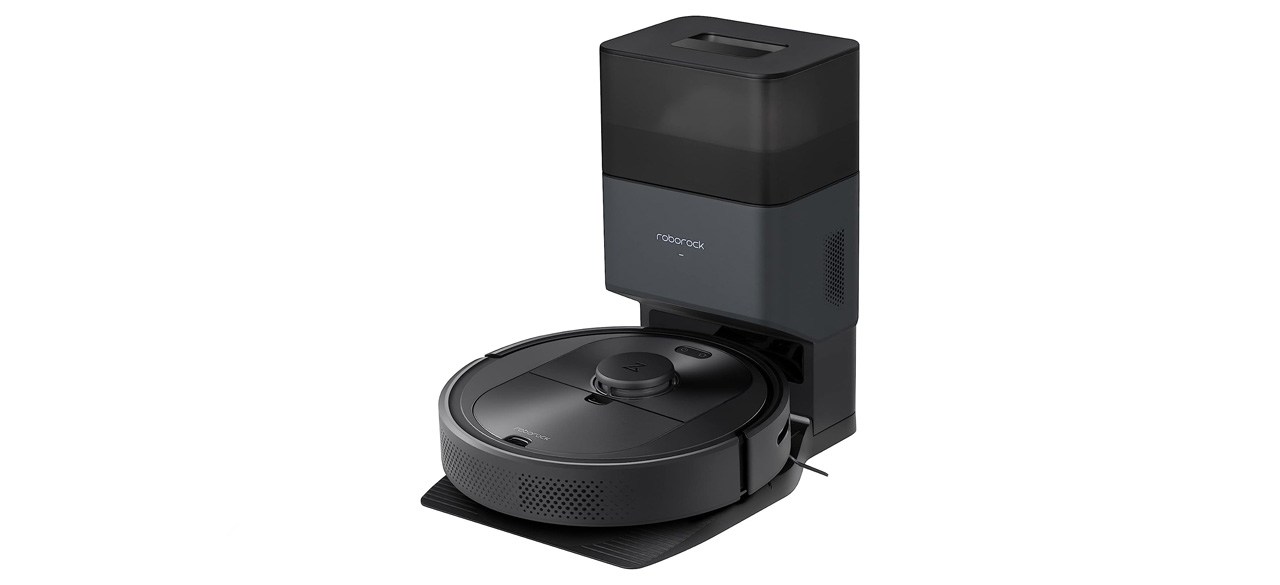 43% OFF
This robot vacuum comes with a self-emptying dock that automatically empties the dustbin after each cleaning cycle and boasts a 2.5-liter dust bag that can hold up to seven weeks of dirt and debris. PreciSense LiDAR Navigation creates cleaning maps you can view in 3D through the smartphone app, and the multi-plane floating brush maintains the cleaning brush close to the ground for thorough cleaning,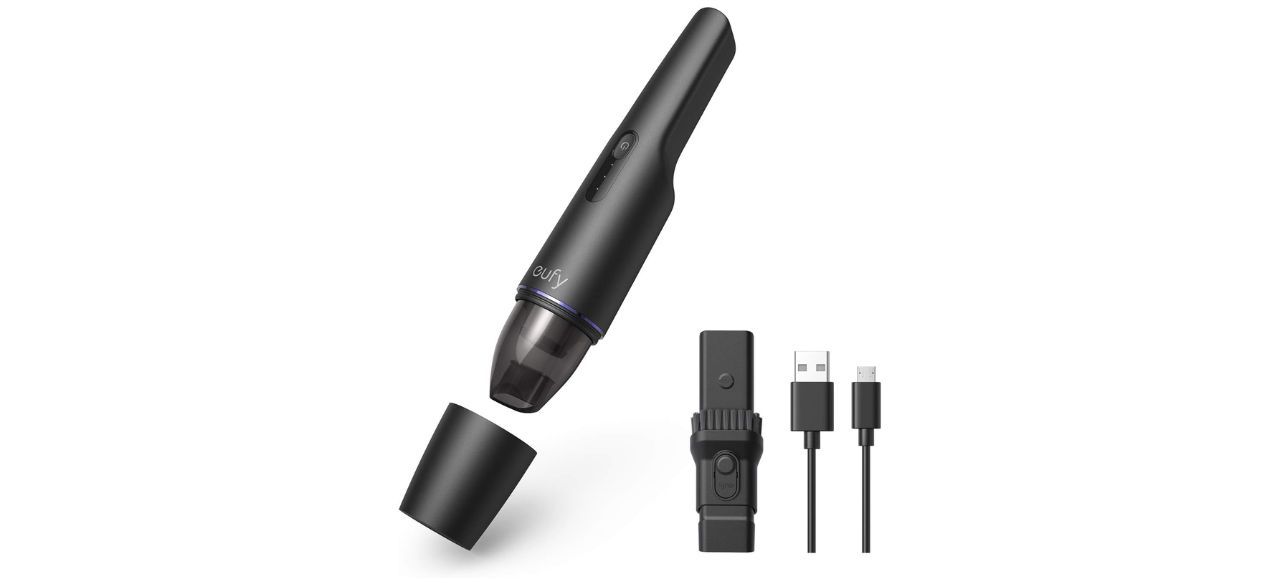 40% OFF
This cordless vacuum is lightweight with a small form factor, making it perfect for cleaning the car or picking up small messes around the house. It can be charged via USB, and it lasts about 13 minutes on a full charge. The crevice tool and brush make it easy to clean a variety of surfaces, whether it's pet hair, dust or other messes.
Smart home deals
Smart devices make life easier since you can control them wherever you are and use them to manage other smart devices on your network. On Cyber Monday, look out for deals on smart speakers, light bulbs, doorbells, switches and thermostats.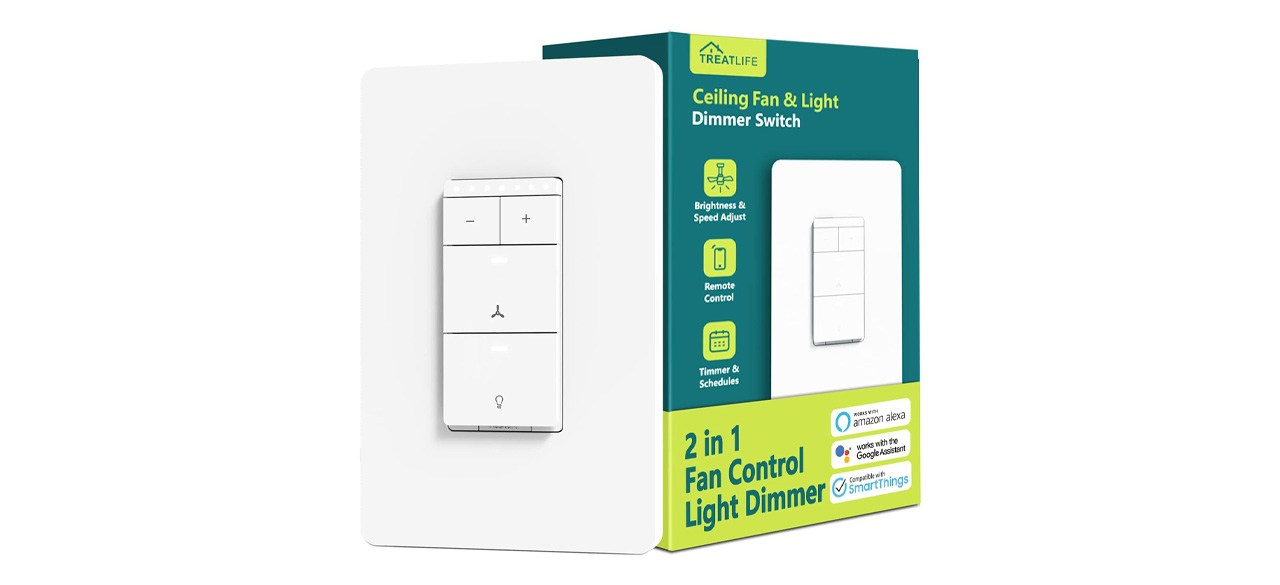 36% OFF
If you have a ceiling fan without a built-in remote control system, you can hook up this smart switch to control it from your phone. This smart switch is easy to install and offers several brightness and fan speed settings. You can create schedules to turn the lights on or off and command voice assistants such as Alexa for hands-free control.
Pet product deals
Cyber Monday is excellent for shopping for your most-wanted products, but don't forget to check out deals on products for your animal friends, too. We expect to see terrific discounts on pet food, supplies, accessories, toys and training equipment.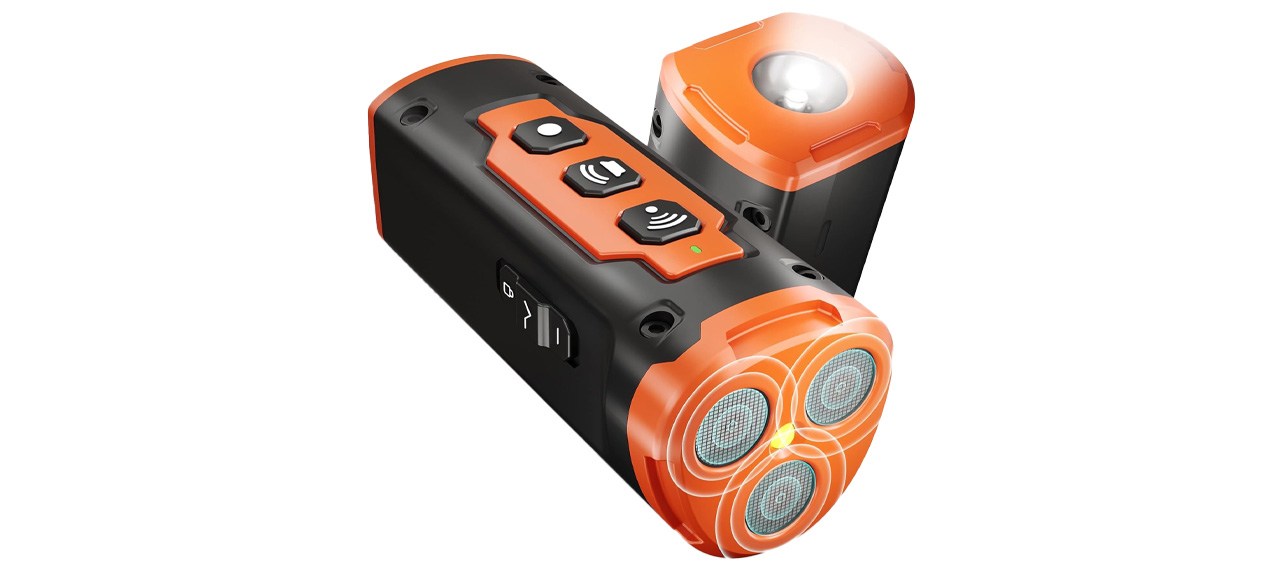 50% OFF
Dogs with loud barks can be a nuisance to others and even yourself, which is why this bark-deterrent device is a must-buy for those looking to get their dog's barking under control. It has four chase-stopping sounds, two bark-eliminating sonic waves and an ultra-deterrent light. Plus, quick four-hour charging provides three months of regular use.
Fashion deals
If you'd like to expand your wardrobe, you'll want to check out the latest deals on fashion and apparel. There are already significant discounts on jackets, sweaters, hoodies, hats, pants, gloves and accessories.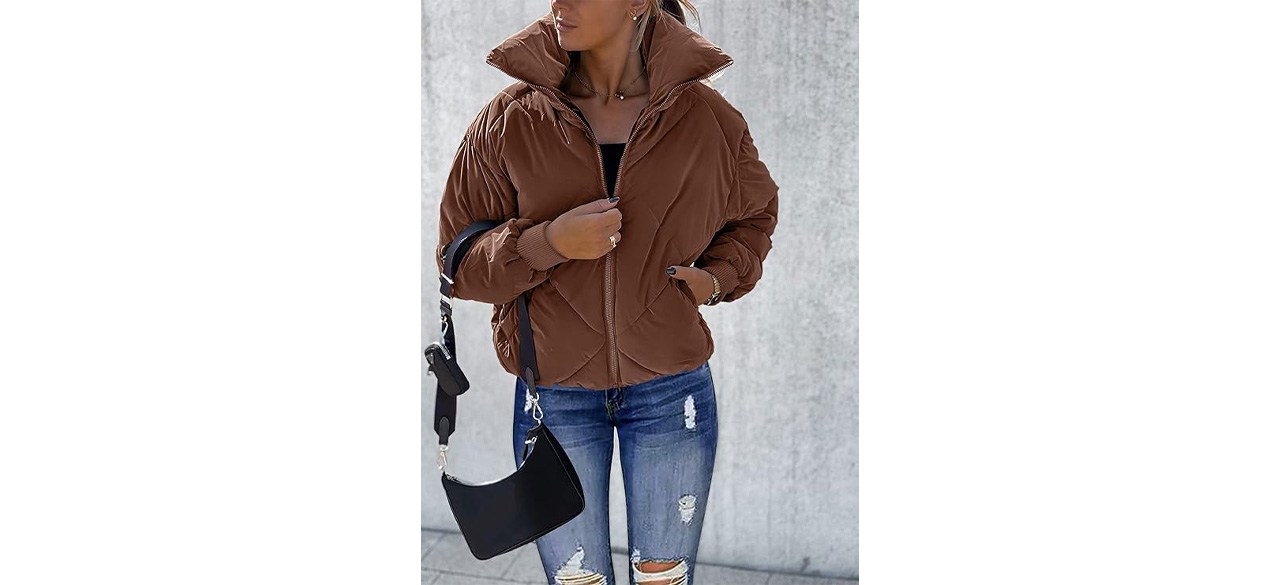 39% OFF
If you want a jacket that's as functional as it is stylish, you won't be disappointed with this puffer jacket. It's a padded and quilted jacket with a stand-up collar, stretch-ribbed cuffs for keeping out the wind and a cropped length and drop shoulder for a flattering look. It has two pockets, an elastic hem and a zipper closure.
Furniture and decor deals
Give your home a makeover with Cyber Monday deals on furniture and accessories. Check out the hottest furniture deals on chairs, tables, bar stools, benches and more as well as decor deals on picture frames, art and ornaments.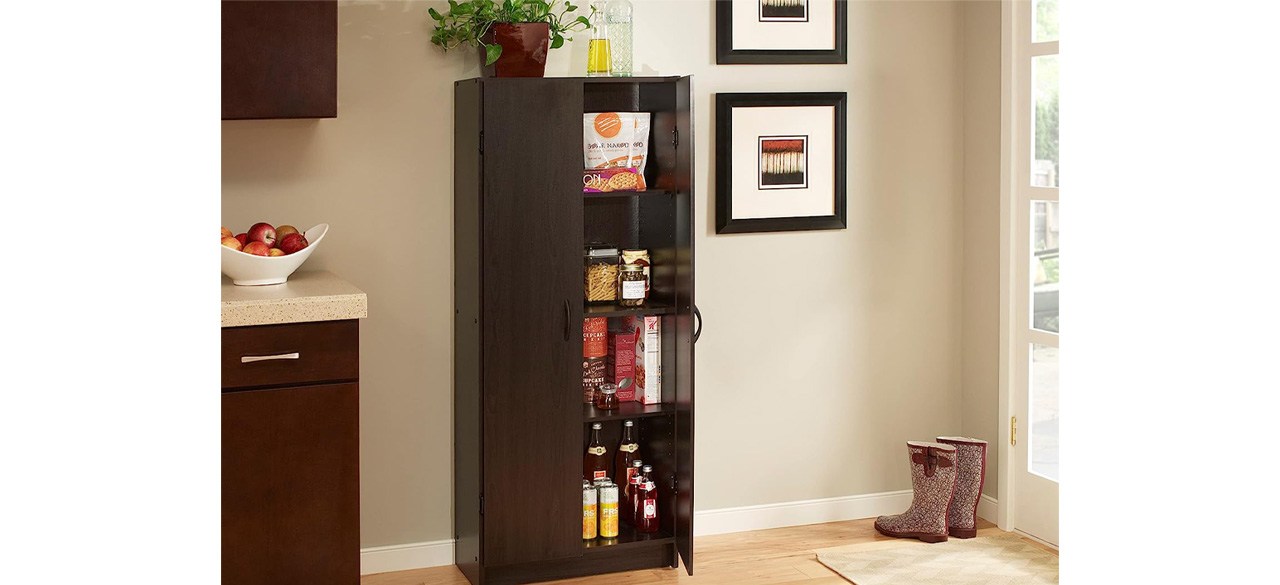 13% OFF
This pantry is perfect for those who want a modern-looking kitchen or storage utility cabinet. The sturdy design is ideal for storing canned foods, storage containers, books, cleaning supplies and pet food, and the slim build makes it suitable for small rooms such as cellars. Plus, it has four interior shelves and two adjustable shelves.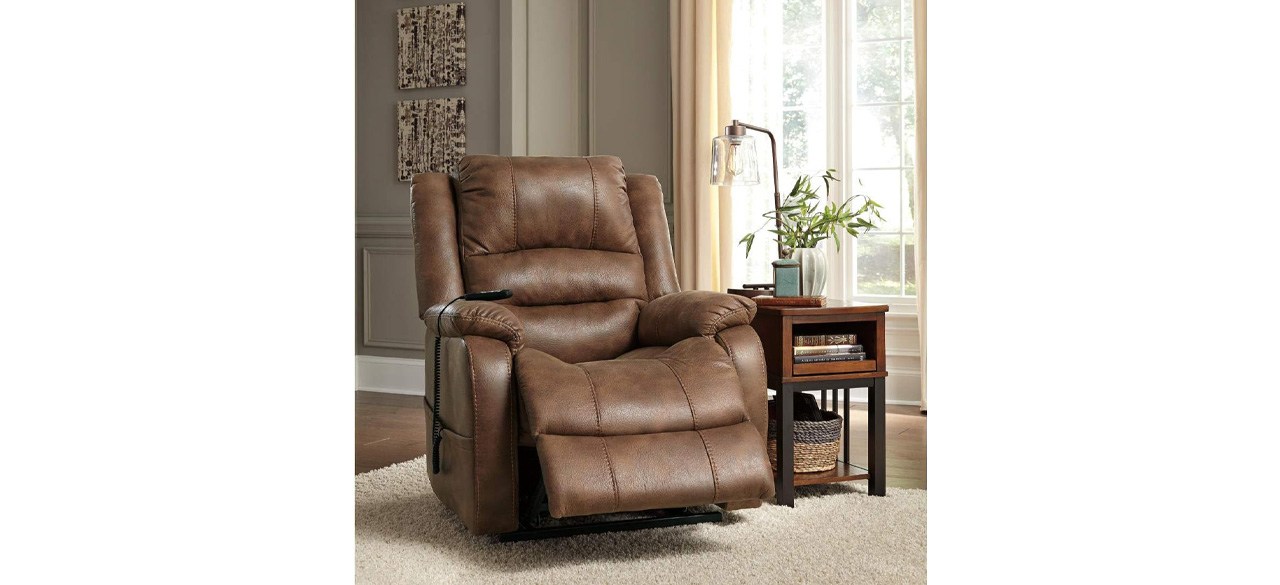 45% OFF
This recliner chair is ideal for kicking back and watching your favorite TV shows or movies. The saddle brown upholstery looks like leather but is thick poly fiber for superior comfort, and the 69-inch fully reclined length makes it suitable for most people. It has a reinforced frame for durability and a side pocket for storing remotes, controllers and other accessories.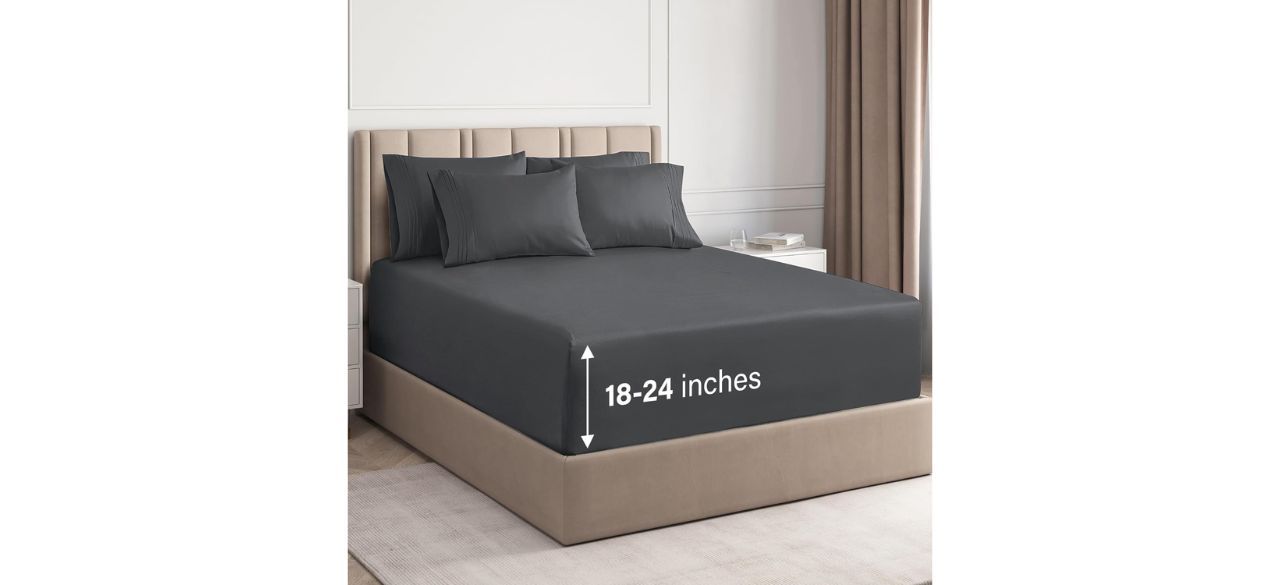 43% OFF
Thanks to the deep, elastic fitted sheet, this set will fit mattresses from 18 to 24 inches deep, which makes it a great option for beds with mattress toppers. It comes with four pillowcases, one flat sheet and one fitted sheet. The microfiber material is soft to give you a good night's sleep.
Streaming device deals
Transform any TV into a smart TV and get access to hundreds of streaming channels with a streaming device. The best streaming devices we expect to see on sale this Cyber Monday include Roku Sticks, Fire TV Sticks, Chromecasts, Nvidia Shields and Apple TVs.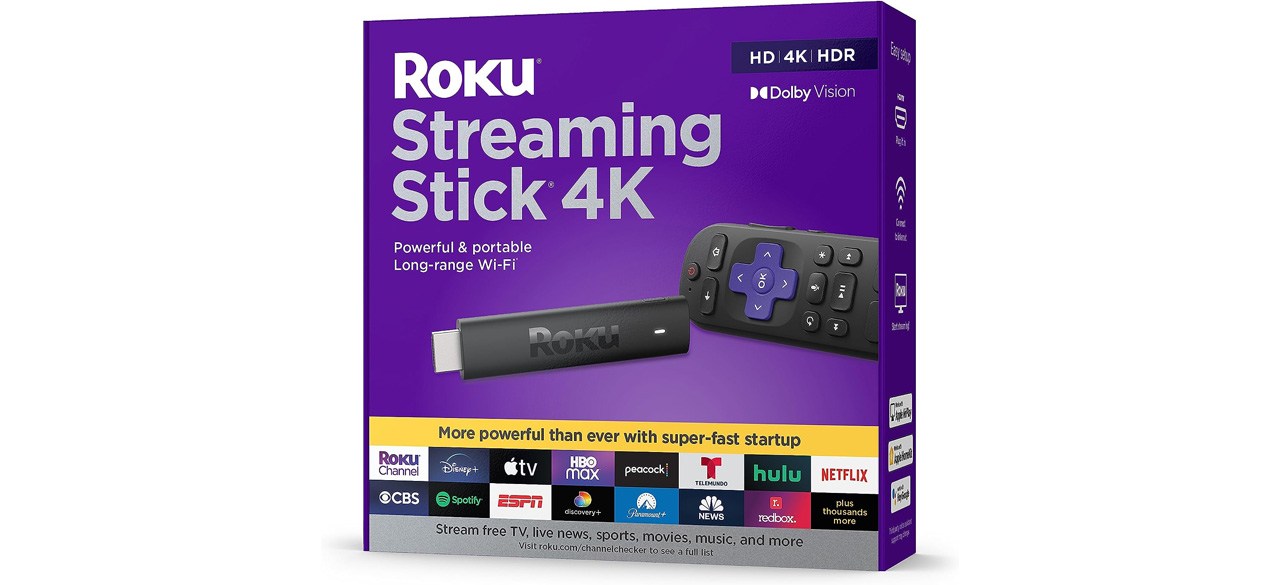 40% OFF
The Roku Streaming Stick 4K offers access to hundreds of streaming apps such as Netflix, Hulu and Disney+, and plenty of other channels where you can stream free TV shows and movies. Long-range Wi-Fi connectivity means you can use it almost anywhere in your home, and Dolby Vision and HDR10 Plus provide picture-quality enhancements.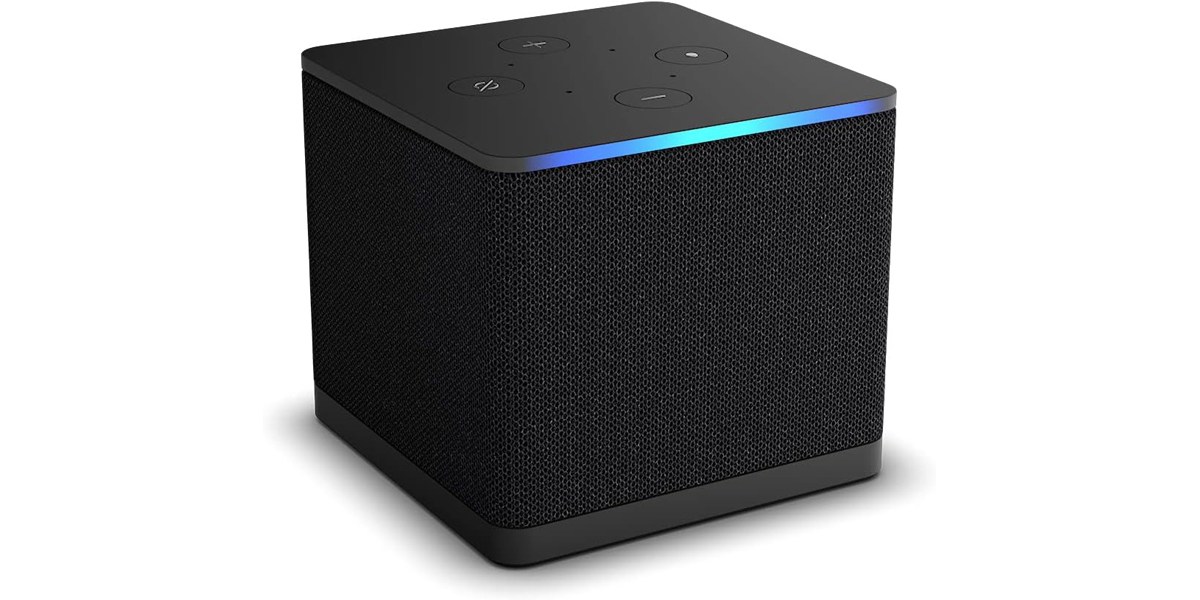 21% OFF
The Fire TV Cube offers a fantastic TV-watching experience and grants users access to the most popular streaming services. The Fire TV Cube's processing power is twice as much as the Fire TV Stick 4K Max, and you can control compatible TVs, speakers and sound bars hands-free. It supports Dolby Vision, HDR and Dolby Atmos Audio and features built-in privacy protections and controls.
Toy and game deals
Cyber Monday is the perfect time to pick up deals on toys and games, whether they're a gift or something to enjoy with friends and family. We expect to see discounts on the hottest toys, board games and more.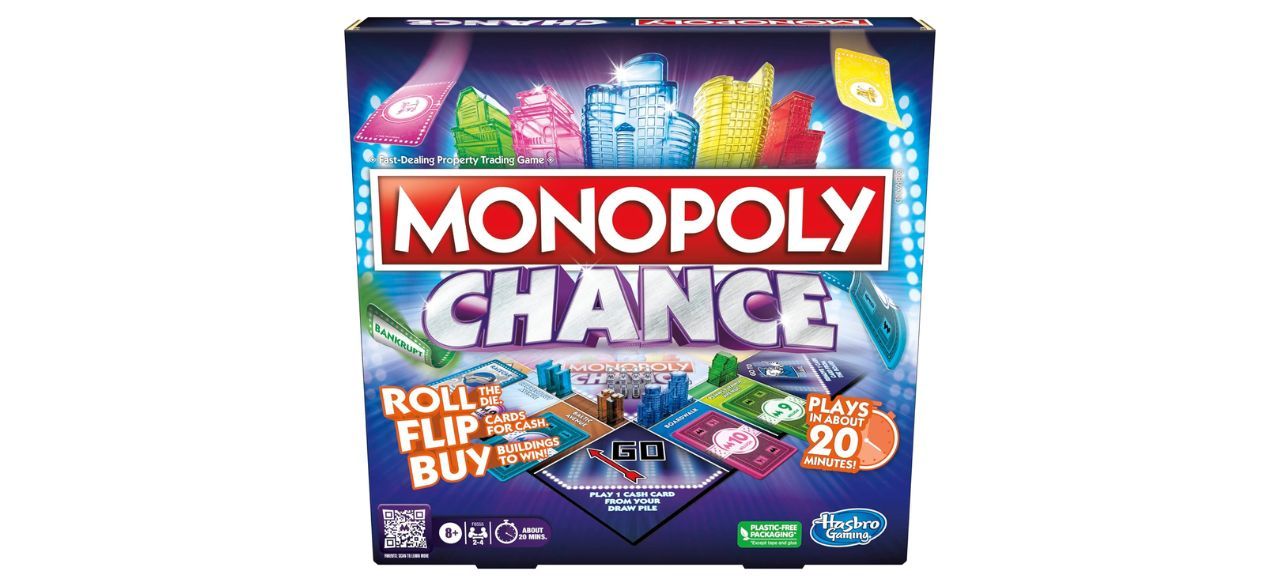 44% OFF
This fast-paced version of Monopoly takes family game night to the next level. Both adults and kids can enjoy it, and each game only takes an average of 20 minutes to play. Like with the classic Monopoly game, players must buy properties to win, but in this version, your decisions are left to chance by rolling the die and flipping over cards.
When is Cyber Monday 2023?
Cyber Monday 2023 is on Nov. 27, and you can expect more of the same types of deals as the ones offered on Black Friday. However, Cyber Monday is intended just for online sales, while Black Friday is both in-store and online. The best deals are typically offered on Black Friday, but you might be surprised to see some fantastic discounts on hot items on Cyber Monday. That means that you shouldn't sweat it if you miss out on a Black Friday deal since there's a chance you might find an even better Cyber Monday deal on a comparable product.
Who has the best Cyber Monday deals in 2023?
You can't go wrong shopping at one of the top e-commerce retailers, such as Amazon, Target, Best Buy and Walmart. Best Buy is excellent for electronics and appliance deals, while the others offer a broader range of products. If you shop at Amazon, Target and Walmart, you'll find excellent discounts on almost anything, including beauty, apparel, pet products, home, decor and lawn items. However, if you want to zero in on a specific category, we recommend Dick's Sporting Goods for sports and fitness gear and Wayfair for home, bath and bedding.
How to find the biggest Cyber Monday deals
We'll keep this page updated during Cyber Monday, meaning you can check in occasionally to see what's on sale. We also recommend signing up for newsletters for e-commerce retailers, so you can stay up to date with Cyber Monday ad drops, news and promotions. Also, Amazon offers even better discounts on select products for Prime members, so it's a good idea to sign up for a Prime account if you haven't yet.
Want to shop the best products at the best prices? Check out Daily Deals from BestReviews.
Sign up here to receive the BestReviews weekly newsletter for useful advice on new products and noteworthy deals.
Kevin Luna writes for BestReviews. BestReviews has helped millions of consumers simplify their purchasing decisions, saving them time and money.
Copyright 2023 BestReviews, a Nexstar company. All rights reserved.