This is an archived article and the information in the article may be outdated. Please look at the time stamp on the story to see when it was last updated.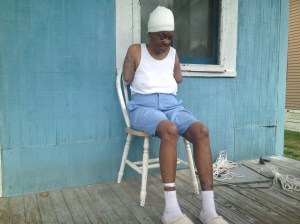 The Westwego woman who survived a vicious pit-bull attack is making a plea to the public to help make her home  more inhabitable.
Linda Henry is now a double amputee…
WGNO News Reporter Darian Trotter sat with her as she talked about the challenges
she and her husband now face.
"When it rains I have to put all these buckets, see all the buckets I got; I have to put them all around the back of the house so the water don't be all over the floor," Linda Henry's common law husband Clarence Allen said.
It is arguably the worst house on the block; and the dilapidation doesn't stop outside.
Substandard conditions inside are countless door to door; everything from huge holes in the ceiling that expose the tin roof — to a kitchen sink that's been rigged with hoses where a facet should be.
"It's real bad, you know," Linda Henry said. "We really do need help."
The squalid conditions have long been an issue for the Westwego couple.
But given Linda Henry's uphill battle to recovery, they're plea to the public is even more timely.
"I love this house but I just need it fixed, I don't want to go nowhere," Henry said.
Nearly three months ago she survived an unprovoked attacked inside her home by three of the family's pit bulls.
She lost an eye, an ear, and her scalp will require extensive reconstructive surgery.
The dog bites were so severe her arms had to be amputated, leaving her disabled.
Her husband now provides 24-hour care.
"He cooks for me, he feeds me, he baths me, put my clothes on and give me my medicine, takes me to all of my doctor appointments," Henry explained. "We catch the bus everywhere and go."
The two bedroom, shotgun home has only one window air-conditioner.
In 90-degree temperatures the heat inside is almost unbearable.
The walls have countless holes and corrosion throughout every room.
For Linda Henry the threat of infection is real.
"I see starting in the kitchen, from the kitchen ceiling, it's starting to have mold in the house and also in the back room, so I try to keep her in the front of the house as much as I could," Allen said. "I don't allow her in the back too much."
Together, they're making the best of a bad situation.
And through it all Linda Henry has a positive outlook on life; a life that would better with help  from the caring public.
"I would love it, I would be so grateful," Henry said.
Linda Henry is also battling diabetes, high blood pressure, high cholesterol, and depression.
She says she finds strength in her faith to make it day to day.
If you'd like to help Clarence Allen and Linda Henry can be reached directly at (504) 905-5415 or you can make a donation to the Linda Henry Fund at Capital Bank. Donations are being accepted at any branch location.
You can also send mail to:
Clarence Allen
341 Avenue A
Westwego, LA
70094