This is an archived article and the information in the article may be outdated. Please look at the time stamp on the story to see when it was last updated.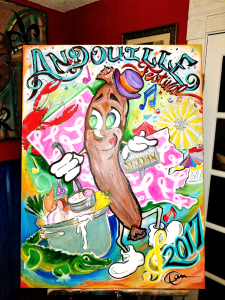 NEW ORLEANS -- Who wants Cajun sausage? St. John the Baptist Parish held their 44th annual Andouille Festival Kickoff and Reveal Party at the St. John Community Center in LaPlace Thursday morning.
This year's poster was created by artist Dana Bardell Wallace and shows a cartoon sausage cooking up some Southern goodness.
The event's organizers announced that a portion of poster sale proceeds will be donated to breast cancer research and awareness.
Posters will be available for sale beginning in October at the St. John Parish Economic Development Department, Matherne's Supermarket in LaPlace, Don's Supermarket and Greg's Supermarket in Reserve.  One hundred signed and numbered festival prints are being sold for $40 each, and signature only are $30 each. Posters will also be sold in the General Store the weekend of the Andouille Festival.
Parish President Natalie Robottom gave opening remarks, followed by a statement from Aspen Murphy with the Marathon Petroleum Company, LP, which has been involved with the fest for three years now.
For many years, the Andouille Festival has been a St. John the Baptist Parish tradition. The festival features music, food, festivities and good times. Annually, thousands of people attend the weekend festival and participate in the many events the festival has to offer, especially the cooking contests.
Contestants prepare recipes using andouille in three categories: gumbos, jambalayas, and miscellaneous dishes.
Don't forget News with a Twist will be live at the Andouille Fest on Friday, October 13, at 5 p.m. and 6 p.m.! Don't miss the show!
The fest is held next to the St. John Community Center at 2900 Hwy. 51 in LaPlace. Admission: Adults $3, Children Ages 3-12 $1
For more information regarding the Andouille Festival, please visit www.andouillefestival.com.