This is an archived article and the information in the article may be outdated. Please look at the time stamp on the story to see when it was last updated.
Tropical Storm Harvey is now nearing it's third day of many days of heavy rain for Texas. The storm made landfall as a Category 4 near Corpus Christi on Friday evening, and has since weakened, but continues to bring devastating flooding to Texas, with another possible two feet of rainfall to fall this week.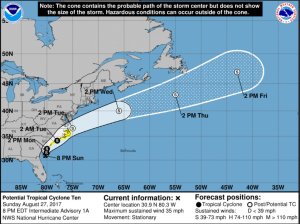 While the nation continues with rescue efforts, the coast of Georgia and South Carolina anticipate Potential Cyclone 10 to become Tropical Storm Irma by Monday morning. Gale Warnings are up across coastal Georgia and the South Carolina Low Country, while from Myrtle Beach, South Carolina to the outer banks of North Carolina the National Weather Service has issued a Tropical Storm Watch. This system is expected to stay offshore and hug the coastline, but it will still bring dangerous rip currents, beach erosion, and Tropical Storm force winds to the Carolina coastlines.