This is an archived article and the information in the article may be outdated. Please look at the time stamp on the story to see when it was last updated.
Monday's Wheel of Justice report included a pair of shootings.  Both happened in the afternoon.  Both happened in the Central City neighborhood.  One of them left a man dead;  the victim in the other case survived.
The first case happened on October 15 at 3:30 in the afternoon.  Police say a man was walking in the 1800 block of South Liberty Street.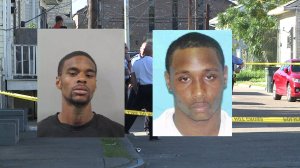 Detectives say two men, identified as 24-year-old Edward Patterson and 25-year-old Keron Cooper, drove-up on their victim and opened fire.  The man survived so both suspects face an attempted murder charge.
The second shooting case left a man dead.  It happened at about 12:30 Sunday afternoon in the 2000 block of Washington Avenue.
The coroner identifies the victim as 27-year-old Alfred Johnson.  They say he was found shot to death on the sidewalk.  Police have not released any information regarding a suspect  or motive in the attack.
And Monday's report ended with the search for a man who is accused of trying to kill his ex-girlfriend.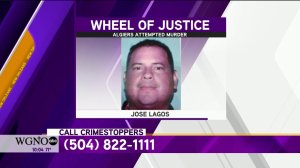 The NOPD says 39-year-old Jose Lagos stabbed a woman several times Monday morning at a parking lot in Algiers.  She survived but, at last word, is in the hospital undergoing treatment for stab wounds to her torso.
If you can help police with any of the cases, call CrimeStoppers at 504-822-1111.  You don't have to give your name, and you could earn a reward.
So far, more than 225 people have been arrested after their cases were featured on the Wheel of Justice on WGNO News at Ten.