This is an archived article and the information in the article may be outdated. Please look at the time stamp on the story to see when it was last updated.
NEW ORLEANS - The NOPD is looking for two men who snatched a man's wallet out of his hand on Bourbon Street.  The case is the latest one to roll on the Wheel of Justice.
The robbery occurred around 4:15 a.m. on July 5 in the 100 block of Bourbon, according to the NOPD.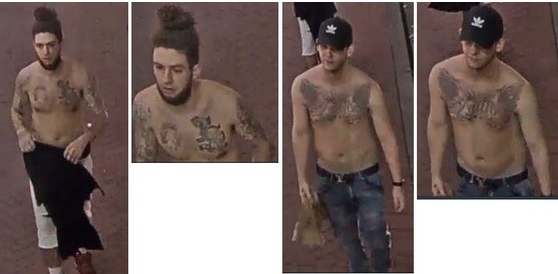 One of the men grabbed the victim's wallet and ran away, and the second suspect assisted in the incident.
The NOPD released photos of two suspects in the case.  Both have distinctive tattoos across their chests, which were displayed in a surveillance video of the suspects walking shirtless down a French Quarter sidewalk.
Anyone with any information on the suspects or their whereabouts should contact any Eighth District officer at (504) 658-6080.
Or you can call CrimeStoppers at 504-822-1111.  Remember you don't have to reveal your name or testify in court, and you could be eligible for a cash reward from CrimeStoppers.
So far, 375 people have landed behind bars after their cases rolled on the Wheel of Justice.