This is an archived article and the information in the article may be outdated. Please look at the time stamp on the story to see when it was last updated.
UPDATE:  New Orleans police released four new surveillance video clips that include a new, third suspect.  Click on the video button above to see all of the surveillance footage in the latest Wheel of Justice report.
NEW ORLEANS — New Orleans police are trying to find the gunman who robbed a donut shop in Gentilly over the weekend.  The case is the latest one to roll on the Wheel of Justice.
The robbery happened Sunday, April 22, at about 10:45 in the morning at Daddy's Donuts on Caton Street.  A security camera recorded the entire attack.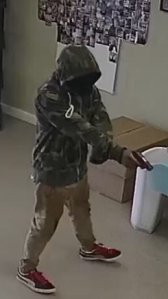 The video shows customers at the business milling about when a gunman rushes through the front door with a pistol.  The robber was wearing a camouflage hooded jacket, beige pants, and red and white Puma sneakers.
The robber forced everyone to get behind the counter and ordered an employee to give him the money from the store's cash register.
After getting the cash, the robber is seen on the video running out of the front door.
The NOPD also released a second piece of video in the case.  It shows the robber with another man.  Police say the video was recorded shortly after the robbery.  They say after the pair met up, they left the area together.
To see the surveillance footage and video of the suspects in this case, click on the video button at the top of this page.
If you have information on the case that could help the NOPD make an arrest, you can call CrimeStoppers at 504-822-1111.  Remember, you don't have to reveal your name or testify in court, and you could be eligible for a CrimeStoppers cash reward.
So far, 375 people have landed behind bars after their cases rolled on the Wheel of Justice.