This is an archived article and the information in the article may be outdated. Please look at the time stamp on the story to see when it was last updated.
PONTCHARTRAIN CONVENTION & CIVIC CENTER – Ever wonder what happens when dinosaurs are unleased?
WGNO News with a Twist features guy Wild Bill Wood is always on a leash.
But Wild Bill finds out how these multi-million year old creatures act at Discover the Dinosaurs Unleashed.
Here's what the dinosaurs have to say about themselves and their traveling show: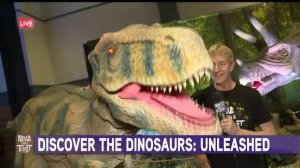 Venture back to a time when the dinosaurs roamed the earth at the ALL NEW Discover the Dinosaurs UNLEASHED! Experience up-close encounters with a lifelike Stegosaurus, Velociraptor and the king T-Rex in this thrilling walk-through exhibit. Kids can also meet a baby dinosaur, take a spin in the Jurassic Jeeps on the Dino Raceway and visit the Kids Adventure Zone filled with themed bouncy houses, crafts, face painting and more. Parents and kids can test their skills playing an all-new mini golf course, become junior paleontologists while completing the scavenger hunt, and dig for fossils in the Valley of the Bones. It's family fun of prehistoric proportions!
Travel through the Mesozoic Era and learn all about your favorite dinosaurs from the Triassic, Jurassic, and Cretaceous periods! In this walk-through exhibit, you'll see and learn about giant, moving, roaring dinosaurs set in their natural environments!
Kids ages 2-12 can jump and play on a variety of inflatables. Socks are required. Height restrictions are displayed on site as inflatables are individually geared towards little kids or big kids. Little: must be taller than 32″ and Big: must be taller than 36″.
Hop in the saddle on top of one of these animatronic dinosaurs. They move up and down, side to side, breathe and roar. Must be 40″ or taller to ride the dino.
Meet our T-Rex! Kids of all ages can get up close and personal with a Tyrannosaurus Rex! Find him in the exhibit space multiple times a day to learn, touch, and get a photo of your kid with this prehistoric giant. Times vary by market so look for the "Meet a Meat Eater" sign at the exhibit for locally scheduled appearance times. 
Free dino-themed temporary tattoos are available for guests of all ages. Also, choose from a variety of dino-themed face paint designs as part of the adventure. Face painting is included with the T-Rex package, and those with general admission tickets can purchase a face paint design.
Brush up on your paleontology skills as you uncover hidden dino bones in the Valley of the Bones.
Perfect for young dinosaur lovers under the age of two, the Dino Den features a toddler-friendly climbing area and activities. Must be under 42″ to play in this area.