This is an archived article and the information in the article may be outdated. Please look at the time stamp on the story to see when it was last updated.
EL PASO, TX -- Pretty pastel circles. Are you seeing orbs in different colors?
It's the latest trend amazing the internet.
If you see multiple colors your eyes and your brain are playing tricks on you! All of the dots are actually the same color, but are perceived by your brain as four different hues.
The image, titled "Confetti," is the creation of David Novick, a professor of engineering education and leadership at the University of Texas at El Paso.
The photo went viral after it was posted on Reddit.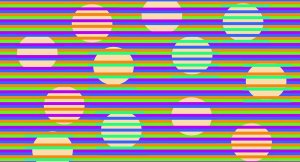 Novick explains that the colors in between the circles are the reason for the illusion... and that our perception of color is influenced by it's surroundings.
FUN FACT: Cell phone users... you will see all of the dots as the same color if you slowly bring the image of the dots towards your face.