This is an archived article and the information in the article may be outdated. Please look at the time stamp on the story to see when it was last updated.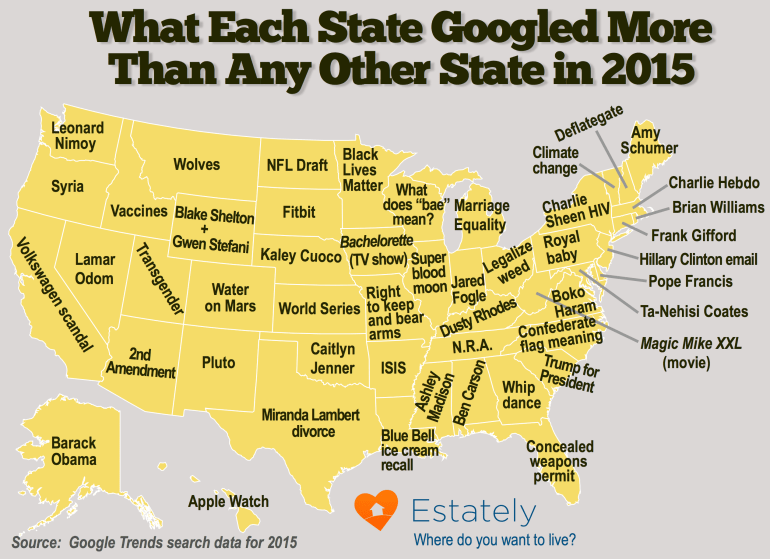 What did Americans spend their time googling this year? Estately took a closer looking using data from Google Trends.
They ran hundreds of search terms through Google Trends to discover what people in each state searched for more with more frequency than people in any other state. The outcome is pretty spot on.
Louisianans were very interested in the Blue Bell recall and the Ashley Madison hack. You can read more about them below:
Read on to learn what other things—besides the terms on the map above—each state Googled more frequently than any other state in 2015.
ALABAMA
Same-sex marriage
Ken Stabler (football player who passed away in 2015)
Ben Carson (presidential candidate)
Laverne Cox (actress)
ALASKA
Barack Obama
Game of Thrones (HBO series)
3D printing
ARIZONA
2nd Amendment
Jen Welter (pro football player and first female coach in NFL)
ARKANSAS
Blood moon prophecy (apocalyptic beliefs about the end of the world)
Syrian refugees
Islamic State of Iraq and the Levant (terrorist organization)
ISIS (another name for the same terrorist organization above)
19 Kids and Counting (reality TV show)
Josh Duggar (reality TV show personality)
CALIFORNIA
Kim Kardashian (reality TV personality)
Stephen Curry (pro basketball player)
Drought
Water conservation
Love wins
U.S. Housing Bubble
iPhone 6s
Spy (2015 film)
Spectre (2015 film)
Ben Affleck nanny
Leah Remini Scientology (actress who left the Church of Scientology in 2015)
Chile earthquake
Mark Zuckerberg (CEO of Facebook)
Volkswagen scandal
Donald Trump hair
Donald Trump racist
COLORADO
Syrian civil war
Water on Mars
Mass shootings
Keystone Pipeline
CONNECTICUT
Speaker of the House
Frank Gifford (pro football player/broadcaster who passed away in 2015)
DELAWARE
Amtrak
Pope Francis
Beau Biden (former Attorney General of Delaware who passed away in 2015)
Kendrick Lamar (rapper)
Nicki Minaj (rapper)
FLORIDA
Obamacare
Marco Rubio (presidential candidate)
Concealed weapons permit
Trump net worth
House prices
GEORGIA
Blood Moon 2015
Whip dance
Stanky leg dance
Serena Williams
Blake Shelton divorce
HAWAII
Nepal earthquake
Bruce Jenner (previous name of reality TV personality Caitlyn Jenner)
Chrissy Teigen (model)
Apple Watch
Furious 7 (2015 film)
Selfie stick
Radio Shack (filed for Chapter 11 bankruptcy in 2015)
Pitch Perfect 2 (2015 film)
IDAHO
Refugees
The Hunger Games: Mockingjay, Part 2 (2015 film)
Gun control
Vaccines
Windows 10 (operating system released in 2015)
ILLINOIS
INDIANA
Religious Freedom Restoration Act
Jared Fogle (former Subway pitchman/sex offender)
IOWA
Elizabeth Banks (actress)
Bachelorette (reality TV  show)
The Bachelor (reality TV show)
KANSAS
World Series
Koch Industries
KENTUCKY
American Pharaoh (Triple Crown-winner)
Dusty Rhodes (pro wrestler who passed away in 2015)
Rand Paul (presidential candidate)
Kim Davis (County Clerk of Rowan County)
LOUISIANA
Ashley Madison hack (online dating website marketed to people in committed relationships that was hacked and had user names released in 2015)
Blue Bell recall (delicious ice cream)
MAINE
MARYLAND
New Horizons (space mission)
Trevor Noah (new host of The Daily Show)
Benjamin Netanyahu (Prime Minister of Israel)
Freddie Gray (Baltimore man who died in police custody, sparking protests)
Police brutality
Misty Copeland (ballet dancer)
Nuclear program of Iran
Iran nuclear deal
Moses Malone (basketball player who passed away in 2015)
Loretta Lynch (newly appointed U.S. Attorney General)
Real estate
Edward Snowden (computer programmer, leaker of classified documents)
Ta-Nehisi Coates (writer, journalist, educator)
Viola Davis (Emmy Award-winning actress)
Bill Cosby (comedian)
al-Qaeda (terrorist organization)
Don Lemon (CNN TV personality)
MASSACHUSETTS
Charlie Hebdo (French satirical magazine attacked by terrorists in 2015)
Unbreakable Kimmy Schmidt (TV show)
Aziz Ansari (actor/comedian)
Jon Snow (character in Game of Thrones)
Opioid addiction and dependence
Republican primary
Eddie Redmayne (Academy Award-winning actor)
Justin Trudeau (newly elected Prime Minister of Canada)
John Oliver (comedian)
Last Week Tonight with John Oliver (TV show)
Inside Amy Schumer (TV show)
Vladimir Putin (President of Russia)
Dad bod
MICHIGAN
What is transgender?
Marriage equality
MINNESOTA
Black Lives Matter (activist movement campaigning against violence toward black people)
Scott Weiland (musician who passed away in 2015)
Cecil the Lion (famous lion killed by a Minnesota hunter in Zimbabwe)
MISSISSIPPI
Straight Outta Compton (2015 film)
B.B. King (blues musician who passed away in 2015)
U.S. Supreme Court
Bobbi Kristina Brown (daughter of singer Whitney Houston; passed away in 2015)
Booty (there was a lot of talk about "booty" in 2015)
Megyn Kelly (FOX TV personality)
Ashley Madison (online dating website marketed to people in committed relationships)
Common Core State Standards Initiative
MISSOURI
Amy Schumer photo
Right to keep and bear arms
MONTANA
NEBRASKA
NEVADA
Floyd Mayweather (pro boxer)
Khloé Kardashian (reality TV personality)
Lamar Odom (pro basketball player who overdosed in a Nevada brothel in 2015)
Wes Craven (film director)
Selena Gomez (actress)
Kylie Jenner (reality TV personality)
San Andreas (2015 film)
Amber Rose (musician/model/actress/fashion designer)
Pitbull (rapper)
The Weeknd (musician)
Britney Spears (musician),
NEW HAMPSHIRE
Deflategate
Heroin
Paris terrorist attack
Hillary Clinton (presidential candidate)
Donald Trump (presidential candidate)
Carly Fiorina (presidential candidate)
Jeb Bush (presidential candidate)
Ted Cruz (presidential candidate)
Terrorism
NEW JERSEY
FIFA (governing body of international soccer tournaments that's being investigated for bribery/corruption crimes in 2015)
Hilary Clinton email
Yogi Berra (baseball player/manager who passed away in 2015)
Chris Christie (presidential candidate)
Pierre Paul hand (pro football player Jason Pierre-Paul who blew off part of his hand in a fireworks accident)
NEW MEXICO
Pluto (the dwarf planet)
Ronda Rousey (MMA fighter)
Holly Holm (MMA fighter)
Animas River (site of a massive 2015 spill of water containing toxic heavy metals)
Wiz Khalifa (rapper)
NEW YORK
Greece
Democratic Socialism
Omar Sharif (actor who passed away in 2015)
Netanyahu Congress (Israeli Prime Minister who made a speech to Congress in 2015)
Julianne Moore (actress)
Mr. Robot (TV show)
Angela Merkel (German Chancellor and Time "Person of the Year")
Drake (rapper)
Martin Shkreli (CEO who dramatically raised prescription drug prices)
Gigi Hadid (model)
Bashar al-Assad (President of Syria)
Islamophobia
Charlie Sheen HIV (actor announced he's had HIV for four years in 2015)
Jihadism
Jennifer Aniston wedding (actress married in 2015)
American Apparel (clothing company that filed for bankruptcy in 2015)
Kanye West (rapper)
Rihanna (musician)
Hoverboard scooter
NORTH CAROLINA
Concealed carry permit
Blake Miranda divorce (country stars Blake Shelton and Miranda Lambert announced they were divorcing in 2015)
Confederate flag meaning
NORTH DAKOTA
OHIO
Marijuana legalization (a proposed constitutional amendment to legalize marijuana was not approved by voters in 2015)
Anna Duggar (wife of reality TV personality Josh Duggar)
Randy Quaid (actor)
OKLAHOMA
Je suis Charlie (solidarity message for French satirical magazine Charlie Hebdo)
Stuart Scott (ESPN sportscaster who passed away in 2015)
Caitlyn Jenner (reality TV personality formerly known as Bruce Jenner)
Patricia Arquette (actress),
Jordan Spieth (pro golfer who won the U.S. Open and The Masters in 2015)
OREGON
Syria
Iran
Hassan Rouhani (President of Iran)
Tamasha (2015 film)
Islam
Ukraine
Nicky Jam (musician)
Shakira (Musician)
Dilma Rousseff (President of Brazil)
PENNSYLVANIA
Jon Snow dead (character from Game of Thrones who died in the Season 5 finale… or did he?)
Pope Francis visit
War on terror
Dick Van Patten (Eight is Enough actor who passed away in 2015),
Creed (2015 film)
Carrie Underwood baby
Royal baby
Blake Lively baby
RHODE ISLAND
Brian Williams (NBC journalist suspended for telling an exaggerated story)
Adele (musician)
Taylor Swift (musician)
Justin Bieber (musician)
Charlie Sheen (actor)
Wet Seal (clothing company that filed for Chapter 11 Bankruptcy in 2015)
Ariana Grande (musician)
Tom Brady (pro football player)
SOUTH CAROLINA
Charleston shooting
Trump for President
Nae nae dance
Confederate flag
SOUTH DAKOTA
Back to the Future (popular 1985 movie that got a lot of attention because the characters in it travel to the future—the year 2015).
Ed Sheeran (musician)
Fitbit (a device that measures how many steps you take between your sofa and the fridge)
TENNESSEE
Fred Thompson (former actor and Tennessee Senator who passed away in 2015)
National Rifle Association
TEXAS
James Harden (basketball player)
Bandidos Motorcycle Club (a motorcycle gang that engaged in a massive shootout with the Cossacks motorcycle gang in Waco, Texas in 2015)
Joaquín "El Chapo" Guzmán (Mexican drug lord)
Hurricane Patricia
Clock boy (14-year-old Texas student Ahmed Mohamed who was arrested after bringing a homemade clock to school)
Planned Parenthood video
Lion hunting
Miranda Lambert divorce
Jade Helm (a popular conspiracy theory that claims the annual U.S. military training exercise was really a cover for a full-scale invasion of Texas)
Filibuster
Greg Hardy (pro football player)
UTAH
Transgender
Man bun (male hair style)
Spotify (digital music service)
Apple TV
Star Wars: The Force Awakes (2015 film)
Avengers: Age of Ultron (2015 film)
Jurassic World (2015 film)
Ant-Man (2015 film)
Planned Parenthood (non-profit organization)
Sister Wives (TV show)
VERMONT
Bernie Sanders (presidential candidate)
The Daily Show (TV show)
Climate change
87th Academy Awards
VIRGINIA
Abdel Fattah el-Sis (President of Egypt)
Islamic State (terrorist organization)
Boko Haram (terrorist organization)

Recep Taytip Erdogan (President of Turkey),

Muhammadu Buhari (President of Nigeria),

Narendra Modi (Prime Minister of India)
WASHINGTON
Leonard Nimoy (actor who played Spock on Star Trek passed away in 2015)
Super Bowl
Amanda Knox (American woman acquitted of murder in Italy)
Left Shark
Mad Max: Fury Road (2015 film)
Microsoft Surface (tablet)
WEST VIRGINIA
Magic Mike XXL (2015 film)
WISCONSIN
Rep. Paul Ryan (newly elected Speaker of the House)
What does bae mean?
Koch brothers
Political activities of the Koch brothers
WYOMING
Mars (4th planet from the sun)
U.S. Constitution
Blake Shelton + Gwen Stefani
Firearm
Playboy (magazine that announced it would cease showing photos of naked women)
AR-15 (type of firearm)