This is an archived article and the information in the article may be outdated. Please look at the time stamp on the story to see when it was last updated.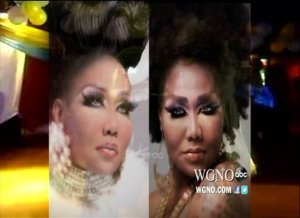 There are new developments in a story WGNO News Reporter Darian Trotter brought you last week.
Police say Larry Tremell Bernard surrendered to authorities Wednesday afternoon.
Bernard also goes by the name "Armani Nicole Davenport," and is a transsexual pageant queen.
He's accused of practicing medicine without a license by pumping silicone injections into other pageant contestants and transgendered females.
The silicone injections are a cheap and quick alternative to costly cosmetic procedures; but they're painful and potentially deadly.
Trotter sat with a local mother who says Bernard injected her transgendered son with harsh chemicals. She says ever since her son has been in a coma.
"I don't know when he's going to wake up. I don't know if he ever gonna make up out of this coma," Lessi Hall said. "He's in critical, critical condition all because of this."
See Darian's full, exclusive interview with the mother of one-victim in the case Thursday night on WGNO News at 10pm