This is an archived article and the information in the article may be outdated. Please look at the time stamp on the story to see when it was last updated.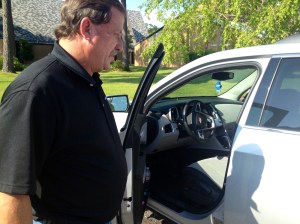 10-people have been arrested on the North Shore, accused of burglarizing dozens of vehicles.
As Darian Trotter reports, you may be surprised to hear who police are calling a suspect.
You may remember the heart-breaking story of the 11-year-old Slidell boy who lost his left arm in an alligator attack.
Now Devin Funck is 17 years old, and police say he's run into a different kind of trouble.
"First thing I started doing was checking to see if I had anything missing," burglary victim James Walden said.
James Walden is describing the morning he realized his car had been burglarized.
"And I felt violated," Walden said.
He's not alone.
There's been an uptick of vehicle burglaries throughout Slidell; and Devin Funck is accused of playing a role.
Detectives have connected Funck to groups of young people stealing cell phones, computers, even guns.
"You name it, anything of value that's left in the vehicle," Slidell Police Chief Randy Smith said.
Police Chief Randy Smith says vehicle burglary has become the crime of choice for teenagers and young adults.
The suspects have been seen lurking through subdivisions searching for unlocked doors.
"They'll pull 50 car handle doors and out of the 50, 25, half of them are left unlocked so that's the ones they go after," Chief Smith explained. "They don't want to break a window or make noise or set off a car alarm."
Within the past month ten people have been arrested, in four separate incidents involving overnight vehicle burglaries.
One of the ten, police say, is 17-year-old Devin Funck.
Back in 2008 St. Tammany deputies were credited with saving Funck's life.
Now he's facing 27-counts of burglary.
"It's a shame; you have a lot of young people going down the wrong track and it's just a shame," Walden said. "But hopefully this can be a lesson for them and they can turn their lives around and go on the right track."
The rash of vehicle burglaries is not confined to Slidell.
Several subdivisions in St. Tammany Parish have been hard hit too.
Authorities are asking vehicle owners to be sure to lock their doors.