This is an archived article and the information in the article may be outdated. Please look at the time stamp on the story to see when it was last updated.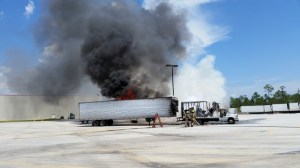 St Tammany firefighter say flammable gasses contributed to a truck fire behind a grocery store Friday afternoon.
They say the truck was already destroyed when they arrived, at about 2:00 in the afternoon, and the trailer was billowing smoke and flames.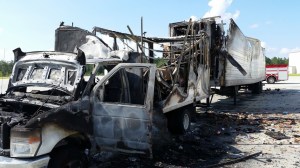 Firefighters say the truck was used for refrigeration repair and was carrying containers of flammable gas for hot torch work.
The scene was behind the Associated Wholesale Grocers warehouse on Old Military Road.  The building was not damaged, and nobody got hurt.  But the truck and trailer were destroyed.
St Tammany Fire Protection District No.11 provided the photographs for this news story.