This is an archived article and the information in the article may be outdated. Please look at the time stamp on the story to see when it was last updated.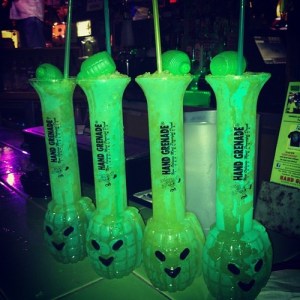 New Orleans police are searching for two men accused of burglarizing a home, while holding a pair of hand-grenades. The kind sold at daiquiri shops in the French Quarter.
Darian Trotter has the video and reaction from neighbors.
"I mean, it's just I mean that's incredible," said property owner Jeff Palmquist.
He's talking about the men caught on camera lurking around in a French Quarter court yard.
It's what detectives say they did off camera Monday, that has them wanted for burglary.
"The subjects are a white male, approximately 25 to 35 years of age, and a black male 25 to 35 years of age," New Orleans Police Detective Jason Sloan said.
Detective Sloan says the men eventually broke into someone's home in the 900 block of Bourbon Street and stole a laptop computer and a brief case.
Police say one of the men where later seen setting up to steal the victim's bicycle.
The alleged heist was carried-out while the suspects had tight grips on a pair of hand-grenade alcoholic beverages.
"They're just carefree, you know," Palmquist said. "They've got their hand-grenades in their hand and they're just kind of lollygagging around and they check every door; found the one that happened to be open and went and just took the stuff while the guy is sleeping in there."
Then police say the suspects calmly sat in front of the residence and took inventory of the items they're accused of stealing.
Sloan says the alcoholic beverages may have played a role in that.
"That may account for the lackadaisical and kind of nonchalant attitude they had in not being in a hurry as far as leaving with the stolen property," Sloan said.
Jeff Palmquist owns the property where the burglary happened.
He was sure to install high-tech security cameras for times like this.
"I'm hoping they get them and I think they will," neighbor Lee Brasseaux said. "It's a lot of good evidence; clear resolution pictures and other evidence." "They left a cigarette there which has DNA on it and things so I'm hoping something good comes from this."
"We have good video of these guys and I know they're going to catch them,"  Sloan said.
The victim was asleep inside his home when the burglary  happened.
It wasn't until the next morning that he realized he'd been robbed.
If you have information about this case, call the 8th District Police Station, or Crimestoppers at, (504) 822-1111.