This is an archived article and the information in the article may be outdated. Please look at the time stamp on the story to see when it was last updated.
NEW ORLEANS (WGNO) – "You drink, they eat."
That's the motto over at Tahyo Tavern, a new bar on Decatur Street in the French Quarter opened by the Torres family, stars of the Animal Planet hit series "Pitbulls and Parolees." The show is filmed in New Orleans at Villalobos Rescue Center, where Tia Torres and her daughters run a shelter for about 300 dogs.
The new tavern, which had its grand opening today (Friday, Jan. 13),  has dog-friendly seating outside – and you can even order a non-alcoholic, vitamin-filled beer for your pup. Profits from the tavern and the neighboring merchandise store, The Tahyo, are used to help fund operations at the rescue center, the owners said.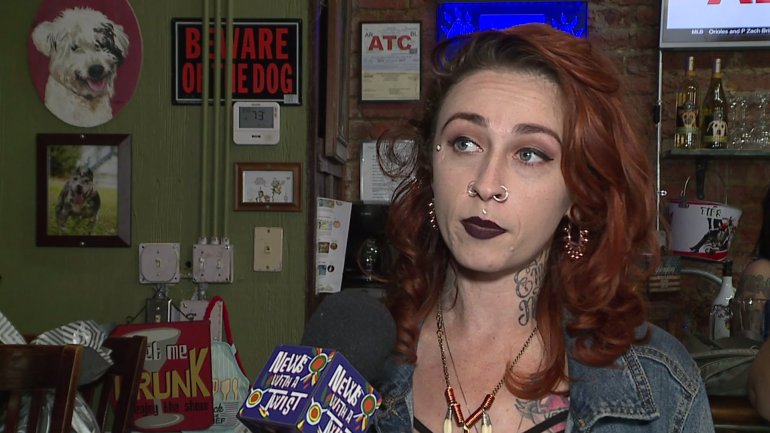 Mariah Kaye, her sister Tania Torres and her mother Tia Torres are in charge at this new Decatur watering hole.
"Tahyo" is a Cajun word for "big, hungry dog."
Kaye told WGNO that her family moved from California to New Orleans about six years ago with their dog rescue operation. "Pitbulls and Parolees" had already been filming for two seasons before they moved to the Crescent City.
Kaye said Animal Planet and the television show didn't play a part in their decision to move here.
"We said we were moving, and they came with us," she said.
Kaye and her sister had come to New Orleans for a dog rescue before they made the move. It was a "traumatic experience," she said, and they realized then that New Orleans doesn't have the resources California does when it comes to caring for unwanted or stray animals.
"This city suits my family," she said. "We're a family that likes to help other people and say hi to your neighbors. Louisiana in general suits my family. All the puzzle pieces fit together."
When WGNO stopped by, three of the patrons – Brionna Martin, her friend and her miniature Aussie Shepherd, had traveled from Longview, Texas, just to volunteer at the rescue center and visit the French Quarter tavern.
Tahyo Tavern is located at 1140 Decatur Street. It's open from 11 a.m. – 11 p.m. Sunday through Thursday and 11 a.m. – midnight Friday and Saturday.